Waring WSG30 Commercial Spice Grinder - 120V
Commercial grade 19,000 RPM motor
3 removable, dishwasher safe grinding bowls with lids
Heavy duty stainless steel blades
Safety interlock to prevent injury
Essential for grinding peppercorns, star anise, nuts, and more
120V
The Waring WSG30 commercial spice grinder is ideal for finely grinding spices to ensure the freshest flavor for your foods.
This commercial spice grinder is great grinding cinnamon sticks, nutmeg, peppercorns, mustard seeds, coriander, and much more in seconds! By grinding spices fresh rather than purchasing pre-ground spices, you can ensure the freshest, richest flavors are added to your signature dishes. In addition, whole spices can be stored longer than ground spices so you can maintain a large stock of whole spices longer without reordering or throwing away product that is past its prime.
NSF Listed

This item meets the standards imposed by NSF International, which focuses on public safety, health, and the environment.

ETL US & Canada

This item meets the electrical product safety standards imposed by the ETL, a division of the Intertek Group, for use in the United States and Canada.

Dishwasher Safe

This item can safely be cleaned in a commercial dishwasher.

5-15P

This unit comes with a NEMA 5-15P plug.
"This is a must have for most restaurants because you can by whole spices for cheaper and grind them. You save a lot of money and time."
Read More Reviews
High-Powered Operation with Interlock
This unit features a high performance commercial grade motor with 19,000 RPMs of grinding power. Not only is this motor powerful enough to grind spices like nutmeg and cinnamon, it can even handle nuts or star anise! Plus, a safety interlock on this unit's upper housing prevents unintended operation while pulse actuation enables you to easily manage the grind consistency.
Includes Removable Bowls with Lids
This commercial spice grinder includes 3 fully removable, dishwasher safe stainless steel grinding bowls and durable stainless steel blades. Since this unit has multiple bowls, you can grind multiple spices without the need to wash the bowl in between batches. Plus, since it has convenient storage lids you can also use the bowls to store your freshly ground spices.
Durable Stainless Steel Housing
This model features a bright, brushed stainless steel housing that helps to ensure longevity and lends a sleek, professional appearance. The housing makes this unit the picture of commercial-grade countertop equipment.
Waring Spice Grinder
Accent your creations with the tantalizing flavors of freshly ground spices by using this Waring spice grinder in your commercial kitchen! Check out this short video to hear many of the features, benefits, and uses of this spice grinder.
Chef Justin Bogle and Waring Products
Chef Justin Bogle shares one of his favorite recipes in this must-watch video! With a Waring food processor and spice grinder, you can also make this dish for your establishment.
Waring WSG30 Spice Grinder
No spice is a match for the Waring WSG30 Spice Grinder. Watch Chef Fabrizio Bottero demonstrate how even nutmeg and cinnamon sticks can be turned into a fresh, fine powder!
An excellent addition to any commercial kitchen that uses its own fresh ground spices, the Waring spice grinder is the best solution to grinding cinnamon sticks, whole nutmeg, whole peppercorns, and more! This Waring spice grinder features a 19,000 RPM motor that quickly cuts through spices to give you the fine grained powder you expect. There's even a pulse setting to better manage the consistency of the finished powder. This spice grinder's exterior is made out of brushed stainless steel for a sleek appearance and long-lasting durability. A built in safety interlock prevents the unit from operating unless the whole unit is properly assembled. Three removable stainless steel grinding bowls and three storage lids are included, allowing you to keep an extra stock of spice on hand at all times. Best of all, the stainless steel blades perform an outstanding and consistent performance that gives you a superior ground spice with every use. The Waring commercial spice grinder is NSF Listed and comes with a standard NEMA 5-15 plug. For more products to fill out your spice racks, check out our selection of spice shakers and bulk spices.
Hi my name's Justin Bogle, i'm the executive chef here at Gilt Restaurant in midtown Manhattan New York City. Today we're going to be making a hamachi sashimi with preserved lemon, yogurt, chamomile, and za'atar, all using the Waring spice grinder and food processor. So for the za'atar spice that we're going to be making today, we have our spice mixture here. The za'atar spice is really gonna work with the flavors of the dish we have some preserved lemons, some crispy cous cous, like I mentioned, the yogurt snow, they really work all together this is a middle eastern spice mixture so they're all really gonna work, uh, combine together. We have dry oregano, a little all spice, some sumac, it's going to bring a little sour note to the dish, toasted cumin, toasted sesame seeds, and some dried thai chilis. We're going to take all of our spices except the toasted sesame seeds, we're going to leave those for last, we're going to mix those in at the very end. We're going to take them all, we're going to add them to the Waring spice grinder, uh, what's good about this spice grinder is that is has a pulse option, so you can really get the consistency that you're looking for, you can have a fine powder, you can have a coarser spice grind. So we're just going to go ahead and combine everything in the spice grinder. Take all those and we're going to pulse them into a fine powder. The Waring spice grinder really gives you the power and capacity to take this down to an ultra fine powder, which is really going to, what we are looking for when we are seasoning the fish for this dish. We'll take that, we're going to add it to the bowl, the fine powder, as you can see, and then last we're just going to add the toasted sesame seeds to the mixture and then we're going to just fold those in. And there we have it, our zatar spice to season our hamachi sashimi. So we're going to go ahead and make our chamomile-infused yogurt "snow." First we're going to start off by making the chamomile-infused yogurt. Here we have a little simple syrup that we infused with chamomile. Made a simple syrup, added the dry chamomile, brought it up, let it steep, and that's what we have right here. We also have a little organic greek yogurt, we're going to add that to the bowl first. Nice and creamy yogurt. After that, we're going to add our chamomile-infused simple syrup to the mix. So we'll get all that in there. We're going to give it a couple spritz of lemon, some fresh lemon juice, we'll go with two of those, and just a little salt to season it up. Now we're going to mix all this together, give it a good whisk, get it really incorporated, get all those flavors in there. Alright we're going to take our chamomile-infused yogurt, we're going to take that and transfer it to just a disposable piping bag, that way we can pipe it easily into the liquid nitrogen and we really don't have any mess. Just pull this up, twist it off, so we don't really have any leaks, move that out of the way, and then we're going to go into the liquid nitrogen, which we have here, in a bowl. Uh, be careful with liquid nitrogen if you can get your hands on it, it's really, really cold. So we're just going to take a pair of scissors and we're just going to take the tip off the pastry bag, and then we're going to squirt it in here slowly, and it'll automatically freeze, I mean it's so cold in here, that it's just going to start to freeze instantaneously. Once we have it all in here we'll just stir it around, let it freeze completely through, and then we'll break it up a little bit before we transfer it to the food processor. As it's going we will just break it up, you can see it's starting to freeze into solid pieces like that, but we'll just break it up a little more that way when we transfer it to the food processor it'll puree a lot faster into that powder consistency that we're looking for for the dish. So we're going to be using the Waring food processor here, it's 2 and a half quarts, 3/4 horsepower so it's really going to give us that consistency that we're going for. Uh, we're just going to take the lid off, be careful with this once again it's very cold, and we're going to transfer that, the contents of this bowl to the food processor, put the lid on, lock and load, we can start off with a quick pulse, there's two options, you can give it a pulse or a continuous running with the on button so we're going to start off with a pulse like that. Break it up a little, and then we're just going to go for it. So now that we've pulverized it into our snow consistency, we're just going to remove the lid, we're going to take this over here, and we're just going to take everything out of the bowl. But as you can see, we've taken yogurt, we've frozen it in liquid nitrogen, and then we pulverized it into snow, this is going to balance our hamachi sashimi, so we can go ahead and start the plate up. We're going to start off by seasoning the fish with a little florida salt. Nice crunchy salt, bring a little texture to it, we'll continue with the za'atar spice that we made in the Waring spice grinder, just season each little fish individually with the spice mixture. Then we're going to transfer that t our plate, which we have here, give it a quick wipe. Just arrange them sporadically, it doesn't need to be any order whatsoever. Just have fun with it. Then we'll uh, little micro-chamomile, we used chamomile when we made the yogurt snow, that we will finish the dish with. So we're just going to reinforce that chamomile with the micro-chamomile, adds a little grassy note to the dish. The crispy cous-cous, which we've cooked like pasta, dehydrated, fried in hot oil, so it's nice and crispy, couple viola flowers on there for some color, brighten up the dish. Some star flowers. Bright red. And the baby cucumbers with bloom, nice little garnish on there. They are beautiful for em and tasty. We got our preserved lemon puree, put a couple dots on the plate, couple on the fish. Put a little chili oil, a little heat. And then we're going to finish the dish with the yogurt snow that we made earlier in the liquid nitrogen and the Waring 2 and a half quart food processor. So, we blitz that into a powder, and we're just going to garnish the fish with the snow. So there we go, hamachi sashimi, preserved lemon, yogurt, chamomile, and za'atar spice.
You call this fresh? Let me show you fresh. Chef Fabrizio Bottero here introducing our new WSG30 professional spice grinder. Let me show you exactly what it does. Our professional spice grinder comes with three stainless steel bowls and lids to cover and keep everything fresh. So first thing we're going to do is do some nutmeg: very, very hard. Almost like rocks. Look at that! Okay, two of them in. Lid on, and grind. What happened to the rocks? You know what happened to the rocks. Perfect. Now, the more you grind, the finer you're going to get. Just as hard as nutmeg, cinnamon sticks are an incredible challenge for a spice grinder. Let me show you how it works. Just put three of them right in the bowl. And the nice thing about this, you can also have a pulse. The flavor is coming right out. You can see the spices turning and grinding to a powder. Fresh! Fresh! Any hard spices in the world, you name it, we'll grind it, and the flavor will be fresh! Now, when I have some pasta, or some pizza, what is better than beautiful, red hot pepper flakes? Two seconds. Really. Let me show you. Voila! Again, the pulse feature and then on... and it's done. Isn't that fabulous? And the flavor in here, in our spice grinder.
Compare to Other Products
Overall Dimensions:
Width:

4 3/4 Inches

Depth:

5 1/2 Inches

Height:

8 3/8 Inches
Resources and Downloads for
Waring WSG30
Specsheet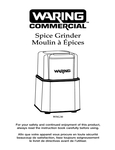 Manual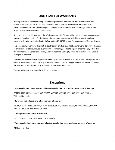 Warranty
A PDF viewer is required to view this product's information. Download Adobe Acrobat software
Warranty Info
Parts are subject to a 90 day warranty. All warranty claims are subject to manufacturer discretion. Warranty is not valid on any product leaving the U.S.
Other Products from this Line
Customer Reviews
People Talk About:

grinder

spice

spices

great

grinding

job

grind

Waring

whole

cups

1

out

of 1 found this

review

helpful

Pls. Don't buy this product. I just received the product and I am greatly disappointed with it. It's started burning in my first use when iam grinding my peppercorns. Iam waiting for my money refund

We appreciate your review, Jane! Our Customer Solutions team has issued a credit to you account.

1

out

of 1 found this

review

helpful

Great product. Heavy duty. Saves me time by being able to do larger quantities. The extra cups are great for storing my rib rubs in that I make.

1

out

of 1 found this

review

helpful

I make my own bird food and for the smaller birds I have to grind up the food so they can eat it. for over a year now I have been burning up the motors in the grinders that I have used. about one new grinder a month just trying to make 25 lbs of food. I had told this to a friend who works for a zoo doing the same thing. she told me they use the Waring grinder too, to make their foods. so I order one (the price was good because I paid more for some of the other ones I used) and it works great the first time I used it I grinded up 25 lbs of food fast and the motor never got hot. the grinding bowls you get are bigger and you get three grinding bowls with lids, has a high-performance commercial grade motor

with a thermal safety protector so the motor can't overheat if the motor starts to get hot it will shut itself off (that's what I needed on the other grinders I used) I have used this grinder to make 50 lbs of bird food without any trouble if you're looking for a grinder you can count on this is the one you want! I just wish my friend had told me about it sooner (I would of save so much time and money) Read Less Read More

1

out

of 1 found this

review

helpful

I purchased this spice grinder for my wholesale bakery. It gets used frequently and has performed well. The extra grinding cups with lids are very useful for storing unused spices. I'd buy this item again. I would give it a 5 star rating if the grinding cups were a bit larger.

1

out

of 1 found this

review

helpful

A spice grinder is a must have for multiple reasons. spices produce better taste or smell when they are freshly grinded. The price is great

Not recommended for the price. Bought this less than a year ago and it has already stopped working. We only use it every other week or so, and mostly for grinding black pepper and fennel seeds. Not at all durable, might as well buy 3 cheaper models.

Thank you for your feedback! We're sorry you did not prefer this product. For recommendations, please contact our Customer Solutions team.

Just received this spice grinder. Was very pleased it came with 3 spice grinder detachable cups. The unit feels sturdy and looks quality built. Unfortunately after about 30 seconds of pulsing the motor started smoking! This is advertised as commercial and literally started smoking after grinding a half cup of kosher salt. I have ordered many other Waring products and I know they can do better than this. I'm hoping I just got a defective unit. I would like this replaced or refunded.

Thank you for your review, Ken! We are sorry this Waring WSG30 Commercial Spice Grinder - 120V has not worked well for you. A Customer Solutions Representative will contact you soon!

This thing works great so far. Turns our whole spices into powders in no time. This is hold a ton of spices, we were debating on if we should have got the larger one, but am happy we went with this size.

Waring make excellent quality equipment at very reasonable prices. This spice grinder does the job perfectly and stands up to daily use in our high-end commercial kitchen.

I love this spice grinder, it will take anything that I put into it. It does a very good job at getting a consistent texture. The only thing I do not like about it is that I can be hard to clean the base on the inside. Other than that I love it and will most likely buy the larger model.

This grinder gets the job done. It is very easy to use and easy to clean. Unfortunately, it comes apart rather easily too. You have to give some sweat to get it back together properly, but it's possible. Still worth the price.

This was a lot more powerful and came with more containers than I thought. I love it. Being able to grind any spice I want fresh gives me great flexibility and freshness with all of my spices. You can make your spices coarse or very fine, it is up to you.

Up your game with fresh spices for rubs, curries, garam masala and marinades. The machine is a sturdy workhorse. Quick, quiet. Uniform pulverization, no splinters or stems. It's all good!

If you grind all your own herbs. As I do. In a very large quality. This is the device for you. I purchased a well known name brand. But with cheap parts. After 30 seconds. It burned out...literally. So, I put in the extra money & purchased this. You can not go wrong. Can handle large quantities at long periods of time. Worth every penny.

This spice grinder is wonderful and so fast! It will work great to shred my rolled oats or any other botanicals or herbs/spices into powder for my bar soaps.

I got my original 5 years ago at the big box dept not checking the Webstaurant. My second cost less today than the Depot 5 years ago!

We searched for a spice grinder and decided to purchase this Waring WSG30 it works good and has plenty of power to give you a fine grind on your spices.

This grinder will power through just about anything. Nutmeg? Yes. The detachable grinding bowl is a great feature for cleaning up, and the lid keeps most of the mess contained (though there are some areas of the lid that are difficult to clean). If you grind lots of things, this is a workhorse. I would not recommend this for grinding coffee (use a burr grinder instead).

Awesome product! Would recommend if you are looking for a good quality commercial spice grinder. It grinds everything! Example: Cinnamon, Whole Black Pepper, even nuts.

I purchased for my Wife's INDORANCH RESTAURANT AND MARKET located in lake Forest Ca. Even though this is not recommended for commercial use it does a good job of grinding black rice into flout which she uses to make Indonesian cookies. I would rate this 4 Stars for making rice flour (even though this is not the intent of Waring) as it is time consuming. 5 STAR for home use. Love the 3 grinding cups. and the products and service, that I receive, from WEBESTAURANT. STORE.
Leave a review of this product!
If you've used this product, log in and leave a review to tell us and other customers what you thought about it.
Login or Register