Warrington Farm Meat Products
Serve High-Quality Meat at Your Restaurant with Warrington Farm Meats
Warrington Farm has been in the farming business since 1974, nestled in the quaint fields of Dillsburg, PA. The company was purchased by Gerald and Marjorie Jones in 2006 and was expanded to include farm-raised beef and custom butchering. Warrington Farms is now a family-owned and operated business that specializes in precision meat processing and wholesale distribution of high-quality meat products. Read more
Warrington Farm meats come from ethically and sustainably raised animals to produce the finest cuts on the market. They offer a variety of fresh options including ground beef, steaks, sausages, and more to perfectly fit your menu. Whether you own a high-end restaurant, diner, or steak house, Warrington Farm has an option for your customers' unique preferences.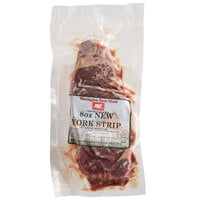 Warrington Farm Meats Beef
Serve steaks, burgers, and other beef products by investing in Warrington Farm Meats beef.
Warrington Farm Meats Sausages
Warrington Farm Meats sausages make an excellent addition to the entrees on your breakfast or dinner menu.