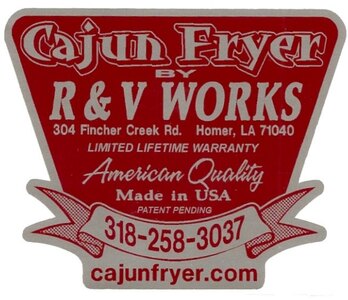 R & V Works Restaurant Supplies and Equipment
Grills, Fryers, and Equipment Accessories for Outdoor Settings
R & V Works is based in northern Louisiana and boasts a solid reputation for their dedication to customer service as well as their pricing that fits into nearly any budget. With a customer-oriented approach to doing business and quality products like grills, smokehouses, and outdoor fryers, R & V Works have a growing base of loyal purchasers across the United States. Read more
R & V Works specializes in outdoor grills and grill attachments that can help any business take their chicken, hamburgers, chops, and more to the next level. Also known for their outdoor fryers and smokehouses, R & V Works' products don't disappoint in their performance. Their products are made for long-lasting durability and affordability, making them an excellent selection for any up-and-coming businesses or foodservice veterans.

R & V Works Outdoor Steamers and Outdoor Fryers
R & V Works outdoor steamers and outdoor fryers provide you with the cooking power you need to make your most popular grilled or steamed dishes.

R & V Works Outdoor Fryer Accessories
R & V Works outdoor fryer accessories can be used to increase the versatility, utility, and efficiency of your outdoor fryer to produce outstanding, consistent, and delicious results every time.