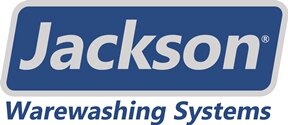 Jackson Overall Customer Rating:
Quality Commercial Warewashing
For over 80 years, Jackson has created innovative solutions to warewashing in commercial kitchens across North America. Jackson produces a number of different warewashing machines to fit in any kitchen setting. From cafeterias to hospitals and more, Jackson is a cornerstone of sanitation. Read more
Jackson's quality warewashing products are designed for high-volume use — even the smaller units are capable of taking in large quantities of glasses or even whole glass racks. And with their excellent customer support, they even provide a wide array of replacement parts and add-on accessories for their products.