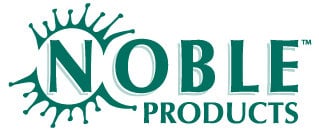 Noble Products Overall Customer Rating:
High Quality Cleaning Supplies and Disposables
Based in Lancaster, Pennsylvania, Noble Products has become a common sight in commercial foodservice businesses across the country. You can find their products in almost every application from food prep to janitorial duty, making them a diverse and in-demand producer of high quality cleaning goods. Read more
Designed to be used in every application, Noble Products' diverse line of vinyl and latex gloves, flatware racks, and dollies are the answer to keeping your establishment running safely. Noble offers high quality products at premium prices so you can get the most bang for your buck when you buy for your business.