Just1 Napkin Products
Quality Napkins for Typical Dispensers
A specialty producer of dispenser napkins, Just1 prides itself on quality, dedication, and customer service to provide napkins in different colors for almost any application. The versatility and necessity of their product pushes them the extra mile to create something customers not only need, but want. Read more
Available in white and kraft colors, Just1 napkins are necessities in restrooms, kitchens, and a number of other commercial settings. Their interfold designs make them ideal for a variety of applications, while the large case quantity helps customers save by providing thousands of napkins per case.
Just1 Dispenser Napkins
Just1 dispenser napkins are the perfect size for standard dispensers, so you can keep your supply at your customers' fingertips.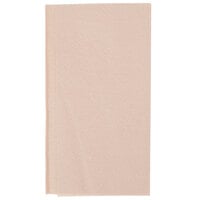 Just1 Unbleached Kraft Napkins
Made from 100% post-consumer recycled fiber, these Just1 unbleached kraft napkins are an eco-friendly choice for your restaurant.