American Metal Ware Parts
American Metal Ware Products Are Perfect for Coffee Shops, Diners, and Restaurants
American Metal Ware is a division of Grindmaster-Cecilware, which was created in 2009 when the Grindmaster and Cecilware Corporations merged. Grindmaster-Cecilware is a world-renowned manufacturer of beverage dispensing equipment and is committed to diversifying their product line. The company is also responsible for the introduction of the world's first fully automatic coffee urn. Read more
Grindmaster-Cecilware's inventory of beverage equipment includes coffee brewers and grinders, cold beverage dispensers, orange juice machines, and much more. Additionally, they manufacture fryers, griddles, charbroilers, warmers, and other hot side equipment. If you need replacement parts, American Metal Ware also offers a host of body components, nuts, washers, faucets, and more to keep your equipment running smoothly.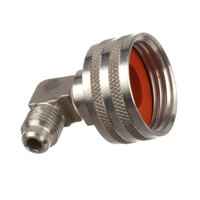 American Metal Ware Nipples & Elbows
American Metal Ware nipples and elbows are intended to replace broken or worn-out plumbing parts in your beverage equipment.
American Metal Ware Vacuum Breakers, Check Valves, and Backflow Preventers
Choose American Metal Ware vacuum breakers, check valves, and backflow preventers to keep beverage equipment working at your restaurant.