Grindmaster RealCup™ RC400 Black and Stainless Steel Single Cup Coffee Brewer - 120V
Large touch screen and easy to use controls
Adjustable cup rest fits large mugs
May be plumbed in, no special kit required
Patent pending brew chamber ensures even water distribution and full flavor
Customizable default settings
Illuminated 72 oz. reservoir
120V, 1550W
You May Also Need
"You May Also Need" items are guaranteed to work with the item you are viewing, such as lids that will fit a cup or casters that will fit a piece of equipment. If an item is not listed in this section, we do not guarantee that it will work with the product you are viewing and do not recommend that you purchase them for use together.
This Grindmaster RealCup™ RC400 black and stainless steel single cup coffee brewer is the perfect choice for board rooms.

Whether you are operating a hotel, outfitting a lounge or waiting room, or upgrading your board room, this single cup coffee brewer is a great choice for serving hot beverages! It works with Keurig® K-Cups® and with RealCup™ single serve cups (sold separately) to provide your guests with their favorite blend of coffee, tea, or cocoa quickly at the touch of a button! Perfect for areas with heavy traffic, this coffee brewer will stand up to a lot of use and is versatile enough to fit the needs of a variety of customers. This brewer is ready to use straight out of the box as a pour-over style brewer, or it may be plumbed in without the use of a special kit for the convenience of auto-filling.
NSF Listed

This item meets the standards imposed by NSF International, which focuses on public safety, health, and the environment.

5-15P

This unit comes with a NEMA 5-15P plug.
"It's a great coffee maker. I have yet to have any glitches with the machine itself and it works great! It's a nice little piece."
Read More Reviews

Versatile Design
It works with Keurig® K-Cups® and with RealCup™ single serve cups (sold separately) to provide your guests with their favorite blend of coffee, tea, or cocoa quickly at the touch of a button! It has pulse brew and a pre-infusion feature that are optimized for coffee, tea, and hot chocolate for even water distribution and the fullest flavor.

Simple Touchscreen Control
Designed to be simple and easy to use, this brewer features a large touch screen with simple controls that allow your guests to select beverage type and cup size to optimize efficiency and customer satisfaction. You can also use this touch screen to change the brewer settings to fit your usage, set brew count, or alter default settings. The quick start, stop, and restart controls make it easy to give your customers the coffee they want in just moments!

Multiple Brew Sizes
This unit can brew size different batch sizes between 4 and 16 oz. Plus, the base platform adjusts to hold different sizes of mugs, even oversized travel mugs.

Convenient Settings
This model has more operator settings to help keep track of operation and maintenance. These features include the resettable brew count and custom default options.

Easy-to-Access Parts
Though it is made to last, the cover is easily removable so that you can replace parts in case something should go wrong. This unit requires a 120V electrical connection and puts out 1550W.

Choose Pourover or Automatic Operation
This brewer is ready to use straight out of the box as a pour-over style brewer, or it may be plumbed in without the use of a special kit for the convenience of auto-filling. With a stylish, modern design and an illuminated 72 oz. capacity reservoir, this brewer will fit in with any sleek office space or trendy hotel lobby! The patent pending brew chamber ensures even water distribution and full flavor throughout the entire brewing process.
Grindmaster RealCup RC400 Coffee Brewer
Discover why the Grindmaster RealCup RC400 should be the next addition to your business!
Finally, a real choice for office coffee. Introducing the new RC400. A single serve brewer that will change the way you brew business. Let's take a closer look at why. The RC400 creates a better taste by automatically adjusting the pulsing frequency based on your beverage selection. And out innovative tilted brew chamber is expertly designed for even water distribution to consistently create a fuller extraction than conventional brewers. Leaving you with a full flavor cup sip after sip. The RC400 is extremely easy to use as well with one touch controls that are super simple all on a touch screen so big you'll think it was your smartphone. Speaking of big, our brewer can accommodate up to 16 oz. beverages. Perfect for over sized travel mugs. Someone really likes their coffee. The RC400 was designed with the operator in mind too. Pour over or plumbed in, our brewer comes fully equipped to handle both right out of the box. And it's packed with operator features like the brew counter which easily allows you to keep track of machine usage. Most importantly, the RC400 is built to last with commercial grade parts built to stand up to even the most aggressive office use. Plus, it's fully repairable with direct access to all the key parts. So, all the repairs are as easy as one, two, three. Saving you money in the long run. You've been in the business for years, now it's time for real choice. Better taste, easy to use, easy to operate, and built to last. The new RC400, open for business.
Grindmaster RealCup RC400 Coffee Brewer: Basic Operation
Learn how to use the Grindmaster RealCup RC400 by watching this video.
Basic operations. Today, we are going to go over the basic operations for your RC400. One thing we do want to point out is that there are two sharp probes inside the brew chamber for piercing the capsule. One is under the lid and one is in the bottom of the brew chamber. When you load a capsule, you should keep your hand away from these probes for safety. After you have inserted your RealCup capsule, fully close the brew chamber. As you continue to lower the brew head it will puncture the seal in the brew capsule. When the brew chamber is fully closed you will hear a click. The screen will also acknowledge that the chamber has been closed. The screen will prompt you to place a cup under the chamber and select your brewing options. You have many settings to chose from. The default settings are tea, coffee, and cocoa. There is an option at the bottom of the screen that lists 'more options.' If you press this, it will bring up additional options such as ice tea and hot water. The settings optimize the brew settings for each type of beverage. For instance, the cocoa setting injects air into the capsule to make a frothier beverage and the ice tea setting pulses the water during the brew to ensure adequate steeping time. We are going to chose coffee. This brings you back to the selection screen where you get to select your cup size. The size options go from 4 oz. up to 16 oz. Once you've selected your cup size, press the brew button and it will begin to brew your beverage. You will notice a brief pre-infusion step followed by a short pause. Pre-infusing gives time for the coffee beans to absorb water and swell leading to better extraction and a more satisfying beverage. The brew button color indicates the status of your brewer. You may recall that it was yellow when the brew chamber was open. Now it is blinking green to indicate that a brew is in progress. If you want to stop the brew early, just press the brew button like this. You can see the brewer performed an air blow to finish the brew. I can also extend the brew time by pressing and holding the brew button like this. When I reach the desired volume I release the brew button and the brew sequence finishes. Notice the brew button is now solid green indicating that my brew is complete. Now it is turned red indicating that the brewer is reheating, getting ready for the next brew. If the cold water resevoir is removed like this, the button will turn blue and the resevoir light will flash. Your brewer can get water three ways. We can remove the resevior and fill it at a sink or we can leave it in place and lift the lid to pour in the water. Your brewer can also be plumbed in to fill automatically.
Grindmaster RealCup RC400 Coffee Brewer: Basic Settings
This video explains the many settings available on the Grindmaster RealCup RC400.
Adjusting basic settings. Lets return to the settings screen. Touch the screen anywhere and then touch the gear icon. I can scroll for different settings. If I choose language it will allow me to choose English, French, or Spanish. I will change the setting and hit confirm so that the brewer will change the setting. The display text has now changed to French. I will go back and select English. Then press confirm. I'm now back to English settings. If I choose time day I will be able to select using these up and down arrows what time of the day it is am pm and also military time. I can also set what day of the week it is. Confirming will save that setting. If I'd like my brewer to turn on and off automatically based on the time of day I click on the auto on off button. It is asking me what time I'd like the brewer to turn on. I can for instance set my brewer to come on at 5 am. I can also set it for just weekdays or every day. By pressing confirm it will save that setting. Next it is asking me when I'd like to have the brewer powered down. I'm going to set it for 6 pm and enable it. Again, weekdays or every day and I will confirm. If I go back to those settings I can see that they have been automatically saved. Energy save mode allows me to have the heater turn off after a period of inactivity. This will save energy compared to keeping the brewer up to temperature all day long. Currently, it is set at a 1 hour delay. I can disable it which means the brewer will always be heated and kept at a constant temperature. I can also set it to 30 minutes, 1 hour, or 2 hour delay. Again, pressing confirm saves the setting. If I press the down arrow on my setting bar and chose service contact it will display Grindmaster technical support with a contact number. It will also display what software version is currently active. This is important for trouble shooting should you have a problem with the brewer. If I choose restore factory defaults, it will ask me for a passcode. If I do not know the passcode, it will tell me invalid passcode and to try again. Factory settings can not be reset without a valid passcode. If I press the home button, I am back to the lift to brew screen.
Grindmaster RealCup RC400 Coffee Brewer: Descaling
Properly descaled equipment is imperative to brewing good coffee. Learn how to descale your Grindmaster RealCup RC400 by watching this video!
Descaling. Next, we will be reviewing how to descale your RealCup brewer. We will be demonstrating this with an autofill unit. As you can see, this unit is attached to a water supply. Make sure to turn off the water before proceeding. The first step to descaling the unit is to remove the reservoir and empty it. Replace the empty reservoir onto the brewer make sure your brew chamber is empty and that there is no capsule in your brew chamber. Next, you'll want to fill the reservoir with 72 oz. of white distilled vinegar. After you fill the reservoir with vinegar you'll use the 12 oz. brew cycle to operate the brewer. Select 12 oz. and brew as you normally would. Continue to cycle with the 12 oz. brewing option with a capsule in the chamber until the brewer calls for water. We've now run through several brew sequences and the reservoir is nearly depleted. This has brought the vinegar through the heating tank and all the internal water connections. At this point we need to turn off the brewer and empty the reservoir of any remaining vinegar. Leave your brewer off for a period of three hours allowing the vinegar to complete its descaling process. The brewer has not been off for three hours, so I'm going to remove the back panel to drain out the spent vinegar. Remove the cap to the drain hose and drain the brewer into the sink. Caution, the vinegar may still be quite hot. The water line has now stopped draining, so I'm going to reconnect the stopper to cap the drain line. Then secure the back panel and refill the reservoir with fresh water. I'm going to do this by turning on the water supply or you can fill it manually. When I turn on the brewer it will ask me to prime. The brewer is now primed and reheated. I will now use the 12 oz. cycle a minimum of three times to flush the system without a capsule until there is no longer a smell or taste of vinegar in the water. The brewer will then be ready for use.
Grindmaster RealCup RC400 Coffee Brewer: Installing and Priming
In this video, you'll learn how to install and prime your Grindmaster RealCup RC400 to get it ready for service.
Installing and priming. Today, I'm going to show you how to connect your RC400 to a water supply and adjust a few basic settings to get it ready for operation. You can see that I've already mounted my water filter on the back of the RC400 brewer using the convenient mounting screws. Most filters contain activated carbon to take out any taste or odor from the water such as chlorine. This will make your coffee taste better when you use the brewer. This filter also has a scale stick which will help minimize scale buildup in the hot water tank extending the life and brewer and reducing the frequency of de-liming. Under normal conditions, up to 20 brews per day, this filter should be changed every six months. Now, I'm going to connect my supply line to the water filter and connect the line from the filter to the brewer. Having connected the water supply, we are going to open the water supply valve and check for any leaks. We now turn on the power switch on the back of the unit. The inlet valve will open allowing water to automatically fill the reservoir. On the screen it is prompting to setup our language preference and the date and time. I'll do that quickly. Now the screen is showing "refill the water tank" which it is automatically doing since it is connected to the water supply. Once the water reaches a level sufficient for heating and brewing it will automatically stop. If you're using the brewer in pour over mode, then this part of the setup is very simple; just fill the reservoir with fresh water. The reservoir is now full but the indicator light is flashing telling us we are not ready to brew. The display is now prompting us to press the brew button until the water flows. This is to prime the unit. Place a cup under the brew chamber, making sure the brew chamber is completely shut. If we press the brew button it will prime the unit. The screen is displaying, press brew button until water flows. As I hold down the brew button, the brewer is being primed from the reservoir. You can see the water in the reservoir lowering as it fills the heating chamber. You will continue to hold the brew button until water comes out of the brew head into the cup. At this point, the brewer is primed and you can stop priming the unit. As you can see, it takes quite a bit of water before the unit is fully primed so please continue to hold that button until water flows out of the brew chamber. You can see that the brew button has gone from a blue flashing light to a red flashing light which tells me it is heating. Since it will take a few minutes for the brewer to heat up, I'll go ahead and setup the service contact info while we're waiting. First, I open and close the brew chamber to bring up the brew selection screen. I select the gear icon to enter the basic settings menu. Then the lock icon to unlock the advanced settings menu. The password for the advanced settings menu is 0 4 0 0. Now, I'll scroll down to service contact. The default is Grindmaster's technical support line but I want my customer's to call me not Grindmaster if there is a problem. I'll go ahead and enter my info hitting confirm after each entry. While I'm hear, I'm also going to adjust the default cup size. You can see here, a list of all the available sizes. I'll leave them all active and hit the confirm button. Here you can see that the default is currently set at 8 oz. I'm going to change it to 10 oz. and hit confirm. There are a lot of other settings that can be adjusted in the advanced settings menu including the temperature and volume calibration. But I'm going to leave those at their factory settings today. Now, I hit the return arrow at the bottom of the screen and the home icon to bring me back out of the settings menu. Now, I'm going to lift and close the brew chamber cover. You can see that the brew button has changed to green now so the brewer is heated up and ready to brew.
Compare to Other Products
Overall Dimensions:
Width:

11 Inches

Depth:

15 Inches

Height:

15 11/16 Inches

Attention CA Residents: Prop 65 Warning
Resources and Downloads for
Grindmaster-Cecilware RC400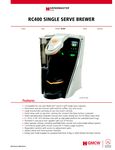 Specsheet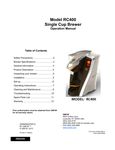 Manual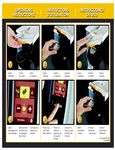 Instructions
Warranty
Service Manual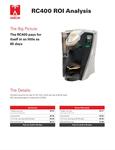 ROI Analysis
60 Day Money Back Guarantee
A PDF viewer is required to view this product's information. Download Adobe Acrobat software
Warranty Info
Please Note: Grindmaster-Cecilware items may not be exported outside of the United States. Exporting these items will void the warranty.
Customer Reviews
People Talk About:

great

huge

glitches

Gives

fan

color

coffee

clients

chrome

choice

Arrange by

It's a great coffee maker. I have yet to have any glitches with the machine itself and it works great! It's a nice little piece.

I love this product. It is great for my business. Gives my clients sophisticated choice! I did not give it a 5 star because I am not a huge fan of the color pallet. Would like to see something all black or all chrome.
Get paid to review this product!
If you've used this product, simply log in and share your text, video, and photo reviews of it. The customers on the left did it, and you can too! Earn up to $16.00 per product.
Write a text review
Earn $2.00
Post a product photo
Earn $4.00
Post a product video
Earn $10.00
Login or Register