Edwards-Councilor Steramine Sanitizing Tablets (Sanitabs) 150 Count Bottle
Perfect for sanitizing food contact surfaces
Prevents contamination of raw foods
Helps prevent the spread of infectious diseases
Use in 3 compartment sinks and spray bottles
Effective on hard, non-porous surfaces
Kills HIV-1 and E. Coli
You May Also Need
These Edwards-Councilor S150E48 Steramine sani-tabs are perfect for sanitizing food contact surfaces.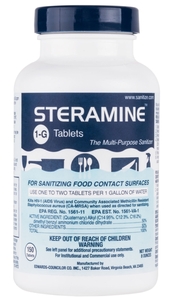 Prevent cross contamination to keep your food safe and your food establishment in business with these sani-tabs. They can be used in either a soaking method for dishes, glasses, utensils, and other small items, or in spray applications for sanitizing large surfaces like countertops, sinks, processing equipment, refrigerators, and other non-porous surfaces that frequently come in contact with food.
"These sanitizer tablets are super convenient. You just drop a tablet or two (depending on how much water) into warm water and let it dissolve. No need to measure any liquids or keep large containers of sanitizer chemicals around which is my favorite part."
Read More Reviews

Powerful Formula
When used as directed these tablets are highly effective at preventing the transmission of infectious diseases like HIV-1 (AIDS virus), E. Coli, and Staph, while remaining gentle on your employees' hands and safe for use on food contact surfaces.

For Soaking
Wash articles with a good detergent in first sink compartment. Rinse with clean water in second sink compartment. In third sink compartment use 1 tablet per 1 gallon of warm water. Allow several minutes for tablets to dissolve. Immerse articles for at least one minute or for contact time specified by governing sanitary code. Allow articles to air dry on a rack or drainboard.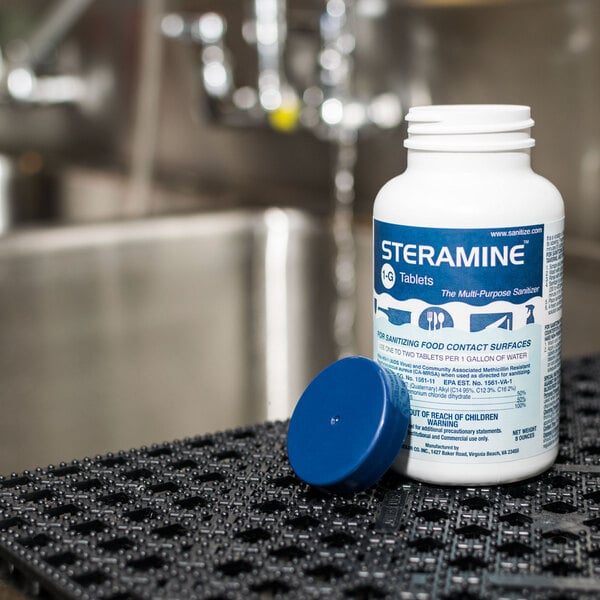 For Spray Application
Wash and rinse all articles and surfaces thoroughly. Apply the solution (1 tab per 1 gallon) using a hand trigger sprayer or wipe it on. Allow surface to remain wet for at least one minute followed by adequate draining and air-drying.
Customer Q&A Ask a Question
What is the correct temperature for sanitizing?
The FDA specifies that sanitizer solution temperature must be at least 75 degrees Fahrenheit. The maximum safe temperature for prolonged bare hand contact is 120 degrees Fahrenheit. If protective gloves are used, the maximum safe temperature is 140 degrees Fahrenheit.
Steramine Tablets
Steramine tablets are safer, easier to use and more cost effective than other sanitizing options! Strong enough to kill micro-organisms such as E. Coli, Staph, and HIV-1, but gentle on employees' hands, they can even be used on food contact surfaces.
The third sink. In many ways it's the key to your kitchens operation. Without it, you're out of business. Steramine multipurpose sanitizing tablets can help insure that your third sink meets all requirements quickly, reliably, repeatedly. When used as directed, steramine tablets dissolved in water kill infected micro-organisms including E.coli bacteria, Staph, and HIV-1; the virus that causes aids. It's an anti-microble product. A sanitized solution prepared with steramine tablets leaves glassware and dishes sparkling clear, and free of film, odor and residue. It's also good for sanitizing food display equipment. Steramine tablets have every advantage offered by other sanitizers, plus additional benefits that combine to make it an outstanding choice for your sanitizing needs. Compared to chlorine compounds, iodine compounds, and liquid quarts, steramine tablets are safer, easier to use, and more cost effective. Look at some of the advantages steramine tablets provide. As a business owner, you are responsible for ensuring a safe and healthy work environment for your employees. That means providing them with the safest means for doing their jobs. Most sanitizers are listed by the environmental protection agency, or EPA, as category 1 hazards. These sanitizers require personal protection equipment, such as goggles and gloves, to prepare them, and they carry a risk of serious illness, permanent injury, or death if used or prepared improperly. Steramine is listed by the EPA as a category 2 chemical hazard, meaning it is less dangerous than category 1 sanitizers. In fact, with steramine tablets goggles and gloves are not required when preparing the solution. Simply drop the tablets in water. Steramine tablets are pre-measured. One tablet dissolved in one gallon of water produces a sanitizing solution of two hundred parts per million of concentration to meet health department regulations. Other sanitizing solutions require measuring liquids or powders from bulky supplies, with a chance of creating a solution that is too strong or too weak. This method also creates the danger of spills, splashing, or improper mixing. In addition, steramine tablets produce a clear, pale blue color in the sanitizing solution. Many sanitizers produce no visible indication that they are in use. With other solutions, workers may deliberately under-mix the amounts to reduce skin irritation, noxious smell, unpleasant fumes, or discomfort caused by volatile is_active ingredients. Even when the full amount of other materials is used, their corrosive ingredients can cause painful breaks in employees' skin. Sanitizing solution produced by steramine tablets is gentle, it won't irritate hands. Steramine is also non-corrosive to metals, non-staining, and odorless. There is no objectionable residue left over on surfaces treated with steramine. Steramine leaves no lingering smell or taste to interfere with the enjoyment of food and drinks. Steramine tablets reduce waste. Each tablet is pre-measured. Since there is no liquid to measure out, the risk of spilling your waste is practically eliminated, and the risk of loss due to broken containers is a thing of the past. One six bottle case is enough for nine hundred gallons of solution. You save on shipping and delivery costs because you're not paying to transport liquids or inert ingredients. To use steramine tablets, measure and mark the water level in your third sink according to the formula shown. For each gallon of water used in the sink, use one steramine tablet. It's that simple! Your staff won't have to worry about measuring out liquids with specialized equipment, and you won't have to worry about storing bulky containers in a crowded, busy kitchen since each bottle holds 150 tablets, and a compact case holds 6 bottles. Steramine tablets aren't just for the third sink. You can also spray or wipe steramine sanitizer on food processing equipment, sinks, countertops, refrigerated storage, and display equipment, cutting boards, and other non-porous food and non-food contact surfaces and articles. Since it is odorless, tasteless, and residue free, no smell or taste is transferred to the food. Effective, easy to use, economical, versatile, and compact, steramine multipurpose sanitizing tablets provide all of the benefits of the solution you are using now while adding advantages that make it a clear winner in your kitchen.

Attention CA Residents: Prop 65 Warning
Resources and Downloads
SDS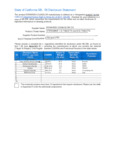 Ingredients
A PDF viewer is required to view this product's information. Download Adobe Acrobat software
Customer Reviews
People Talk About:

sanitizing

Tablets

water

great

easy

love

tablet

price

sanitizer

bleach

Arrange by

See All 417 Reviews

2

out

of 2 found this

review

helpful

Not only is this product significantly cheaper than the distributor I was using previously; but the packaging is much safer and durable. With a crew full of teenagers I need to make sure the products I use can take some hits.

1

out

of 1 found this

review

helpful

Tablets are way easy to use- no measuring needed just drop them into the sink and good to go. Have had good results using these in our 3 compartment sink - they get the job done.

Simple and innovative product that sanitizes utensils and dishes properly. Easy to use tablets that require little effort to use. Simply put a few in the sink and fill up the sink and let them dissolve.

Great priced sanitizing tablets, we use these for when we wash dishes, they can also be used to sanitize tables, counters, and other surfaces for cleaning so they are multi use. Definitely recommend this product.

The edwards-councilor steramine sanitizer tablets make cleaning easy. Buying them in this quantity is the way to go.. We are very satisfied with the way they clean our kitchen.

Fantastic sanitation tablets! We use 2-3 to fill our sink with safe sanitizer that is an excellent final step of cleaning our dishes. It turns a dark blue color in warm water.

I like to use these to sanitize my dishes. I rinse off the dishes first then soak them in the sink in water and throw in a few tablets and let them soak for a few hours before loading them into the dishwasher. I also make up a batch of solution using 1 tablet and a gallon of water and then fill my spray bottle. These are very convenient.

We used them only a few times since we just opened but it looks like they work! Just place them in warm water and they'll do all the work!

We highly recommend the sanitizing tablets which have saved us a lot of money. They work well and we will purchase often - would definitely recommend.

A standard necessity in all restaurants in the United States. They are high quality and get the job done. No complaints from me on this item.

These are great for steralizing. Tablets dissolve quickly for immediate use. Also, the price is fantastic compared to other competitors. I will definitely purchase again.

Great alternative to bleach, no strong chemical smell and super easy to use; one tablet makes one gallon of sanitize water so a little really goes along way!

A great addition to a commercial restaurant's dish safety! Steramine makes gauging sanitizer much easier and makes water a really vibrant blue color to easily identify it!

These sanitizing tablets work great for sanitizing our dishes with the three-compartment sink process. We also use two tablets in our sanitizer spray bottles in order to clean the tables and work space countertops. It makes a great concentrated solution and gets the job done. Compared to bleach, these tablets are much more cost-effective and don't have an odor or the risk of ruining clothes or staining items.

These are absolutely necessary in a commercial kitchen. Keep these on hand and use them everytime you make a fresh sink of sanitizing solution . They are mandated by the local health department

Easy to use. This helps control our sanitizing water in our sink. Recommend this for every food business out there. We love it and lasts forever!

It works like a charm. These are a bartenders friend when it comes to a three-compartment sink. I don't know what we would do without them!

Great tables very convenient and clean to you Love the fact that it has a screw on cap in case of accidental drops in the water and it doesn't ruin all of your tablets

These are handy and easy to use and store. They take the guesswork out of measuring and making sure you have the right concentration of sanitizer.
Leave a review of this product!
If you've used this product, log in and leave a review to tell us and other customers what you thought about it.
Login or Register