Cooking Performance Group 84" 4 Drawer Refrigerated Chef Base with 60" Gas Radiant Charbroiler and 24" Griddle - 260,000 BTU
Provides convenient cold food storage with a 1100 lb. weight capacity
Features reversible, cast iron top grates
Made of durable, easy-to-clean stainless steel
Field convertible to liquid propane; includes orifice for connection
Total unit BTU: 260,000 BTU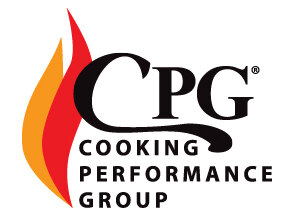 View all Cooking Performance Group Commercial Gas Griddles and Flat Top Grills
Cooking Performance Group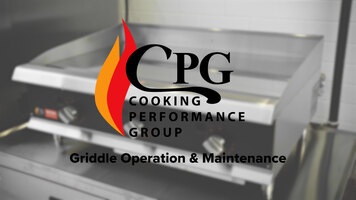 CPG Griddle Operation and Maintenance
My name is Alan Peterson and I am the equipment brand manager at Clark Associates. What I'm doing here today is to show you basic operation and maintenance of CPG griddles. First off, show you where the pilot light is. The pilot light is actually further within the griddle. After the griddle is properly connected to the gas line and everything, you'll make sure that the knobs are off. Take your lighter, stick it back in there, light the flame, and once the pilot light is lit simply go to the left and turn it on higher, or to the right, lower. When you turn the knob all the way to off the pilot light is still going to be on. So when it comes to the manual griddles, at the end of the day, you don't have to worry about having to relight your griddle the next day or so on. When it comes to thermostatic griddles you're going to actually push this knob in and turn it to pilot. You'll again take your lighter, put it through the pilot hole there and, you'll see the pilot light is a little bit further back, you'll get it lit. After a couple seconds of the pilot light being lit you'll turn it on to whatever temperature you desire. To turn it off for the end of the day, you're actually just turning it to where you'll see Fahrenheit degrees. That means the pilot light will still be on. That way you are not turning the pilot light on and off day after day. Now, if you wanted to turn the pilot light off on a thermostatic griddle you are going to simply push it back in and turn the knob up to off. That will shut off the pilot light. When you get your CPG griddles there will be a coating on it. You will light your pilot flames and then we suggest turning it on mid-way or full-way, the point is get it hot cause you're going to burn off the oil that is on top of it. So that is simply just to keep the plate clean. In case anything happens, knob comes off, something breaks, whatever - in that case we do have replacement parts. One being the knobs themselves, the pilot light valves, the feet, grease trays as well. In the event that you are using the CPG griddle in high elevations, lets say you're in Colorado, there is the different gas orifices that allow different amounts of gas to be released to the burners. That will be as needed. All of our CPG griddles are set to be used at sea level. If it's anything far above that, that is where you may want to look into getting the different gas orifices to then allow for better operation at those different elevations. The nice thing about CPG griddles is the legs on these units are actually adjustable. So if you need to lower or heighten the CPG griddle from the level that it's at, the working height, you can do so. We also have our CPG griddle cleaning kits. It comes with everything you need - your scraper, brushes, and even our Noble Chemical Blast cleaner. Everything that you need to get started is right in there. The other thing to do when it comes to operation and maintenance, we recommend to clean the sides and front daily and then as well clean at least weekly the actual top of the griddle itself. We do have videos to show you how to clean your steel griddle. This is how to use your griddle gear cleaning kit. First, scrape the griddle while hot. The turn it off, spray blast on the top, scrub the top with a brush, and rinse with water. Then, drain the water, wipe down the surface, and coat it with oil. Spread the oil across the top of the surface, and it is now ready to use. In the event that you are using a chrome plated CPG griddle, the CPG Ultra Series, we also have videos referencing on how to clean those units as well. Maintaining the cooking surface on your CPG Ultra Series chrome griddle is key to long service and key performance. On average, chrome griddles take 45% less time to clean than standard steel plated griddles, saving you time and money. The best time to clean the plate is while it is still hot between 300 and 350 degrees Fahrenheit. With a blade scraper, scrape at the grill surface to remove baked on residue. Once most of the heavy residue is lifted, pour water, or for heavy-duty cleaning use Noble Chemical Griddle Kleen chrome liquid cleaner or QuikPacks Griddle Kleen chrome cleaner, on the cook top. Scrub the griddle with a natural non-scratching stiff bristle brush and sweep the excess water or cleaner into the trough at the base of the griddle. Wipe off and polish the surface with Noble Chemical Griddle Kleen cleanser polish powder and a clean lint-free cloth. Lastly, rinse with water to remove any remaining polish. This quick and simple cleaning process ensures a long-lasting life yielding optimal performance and saving you time and money. When seasoning a CPG griddle, we have our Sprease by Regal Foods. This will be something that you can spray onto the griddle to get it seasoned. We recommend doing about 1 ounce of cooking oil, Sprease, whatever you want to use, per square foot of cooking surface. You're going to spray that on there and then once you get that on the entire surface of the griddle you want to make sure to then wipe it down with a cloth afterwards. You will want to do seasoning of the griddle plate after every weekly cleaning or as often as you're cleaning the surface of the griddle. After your pilot light is lit, you got the gas running, and you're ready to start cooking we recommend leaving the burners on about 15 to 20 minutes at the beginning of the day. That way it gets the griddle to preheat and be at the temperature and heat you are looking for. However, after you've been cooking for the day and everything, it should be fine to where you don't need to wait 15 to 20 minutes again, but when you are starting the day off we would recommend waiting 15 to 20 minutes to get it going. Hopefully this gave you an overview of how to operate and maintain your CPG griddles. If you have any questions, you can reach out to our project manager or myself Alan Peterson at
[email protected]
Thank you!
Understanding how to best operate and maintain your CPG griddle is key to ensuring a long-lasting life and optimal performance. Follow along with this video to learn more!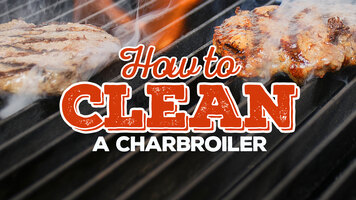 Cleaning your charbroiler every day will make it last longer and produce better results. While the charbroiler is still hot, but not on, use a wire brush and scraper to remove any stuck-on particles of food or fat from the grates. It's a good idea to wear cleaning gloves while you are cleaning your charbroiler. After you've cleaned the tops, flip the grates over and clean the bottoms. Once the charbroiler has cooled completely, use a damp cloth or sponge dipped in soapy water to clean the rest of it. A ready-to-use de-greaser like Formula-D can be used too. For really stubborn grease or carbon buildup, use a heavy duty de-greaser like Blast. It works best on a warm surface, and make sure you thoroughly rinse it off after use. On a radiant charbroiler, you'll want to clean the radiants. It's easiest to do this in a sink. Make sure you empty and clean the drip trays. Keeping water in the drip trays makes cleanup easier, and helps prevent grease fires. If you have a lava rock charbroiler, you should flip over the stones every few weeks to get any accumulated grease on the tops to burn off. Most manufacturers recommend changing the stones at least twice per year, but you may need to do so more frequently depending on your usage level. Thanks for watching, and if you have any questions, please click on our live chat button.
See how easy it is to clean your charbroiler by watching this informative video!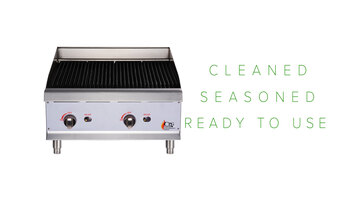 Getting your brand new charbroiler cleaned, seasoned, and ready to use is easy! A properly seasoned charbroiler will produce better tasting food. Plus, it will last longer, resist rusting better, and be easier to clean. Follow these easy steps to season your charbroiler. After you've uncrated your charbroiler and hooked it up, it's a good idea to wash the exterior with a mild detergent. Next, light all the burners and leave them at the maximum setting for 30 minutes. This will burn off any oils, dust, or protective coatings from the shipping and manufacturing processes. After the grates have cooled completely, you'll want to season them to prevent sticking. First, coat the grates with a high-heat cooking spray or oil like Canola oil. It's a good idea to wipe them with a paper towel or cloth to make sure you have them covered evenly. Next, turn all your burners on high and leave them on for 30 minutes or until your charbroiler stops smoking. Turn off the burners and let the unit cool off. Now your charbroiler is seasoned and ready to use!
Unpacking, cleaning, and seasoning your charbroiler is easy! Follow these simple steps, and you'll be grilling up savory burgers and fish fillets in no time without the hassle of sticky grates.
Specs
Width
84 Inches
Depth
32 1/8 Inches
Charbroiler Width
20
Griddle Width
24
Interior Width
72 5/16 Inches
Charbroiler Depth
60
Griddle Depth
20
Interior Depth
27 9/16 Inches
Interior Height
16 9/16 Inches
Phase
1 Phase
Voltage
115 Volts
Base Style
Refrigerated Base
Burner BTU
30,000 - 40,000
Burner Style
U-Shaped
Charbroiler BTU
200,000
Control Type
Thermostatic
Cooking Surface Material
Polished Steel
Gas Inlet Size
3/4 Inches
Griddle BTU
60,000
Griddle Size
24 Inches
Griddle Temperature
200 - 575 Degrees F
Installation Type
Freestanding
Number of Burners
7
Number of Controls
7
Number of Ovens
None
Plug Type
NEMA 5-15P
Power Type
Field Convertible

Natural Gas
Temperature Range
33 - 40 Degrees F
Total BTU
250,000 BTU
Type
Griddle / Chef Base
With Griddle
Yes
Customer questions about this product
My business is at a high elevation; does this change anything when I order gas cooking equipment?

Many gas equipment manufacturers need to make adjustments to the equipment so it operates correctly at elevations over 2,000 feet. Sometimes we can special order from the manufacturer and have your cooking equipment delivered ready-to-go, but in cases where your unit is in stock and waiting to ship, you'll need to have a qualified service technician come to your location and alter your unit at the time of installation so that it is compatible with a higher elevation. Contact our Special Orders team prior to placing your order, and we will let you know what will work best for the equipment you are planning to purchase.
I see that this gas unit is "field-convertible." What does that mean?

Gas equipment is factory-set to use either natural gas or liquid propane. Field-convertible equipment allows your unit to accept the other gas type (so for example a natural gas unit could be converted to use liquid propane), but this conversion must happen before it is used. For safety reasons, we recommend having a qualified service professional perform the conversion.
I haven't heard of R-290, R-600a, R-513a, or R-448A refrigerant before. What is it?

R-290 (also known as high purity propane or CARE 40) and R-600a (also known as refrigerant grade Isobutane or CARE 10) are hydrocarbon refrigerants. R513a (also known as Opteon XP10) and R-448A (also known as Solstice N40) are HFO (hydrofluoroolefin) refrigerants. They are being used as an eco-friendly refrigerant by some manufacturers in response to the EPA's Significant New Alternatives Policy (SNAP) Program. Read more about this program in our blog post on Refrigerant Regulations.
What kinds of pans can I use in my refrigerated prep table?

While various configurations combining traditional 1/3 size, 1/6 size, and other food pan sizes are possible, it's important to refer to your equipment's Specification Sheet and/or Owner's Manual to see what pan sizes and configurations are recommended. Certain accessories may be needed in order to use pans of a different size than what is recommended. It is also important to note that mixing and matching pans from different manufacturers may result in the pans not fitting properly.
Ask your own question!
Details
Provide a convenient place to hold, store, and prepare foods by adding this Cooking Performance Group 84" 4 drawer refrigerated chef base with 60" gas radiant charbroiler and 24" griddle to your kitchen! As a space and productivity solution for your kitchen, this unit makes it easy to increase efficiency by placing the charbroiler and griddle right on top of the chef base where you store your cold ingredients. This base features a durable 1 3/4" stainless steel top and is equipped with a marine edge to contain drips and spills for easy cleanup. Each drawer in this unit can hold up to 3 full size food pans (sold separately). The digital temperature control allows you to set the interior of the unit to hold your prepared foods and ingredients at safe temperatures between 33 and 40 degrees Fahrenheit. The stainless steel construction adds extended durability in a busy kitchen environment.

The charbroiler boasts 5 powerful 40,000 BTU stainless steel U-shaped burners with cast iron grates to provide even broiling, which also catch juices from your flavorful meats to produce searing flames and smoke for a great-tasting product. To prevent clogging, the angled sides help direct oil to the drip tray. The reversible cast iron top grates give your meats tantalizing grill marks, sporting a thin side that's perfect for searing and a thick side that's great for your more delicate foods. They can also be used in a flat or sloped position so that you can simultaneously cook various foods to the desired level of doneness! Thanks to its stainless steel construction, a full width waste tray, and the ability to remove the cast iron grates, radiant covers, and stainless steel burners without tools, the 60" charbroiler is both durable and extremely easy to clean!

The griddle features energy saving thermostats that are adjustable from 200 to 575 degrees Fahrenheit for precise temperature control, making it an excellent choice for delicate breakfast foods like eggs and hotcakes, as well as your lunch menu of chicken, hamburgers, and other meats! It boasts two powerful 30,000 BTU stainless steel U-shaped burners with standing pilots for instant ignition that work in perfect harmony with the thermostats to maintain your selected griddle temperature during peak cooking periods. Its flame failure protection system guarantees safety and peace of mind. The 3/4" thick, 24" wide polished steel cooking surface features an impressive 20" depth that is sure to deliver all of the workspace needed. It is made of stainless steel that is both durable and extremely easy to clean, includes back and side splashes to protect your walls and countertops, and even has a full width waste tray to provide you with a complete package of excellent performance and worry-free maintenance!

For greater ease of cleaning, casters come included so that you can move the unit away from the wall. The refrigeration system uses a 1/5 hp compressor and R290 refrigerant, which is a safe and environmentally-responsible choice for your business. The unit offers a conveniently located, 3/4" rear gas connection and ships ready to connect to a natural gas supply. The charbroiler and griddle include a liquid propane orifice kit for quick and easy field conversion. This unit requires a 115V electrical connection.

Overall Dimensions:
Width: 84"
Depth: 32 1/8"
Capacity: 19.1 cu. ft.

Interior Dimensions:
Width: 72 5/16"
Depth: 27 9/16"
Height: 16 9/16"

Charbroiler Dimensions:
Width: 60"
Depth: 30 1/2"
Height: 16 3/4"

Griddle Dimensions:
Width: 24"
Depth: 26 13/16"
Height: 16 5/16"
This Item Ships via Common Carrier. For more information and tips to help your delivery go smoothly, click here.
ETL Sanitation

This item meets the sanitation standards imposed by the ETL, a division of the Intertek Group.

ETL US & Canada

This item meets the electrical product safety standards imposed by the ETL, a division of the Intertek Group, for use in the United States and Canada.

5-15P

This unit comes with a NEMA 5-15P plug.

3/4" Gas Connection

This unit comes with a 3/4" gas connection to be installed by a professional.

Field Convertible

This unit has an additional built-in orifice for optional field conversion.
Resources and Downloads

Specsheet
Manual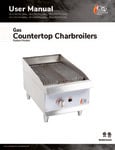 Manual
Manual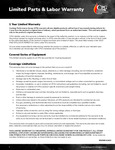 Warranty
Warranty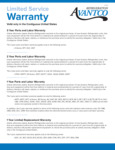 Warranty
A PDF viewer is required to view this product's information. Download Adobe Acrobat software
Warranty Info
RESIDENTIAL USERS: Vendor assumes no liability for parts or labor coverage for component failure or other damages resulting from installation in non-commercial or residential applications. Your warranty will be voided if installed in non-commercial or residential applications.
Leave a review of this product!
If you've used this product, log in and leave a review to tell us and other customers what you thought about it. Get paid up to $16 for submitting one of the first text, photo, or video reviews for this item. View your account for details.
Write a text review
Earn $2.00
Post a product photo
Earn $4.00
Post a product video
Earn $10.00
Login or Register