Shop Blended Ice Beverage Mixes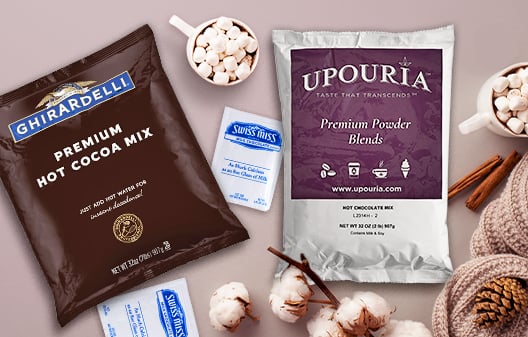 Shop Hot Chocolate & Cocoa Mixes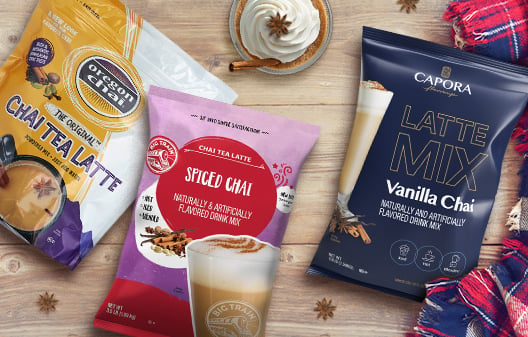 Shop Chai Mixes
Chai Mixes
Chai mixes contain the perfect blend of spices for making a delicious, fragrant chai beverage.
Other Beverage Toppings and Add Ins
Impress Your Patrons with Delicious Lattes, Hot Chocolate, Slushies, & More
Create a diverse beverage menu full of signature blended drinks with our convenient powder mixes. We carry drink mixes in a variety of flavors so you can prepare cappuccinos, tea lattes, bubble tea, and even lemonade in a fraction of the time. You can craft your own blended frappes featuring fruity flavors, dessert flavors, and coffee flavors.
Read more
Powdered drink mixes make it easy to expand your drink menu to include blended coffee drinks, chai tea, and hot chocolate. Boost your sales by offering trendy beverages like bubble tea and matcha tea lattes. Tempt your guests with a menu full of delicious signautre drinks!
If you're looking for a way to give your beverage menu a boost, check out our powdered drink mixes. Our collection of mixes includes everything you need to make smoothies, coffee drinks, and protein shakes with unique flavors you can combine for custom flavor profiles. Choose powder mixes made by trusted vendors in bulk sizes for commercial beverage service at your cafe, coffee shop, or tea house. Serve your signature drinks in any of our
paper hot cups
,
glass coffee mugs
, and
china cups
.