Find the Best Fruit Jellies, Marmalades, and Preserves for Your Business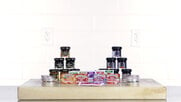 If you own a restaurant, diner, or cafe, fruit jellies, marmalades, and preserves are must-have condiments. Depending upon how the fruit is cooked, these spreads have different consistencies. Fruit preserves and jams generally have small to large pieces of fruit suspended in them, while jellies and marmalades are usually clear. These jars and packets come in a variety of flavors, types, and sizes, so you can easily find the perfect complement to any breakfast, lunch, or dinner meal. Make these jellies, marmalades, and preserves available to your customers for smearing on top of bagels and toast, or use them when cooking sweet sauces or filling pastries in your kitchen. From strawberry and grape to guava and mint, our selection of jellies, marmalades, and preserves is sure to have what you're looking for. To learn more about the differences between these products, explore the tabs above and the filters on the left side of the page.
By stocking up on bulk jam and jelly, your customers will be able to customize their foods to their own preferences. Keep them stored behind the counter to throw in to-go bags, or set them out at self-serve stations in your dining area. It's also convenient that the larger jars of jam and jelly are recloseable, so you can preserve their contents until they're ready to be used again. While you're shopping for supplies for your establishment, check out our sandwich spreaders, cutting boards, and butter melters. If you're wondering where to buy fruit jellies, marmalades, and preserves, we have a large selection of fruit jellies, marmalades, and preserves for sale at the lowest prices.