Find the Best Melamine Plates for Your Business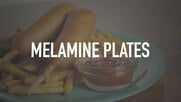 Melamine plates are perfect dinnerware solutions for your foodservice establishment. Known for its excellent shatter- and break-resistant qualities, melamine is a safe choice for high-volume restaurants, bars, cafeterias, dining halls, and outdoor venues because it won't break into dangerous glass shards if dropped. Melamine is also dishwasher safe, allowing for quick and easy cleanup at the end of a meal service. Not only are these dishes extremely durable and functional, but they're also visually appealing. Our selection of melamine serving plates includes dishes in various colors, designs, sizes, and shapes, so you're sure to find a set that will complement the decor of your modern cafe or retro bistro! To learn more about the differences between these products, explore the tabs above and the filters on the left side of the page.
You'll find melamine plates available in different diameters and shapes to serve any breakfast, lunch, or dinner entree. We also carry plates with separate compartments, which are ideal for serving patients in your hospital, nursing home, or retirement community. You'll even find options made from eco-friendly melamine blends for use in environmentally-conscious establishments. For more great reliable products to set your tabletops, be sure to check out our reusable plastic beverageware, disposable table covers, and flatware. If you're wondering where to buy melamine plates, we have a large selection of melamine plates for sale at the lowest prices.