Find the Best Napkin Dispensers for Your Restaurant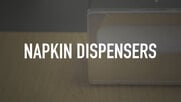 If you own a quick service restaurant, diner, or sports bar, napkin dispensers are essential tabletop accessories. In addition to countertop dispensers, you can choose wall mounted and built-in models that offer the ultimate in convenience. These products are also designed to hold a variety of napkin types, including full-, mini-, and tallfold, so you'll have no trouble finding exactly what you need. All of our dispensers are made of durable materials like stainless steel, steel, plastic, and acrylic, which means you can rest assured that they're built to last. You can also choose from napkin dispensers in several colors, so you'll be able to match them to your existing decor or other tabletop accessories. If you're looking for NSF Listed napkin dispensers, we also offer plenty of these easy-to-clean products. No matter what kind of business you own, our selection of napkin dispensers is sure to have the perfect item for your needs. To learn more about the differences between these products, explore the tabs above and the filters on the left side of the page.
Place a napkin dispenser on your tables or keep one on top of your order counter to provide essential products for customers. With these dispensers, you can keep napkins available in your self-serve condiment counters or on your wall in a cafeteria. You can choose the size of your dispenser and the type of napkins you want to dispense, including fullfold, manifold, and tallfold options. For additional napkin and sanitation products, check out our dispenser napkins, condiment caddies, and sugar packets. If you're wondering where to buy napkin dispensers, we have a large selection of napkin dispensers for sale at the lowest prices.