Dixie Food Service Paper Products
by  Georgia-Pacific
Eliminate the Need for Cleaning by Utilizing Dixie Food Service Paper Products
Dixie cups were first developed in 1907 as a disposable alternative to glassware in order to slow the spread of germs. Soon after, Dixie products saw an explosion of popularity due to the spread of the Spanish Flu as the need for disposable products grew rapidly. Today, the Dixie brand is almost synonymous with paper cups and other disposables, being an industry and market leader. Read more
Dixie food service paper products are the perfect way to add convenience and improve sanitation in your establishment. When using Dixie products, there is minimal clean-up as you simply need to dispose of the product. Additionally, disposable Dixie products don't allow bacteria and other pathogens to build up, allowing you to keep customers safe from the spread of illness.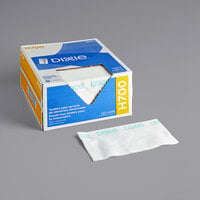 Dixie Disposable Foodservice Towels and Wipers
Easily clean up spills and other messes with the use of Dixie disposable foodservice towels and wipers.
Dixie Paper Dinnerware
Add convenience to your catering service by serving food on disposable Dixie paper dinnerware.