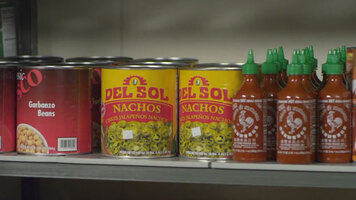 Cambro Camshelving®: Overview
Keeping an organized kitchen is one of the key things in maintaining efficiency and productivity - that's why you need Cambro Camshelving®! Durable and rust-resistant, Camshelving® is the perfect solution for your busy kitchen.
Find the Proper Camshelving® System to Meet Your Establishment's Storage Needs
Outfit your restaurant, hotel, catering business, cafeteria, or other establishment with durable and reliable Cambro shelving, so you can keep your supplies neat and organized. We carry Camshelving® units of various sizes, styles, and configurations to accommodate your low-, medium-, or high-volume establishment. Place these shelves in your back-of-house storage room, or use them for merchandising in your front-of-house space.
Our selection of Cambro shelving includes the Premium and Elements lines, both of which offer durability, versatility, and dependability. Shelving systems from these collections are designed for high-volume establishments and can be used to transfer heavy items, like canned goods, food pans, warehouse supplies, and other items, around your business. Plus, many of these Camshelving® products are safe for use in walk-in freezers and refrigerators.
In addition to shelving racks, Cambro offers shelves that mount onto the wall. These items are perfect for holding containers of bulk ingredients, stacks of plates, and smaller cookware items. They're also compatible with rack extenders, which are used to hold your pots and pans.