Different Types of Restaurant Shelving
Creating and maintaining an effective storage area in your business can be challenging, especially if you have limited space and lots to store, but purchasing a shelving unit can take your storage capacity to new heights. Unfortunately (and fortunately), there are all kinds of shelves, materials, components, and accessories to choose from when looking into buying a shelving unit. This guide will explain all things shelving-related and inform you on how to pick the perfect shelving unit for your commercial kitchen!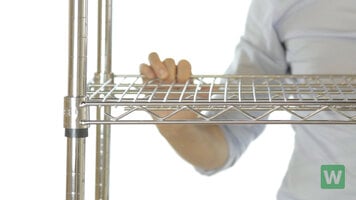 How to Assemble Regency Wire Shelving
Organize your storage area with Regency wire shelving - it's quick to install yet built to last. Check out this video and learn how to assemble a complete shelf rack.
Optimize Your Storage Unit with Our Vast Selection of Durable and Dependable Regency Shelving
Whether you're looking to install shelving in your walk-in fridge, warehouse, retail establishment, warewashing area, or other location, Regency shelving has the products to meet your storage needs. Choose from a variety of colors, materials, and sizes to best accommodate your foodservice environment. We even have NSF Listed options for safe storage of food, ingredients, spices, and other kitchen appliances.
Our Regency Shelving considers all sorts of establishments. We have shelving for high moisture and humid settings that will resist rapid corrosion, as well as shelving for dry environments only. Or maybe you'll like our black wire shelving that can be used in dry or moist areas. And for upscale restaurants, wineries, or bars, we offer Regency wine racks designed to store bottles at proper angles to preserve aromas and flavors. We even have kits for easy installation, and casters and accessories to optimize your shelving unit.