Shop Mobile Gas Hose Kits
Mobile Gas Hose Kits
Ensure your caster-mounted equipment is safely and securely connected with Regency mobile gas hose kits.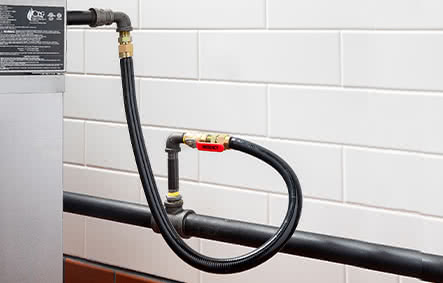 Shop Stationary Gas Hose Kits
Shop Regency Gas Hoses Gas Fittings and Components
Shop All Categories
Regency Gas Hoses Keeps Your Kitchen Equipment Operating at Full Capacity
Regency Gas Hoses is a leader in the foodservice industry and is well-known for producing high-quality gas hoses and parts. Regency skilled engineers are dedicated to creating state-of-the-art equipment that keeps your business running smoothly. With a commitment to innovation, Regency Gas Hoses is an excellent choice for installing your natural gas or liquid propane gear. Whether you operate a dining hall or restaurant, Regency Gas Hoses is ideal for your business. If you are installing natural gas or liquid propane equipment, Regency offers a range of supreme connectors, hoses, fittings, and components for your needs. Trust Regency Gas Hoses to keep your ranges, griddles, fryers, and other kitchen equipment powered for long-term use.