Axis Restaurant Equipment
Axis Restaurant Equipment Provides Cooking Solutions to Commercial Kitchens
The Axis brand of restaurant equipment is owned by the MVP Group, a leader in the foodservice industry for over 60 years. Axis was created to provide reliable, advanced food prep and cooking solutions for commercial kitchens in restaurants, hotels, schools, and institutions. Products like Axis combi ovens feature advanced technology that helps chefs to be more efficient and produce consistent results. Read more
Axis restaurant equipment is supported by the MVP Group's superior customer service, which is offered 24 hours a day, 7 days a week. MVP operates several distribution centers across North America which allows them to provide quick access to service and parts. After-sale service for Axis products is a top priority and MVP Group maintains a network of authorized service partners to assist their clients.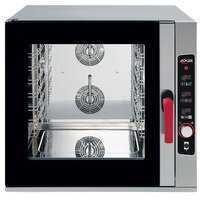 Axis Combination Ovens
Axis combi ovens use steam and convection to cook foods with great flavor, texture, and minimal shrinkage.
Axis Water Filtration Systems and Cartridges for Steam Equipment
Essential for combi ovens, Axis water filtration systems and cartridges for steam equipment prolong the life of the unit.