Apex Fountains Products
Apex Fountains Has Display Pieces for Banquets, Weddings, and Catered Events
Apex Fountains has been a major manufacturer of premium display products for years. These products are used at upscale catered events everywhere, from hotels and restaurants to banquet halls and catering venues. With the simple goal of making high-quality products, this Philadelphia-based company is sure to help you get the decor of your establishment just right. Read more
Apex Fountains restaurant supplies and equipment is perfect for any upscale dining room. Their banquet fountains provide a classy way to present beverages at a self-serve station, while their appetizer and dessert trays keep your chocolate-covered strawberries and shrimp cocktails looking great. They also have candelabras to provide romantic lighting at your catered event or dinner service.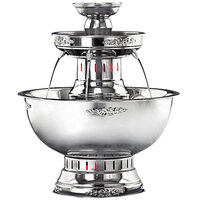 Apex Fountains Beverage Fountains
Apex beverage fountains allow you to offer guests their beverages at a self-service station in a visually-interesting way. You can even add flowers or other decorations to match the decor of the event.
Apex Fountains Display Risers and Stands
If you're shopping for new tabletop display and decor products, Apex Fountains display risers and stands are a smart choice. These items come in attractive colors and are available in several sizes.