Rubbermaid FG264000BLA Brute Trash Can Dolly
Compatible with Continental Huskee and Rubbermaid Brute 20, 32, 44, and 55 gallon trash cans
250 lb. capacity
Five 3'' swivel wheels
Heavy duty construction
Secure twist-on fit mechanism
Use this Rubbermaid FG264000BLA Brute trash can dolly to instantly turn your Rubbermaid Brute trash can or Continental Huskee 20, 32, 44, or 55 gallon trash can into a mobile waste station!
The Rubbermaid brute trash can dolly is the best way to move heavy trash cans in your busy restaurant kitchen, bakery, or wherever you need to with easy mobility. Made of heavy duty black plastic, this dolly will also extend the life of your trash cans by removing wear and tear on the base and edges from dragging.
"This is probably one of the best purchases I've ever gotten for the kitchen. I have many smaller trash bins spread throughout the kitchen that need to be emptied at the end of shift. Having a large can on wheels makes it super easy to just go around, load up and roll out to the dumpster.…"
Read More Reviews
3" Heavy Duty Casters
Five, 3" commercial grade heavy duty casters ensure stability and easy mobility, and are much more durable than the 2 1/2" casters commonly found on retail models.
Protect Floors
250 lb. weight capacity supports heavy loads and its swivel caters won't leave ugly marks on your floors as you move your dolly around.
Twist-On Style
The Rubbermaid Brute dolly secures tightly onto a Rubbermaid Brute trash can easily with a twist on style ensuring that it won't tip or fall over as you move it throughout your commercial kitchen. Your Rubbermaid Brute trash can will roll smoothly on any restaurant floor surface without the squeaky noise that some dollies leave behind.
Rubbermaid Manufacturing Process
Check out the video for an in-depth overview of the manufacturing of Rubbermaid Commercial Products. Meet team members, see how Brute cans are built, tested, and distributed, and discover the motivation and mission behind RCP's innovative designs.
Rubbermaid Brute Trash Containers
Learn why Rubbermaid Brute trash containers are sure to provide you with the heavy duty waste receptacle you need for any industrial application!
RCP, better known as Rubbermaid Commercial Products, has been designing and manufacturing the most effective and durable janitorial and sanitation products since 1968. From trash containers to a mop bucket that reduces splashing, durability and productivity have worked as key ingredients in the innovation behind the products designed. We're heading to Rubbermaid's headquarters in Huntersville North Carolina to meet the team behind the world's toughest cleaning products. "When I think about quality I think about it from our consumer's perspective, and when you just see the name Rubbermaid, what initially pops in their mind is the word durability." "We have a storied history of innovative product design. In 1974, our CP came up with the first resin mop bucket. At that time, the advantages of that over the traditional metal bucket were that it's a lot lighter, and it's a lot more maneuverable when you push it across the floor. So we put a lot of time up front in simulating how we're going to ensure the product quality before the design is even finished, so we do it in our computer-aided design simulation tools. We're also taking our product, go evaluate it in the test lab, make sure it meets all the standards, and then we get approval by quality to go into production." So what is it about this innovative designs that keeps RCP at the top of the industry? "We're always trying to find ways to test our extreme durability. So recently my team came up with this crazy idea to drop a 4000 pound car on top of a Brute container, just to see how indestructible it actually is. And of course there was some crushing, but no denting, and literally just popped it back into its original shape." Now that we've had a taste of the imagination behind these superhero products, it's time to see what they're made of. Welcome to Winchester Virginia, the original birthplace of Rubbermaid Commercial Products, home to RCP's manufacturing and distribution, along with several other locations spread all over the US, totaling a whopping 3.9 million square feet of manufacturing space. "So in this facility we've broken it down into several different product families. Two product families that I'm really excited about are the Brute and the WaveBrake. The Brute, we make several different sized containers; these are cans that you probably have at your house or your neighbor has at their house that they put their garbage in, so let's go have some fun and let's go take a look at the process in person. Right now we're going to meet Bill Cherrier. Bill is my engineering manager for this facility. He's going to take you through the rest of the process on how the Brute is manufactured here at the facility. Bill, she's all yours." "Alright, thank you very much. Welcome to the Brute cell. Let's go take a look at the injection process and see how the Brutes are made. So each year we go through about a 130 million pounds of resin. It's delivered here by rail car, pumped into outside silos, and a pumping system conveys it to the machines, like the ones behind me. So an injection machine has two halves: an injection half that has the screw and barrel; resin comes in in a pelletized form, it goes in, it gets pushed forward through the screw that's inside the barrel, it melts, and on this machine, there's a mold in the clamp half that has two halves. It fills that void between the two - that's the shape of a 44 gallon Brute - it cools, and when it's ready and solid, it opens up here; one comes out every 49 seconds or so." "For our 50th anniversary we actually held a contest to find the oldest Brute that's still out there in the field in use. Within two weeks we had hundreds of entries and we actually found the winner, and it was somebody that had had the Brute container that's still in use from 1968, so 49 years and still going strong." "It is amazing that we sell 2.8 million of these a year because they are virtually indestructible. They go through a variety of testing, taken to the extremes of environment. And we test it literally by freezing these things at -20 degrees Fahrenheit and dropping them from a height of 6 feet one hundred times. We also lift them 5000 times by the handles with a weight full of water, and we put weight inside of them and we drag them on a piece of sandpaper for 10 miles or so just to show that they don't wear out as you drag it to the end of your driveway each morning. So here we are at our distribution facility in Winchester and behind me you see bustling activity, shipping millions of dollars of products each day to customers around the world. You name it, you can find our products in airports, hotels, and your kitchen as well." "I was in a hotel recently, and saw a 95 pound housekeeper, and she had a Rubbermaid Commercial Products hospitality cart, and it really hit me that what we're doing can make a difference. On a daily basis she's pushing over 350 pounds of supplies, 7-8 hours a day, and I think about the improvements that we've made to that cart, you know, even in the last two years, and to us, if we've done that right, we've done our job." "We really want to make the users of our products lives easier and safer, from mop buckets that you'll see in a school cafeteria to cleaning carts that you'll see in a hotel, to Brute trash cans that you'll see on a construction site, and so when we build products, and we innovate, and we think about those products and how they're going to be used, we design that into our products." "We're also very proud of the fact that we're making so much of this product here in the United States which provides to the local economy and also to the economy throughout the United States." Looking to keep your commercial space clean with a variety of innovative, durable products? Head over to rubbermaidcommercial.com.
Wanna add some muscle to your jobs? Meet The Brute, the number one industrial waste receptacle, only from Rubbermaid Commercial. This is the most durable workhorse in heavy duty containers. Engineered in all plastic with professional grade construction that won't rust, chip or peel. In fact, in drag tests with other containers, The Brute outlasted them all, going 20% further in distance than our closest competitor. Strong? Brute containers are built to last. They not only resist dents, with reinforced rims, they're virtually indestructible. They all have molded non-slip handles on the sides for easier lifting and emptying. Plus, you can also choose snap-on-lids for a secure, tight fit. No matter what the job, depend on the toughest guy in your crew. Brute heavy duty containers, only from Rubbermaid Commercial.
Overall Dimensions:
Capacity:

250 lb.

Casters:

Yes

Color:

Black

Material:

Heavy Duty Plastic

Shape:

Round

Type:

Dollies
Resources and Downloads for
Rubbermaid FG264000BLA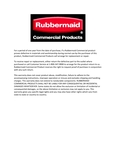 Warranty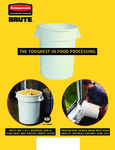 Custom Sell Sheet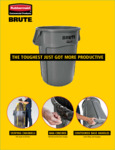 Brochure
A PDF viewer is required to view this product's information. Download Adobe Acrobat software
Customer Reviews
People Talk About:

trash

easy

Great

cans

easier

Rubbermaid

moving

Wheels

around

best

This is probably one of the best purchases I've ever gotten for the kitchen. I have many smaller trash bins spread throughout the kitchen that need to be emptied at the end of shift. Having a large can on wheels makes it super easy to just go around, load up and roll out to the dumpster. This product is priceless in my eyes.

This is the perfect addition to my new Brute Rubbermaid Trash Can! It rolls like a dream on its 5 fantastic castors. It never binds. It never tips. It is so sturdy and stable that I cannot imagine a smoother system. I am super happy with my purchase and encourage you to add this feature to your Brute can, too! It will make your life so much easier! It works by allowing you to set your trash can on top and simply twisting the trash can a quarter turn (or less) in one direction. That locks the trash can into position so that it can't fall off. When you want to remove it, just untwist with one smooth motion. Great invention!

These Rubbermaid trash can dollys make such a difference. They lock onto the bottom of the trash can and make moving the can and taking it out much easier.

Great accessory for Rubbermaid 55 Gal trash cans. We tried one out- and now ALL of our cans have them attached to them. They make transporting waste an easy task. Highly recommend.

Great item to have in the garage, warehouse, restaurant. The shipping was very fast. Very quick and easy to remove and clean. Wheels roll great.

Replaced a few worn out ones that were on some large cans we had. Our staff likes these for their ease of moving heavy trash bins and preventing bags from ripping during transport.

This is a good sturdy product from Rubbermaid. The shipping time was short, and because we were unable to find an appropriate attachment for our garbage can locally, we purchased this from Webstaurant,

One of the best things we bought for the bakery! Makes moving the trash can soooo easy and easier to clean around. Can't imagine not having one!

It was totally worth every penny spent on this Rubbermaid trash can dolly! It is extremely durable and makes moving big trash cans much more easy!

Durable and extremely useful. These make trash collection and removal easier and faster. Not to mention, it also is safer than dragging heavy cans around. They last for years of use. Great investment.

The best way to move a big heavy trash can a round with ease. this dolly is tough and I have never seen one lose a wheel. A great buy.

These trash can dollies are well built and make trash removal easier. They are easy to use and are quite durable. We will purchase again.
Leave a review of this product!
If you've used this product, log in and leave a review to tell us and other customers what you thought about it.
Login or Register