JT Eaton 709-AP Apple Flavor Bait Blocks - (144) 1 oz. Blocks / Pail
Apple flavor for greater rodent attraction
For indoor and outdoor use


View all J T Eaton & Co Rodent Control Products
J T Eaton & Co
Use these JT Eaton 709-AP apple flavor bait blocks for an easy, thorough solution to your mouse and rat control needs.
A great addition to your warehouse, retail facility, or other industrial establishment, these bait blocks powerfully lure in rodents to prevent them from wandering into any unwanted places.
"We live in a farming community where there is corn and beans growing everywhere so with that's comes mice! We purchase these bait blocks to put in our out buildings. We see less sign of the mice after placing these out."
Read More Reviews
Strong Flavor
These bait blocks feature a highly palatable apple flavor to lure in unwanted rodents, and a powerful rodenticide for maximum effectiveness. And, each block is color-coded red to prevent misuse.
Resealable Lid
Each tamper-evident 9 lb. pail contains (144) 1 oz. blocks, and features a convenient resealable lid to keep products fresh. This ensures you can store and use these blocks for a longer amount of time.
JT Eaton Bait Block, Rodent Block, and Top Gun
Having rodent issues? Check out this video to learn about all the great rodent control product baits from JT Eaton. You'll learn the differences between the types to see which is best for your needs!
My name is James, and I'm with JT Eaton. We're the manufacturers of rodent bait. We have our flavorized bait, we have our gofer bait, and we have our bromethalin bait. Now I'm just here to explain some of the differences to you and why we have the different flavors and different types, and when to use them. When you're looking at flavorized bait, the common question comes up to me is why are they flavorized? Why peanut butter? Why apple? And when you look at malice, which is the pest control handbook and you look at other stuff, what is the food preference for rats and mice? Seeds, nuts, and fruit. So we're the only manufacturers with flavorized bait. It makes sense to use flavorized baits because if you notice, rats they have a keen sense of smell. So what's going to happen is they're going to smell the bait, before they even get there. It's not made with real peanuts, so people with peanut allergies – it's just a flavorizer inside. But it's a great maintenance bait. The active ingredient is diphacinone, which is a first generation bait. It doesn't fall under the second generation rules that are coming up. It's been around a long time, and it's a proven product. Other than being proven, it's an economical product to use, and that's why I suggest using it for maintenance. Our other bait that we have is our Top Gun bait. Our Top Gun bait comes in smaller blocks than traditional bait. And you can see that you don't need much. Bromethalin bait, you only need a little bit to kill a rat. In fact, one block will knock down two rats, or ten mice… on a single block! So inside of a bait station, you're not using a lot of bait. You're only using a little bit of bait in each station, because what happens is, as our rodents come to feed, it has a stop-feed action in it. The rodents will actually ingest the bait, and the way the poison works is it stops them from feeding. It works on the brain, it works on the system of the rodent and stops him from feeding. So that's the good thing about it. You're not using a lot in each station, it's a quick knock-down. People call it a cleanout bait because it knocks down populations really fast. In fact, in some studies it's showing to knock down the rodent population in 1.9 days or knock down the rodent in 1.9 days. That's the kill rate on this. We call it our 48 hour kill. It comes in different forms. It comes in a pellet form as well, depending on what you're trying to kill. Selecting the different bromethalin baits- what you're doing is you're looking at what are they feeding them? If you're looking at small nibblers like mice, you're probably going to want to go with the pellets. That seems to work best. If you're looking at where they're feeding on solid food, you're going to go on the block form on that. The gofer bait that we have is outstanding because it's the only block that you can put in the ground for gofers. There's nothing else like it, and it's a diphacinone-based product. The blocks are actually put into the runs of the gofers, and what that means is that as a gofer is traveling and doing burrow maintenance, it's going to run into that block, and the block is too heavy for the gopher to push it out, so it ends up feeding off of it. But the key to what makes this a really, really great bait is it prevents re-infestation because that block is in the ground. And eventually it's going to decompose if it's at water line, and it's seed-based, and it's a heavy-paraphanized block. So what happens is, eventually moisture will start to break that down, and the insects in the ground will start feeding off of the bait and not cause the insects any harm, obviously. So if you have a gopher problem, my suggestion is, start with perimeter control around the property. By offering perimeter control, you're preventing robber gophers from a neighboring property from coming in. This one carries a caution label, and you need to check your local laws for baiting for gophers, as well. Just in case there are any endangered species or anything like that, you just want to be aware of what's going on. Our bait block is an economical block to use. It's packaged correctly to fit into most tool boxes in 9 lb. tubs. Our Top Gun bait is used for a cleanout. You use very little bait inside of it. It kills very, very fast. So when you have a large infestation, that's what you want to use. If you're having a mouse problem, I would suggest using some of the top gun pellets. Because the small pellets make it a little bit easier for the mouse to feed off it. Our Kills Gopher bait, again, the only bait you can put in the ground that helps prevent re-infestation from gophers. The flavorized part of our bait, the item number on it is 709PN for peanut butter and 709AP for our apple bait. Again, the most economic bait on the market.
Resources and Downloads for
J T Eaton & Co 709-AP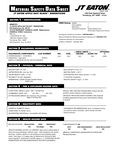 SDS
A PDF viewer is required to view this product's information. Download Adobe Acrobat software
Customer Reviews
People Talk About:

rat's

warfins

bait

generation

mice

effective

days

day's

corn

control

We live in a farming community where there is corn and beans growing everywhere so with that's comes mice! We purchase these bait blocks to put in our out buildings. We see less sign of the mice after placing these out.

this is some of the best rat bait ive ever used around the farm the rat's take it and in a few day's they are gone

It is very effective rodent control poison. It is the first generation warfin. Second generation or super warfins are prohibited by law. The product arrived within days of ordering.
Leave a review of this product!
If you've used this product, log in and leave a review to tell us and other customers what you thought about it.
Login or Register