Carnival King FB21 Floss Bubble for CCM21 Cotton Candy Machine
Compatible with CCM21 cotton candy machine
Sits on top of floss bowls with an outside diameter of 21"
Clear top displays cotton candy
Protects cotton candy and keeps it clean
Cut-out section provides easy serving access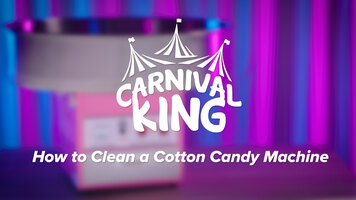 How to Clean a Carnival King Cotton Candy Machine
Cotton candy is a classic treat that is always profitable. Cleaning your cotton candy machine helps guarantee a better-tasting and sanitary snack while maximizing the life of the unit, so it's important that cleaning be done properly. First, turn off and unplug the machine after use, allowing all components to cool to a temperature that is safe to touch. Next, with a non-abrasive towel, wipe down the spinning head with water and a mild soap, like Noble Chemical Sunbright. Then wipe the unit with clear water. After that, dry the head. Remove the four screws from the top of the head and remove the floss bowl. With the wires now exposed, cover the opening with a towel to prevent against any contaminants. Next, wipe the bowl down with water and soap using a non-abrasive towel. Finally, rinse the bowl with water and dry the unit thoroughly. Once you reassemble the machine, you'll be ready to start making your next batch of cotton candy!
Cleaning your Carnival King cotton candy machine ensures you will have a better-tasting, sanitary snack, and a long-lasting unit. Watch this video to learn how to clean your machine!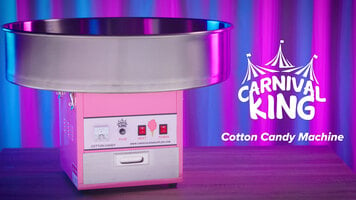 Carnival King Cotton Candy Machine
Get your business booming with the addition of a Carnival King cotton candy machine! Not only is cotton candy the perfect treat to serve at events, it also offers the highest profit returns in the concession foods industry, so you'll pay off the machine and start making profits in no time! Perfect for indoors and outside, each machine features a compact design that is just right for any location. The smaller unit includes a twenty one inch bowl to produce two cones every ninety seconds, or eighty cones per hour. The larger unit boasts a twenty eight inch bowl, producing up to two cones every minute, or one hundred and twenty cones per hour. Both models feature a metal spinning head that releases the sugar vertically to prevent clogging. Each head holds four ounces of floss sugar, and each unit includes a portioned sugar scoop to prevent overfilling. The twenty eight inch unit also features a built-in stainless steel supply drawer, which is perfect for storing Carnival King cones, sugar packs, and other supplies. Each machine is belt-driven and uses one thousand eighty watts of power to ensure high performance operation. Two replacement belts even come standard to help keep the machine running for years to come. For your convenience and comfort, locking clips hold down the bowl to minimize noise and vibration. Carnival King cotton candy bags are a great way to bag your cotton candy in advance and also display your colorful cotton candy to help boost impulse sales! With Carnival King, serving cotton candy is fast and easy! Making a profit never tasted so sweet.
A Carnival King cotton candy machine makes it easy to serve fluffy and delicious cotton candy! Watch this video to learn more about this machine.
Details
Keep your cotton candy clean and easily accessible with this Carnival King FB21 floss bubble! This 21" diameter cover, designed for the Carnival King CCM21 cotton candy machine, is a simple and effective way to protect your product while simultaneously putting it on display. This bubble shows off your colorful cotton candy to help catch the attention of passersby. This component features a cut-out section so you can easily access the cotton candy and quickly serve up your colorful creation to eager customers!

Overall Dimensions:
Diameter: 21"
Height: 13"
Customer Reviews
People Talk About:

candy

cotton

machine

bubble

helps

carnival

inside

keeps

King

addition

This top went right on and fit perfect for the cotton candy machine. Works great catching the candy. Easy to use and clean. You must get it if you bought the machine

I bought this to cover my machine to help keep the sugar from flying everywhere while making the bags. It fits the machines well. However, I wish the opening on the front was a bit smaller. It allows a little more to escape than I wold like. Allowing more on my face and arms still. However, I still like having it on the machine to protect the machine. Especially while taking it to events to prevent anyone from sticking there hands in the machine or having anything fall into the machine. It is definitely worth the investment.

This is a great edition to the Carnival King Cotton Candy Machine! It helps control the cotton candy from getting everywhere and it helps you to shape the cotton candy as it is spinning. Great purchase!

This was a great investment. Without this cover the wind tends to make the candy disappear into thin air??. Thanks to this cover I am able to maximize on my profit.

I purchased the Carnival King Cotton Candy Machine with a cart. However, candy was flying everywhere. So I purchased this bubble to cover the bowl and it solved that problem. Also, acts as a sanitary shield to prevent unwanted hands out of the bowl.

very large floss bubble for CCM21 machine, box is huge for worldwide shipping but is totally necessary for protection and sugar spills during the making.

I love this bubble for the cotton candy machine! It's so much easier to contain the candy as you roll it. Very durable and fits well.

Works great to keep the cotton candy from flying all over the place and we have dropped the lid a couple of time and it's tougher than what we thought

The Carnival's King cotton candy machine floss bubble CCM21 is a must have purchase for my business I think my customers will really like and appreciate.

This lid is a must have as it catches flying strands of sugar in the air and also keeps sugar from spinning out on your cart, and it completes the look of the cotton candy machine.

Purchased the FB 21 bubble for the CCM21E Machine to prevent cotton candy floss from flying everywhere. It does the job but is incredibly noisy and moves on the machine due to vibration (see video). Seems that the bubble is slightly larger than the rim of the machine so it sits loosely on the machine rather than having a tight fit. It could be made slightly smaller or with clamps. Really can't use it in the store due to the noise.

Thank you for your review, Doris! We are sorry this Carnival King FB21 Floss Bubble for CCM21 Cotton Candy Machine has not worked well for you. A Customer Solutions Representative will contact you soon!

before this little gadget we had cotton candy on the ceilings... LOL, very funny until you have to clean it. Best investment made thus far for the addition to my cotton candy machine.

A must have for any cotton candy machine, this item serves it purpose well. Catches all the excess and is easy to take off and clean.

A MUST HAVE FOR ANY COTTON CANDY MACHINE! Quit losing product if the wind picks up and keeps anything from getting into the machine. Our customers like to get close and watch so it also keeps them safely away.

I fee like the bubble should just come with the machine! After ordering the main part of tha machine I knew I couldn't use it without the bubble! Great product!!

this topper helps keep the fly aways in but not completely. it has a nice big opening for you to maneuver your cone, but I wish the opening didn't face up as high as it does, so it would hold in more of the fly away cotton candy mess

If you are ever buying a cotton candy machine make sure you buy the cover as well, it helps keep the cotton candy inside rather than all over the place.

I recently purchased the Carnival King cotton candy machine w/cart for a back up for my business! It was the perfect buy, because it moves faster than my original machine I have. We are now using this machine as our number 1. The cotton candy forms really fast, which helps in timing when business gets really busy. The scoop (used to put floss sugar inside the heating element to form cotton candy) is a great addition, along with the stabilizer (clipped in place inside the metal pan, to keep cotton candy controlled and spun inside the machine) that comes with it.

We loved how well this dome worked. It kept all of the cotton candy contained under the dome instead of flying all around our store. I highly recommend purchasing this when purchasing your cotton candy machine.

This is the perfect topper. The Carnival King FB21 Floss Bubble for CCM21 Cotton Candy Machine is also something we purchased and decided to get a topper

This carnival King cotton candy machine bubble for 21 inch cotton candy machines is really nice I like how easy it is to install and it keeps the mess down a lot

A great accessory to have for your carnival king cotton candy machine. This helps keep the cotton candy from blowing up and out of your machine. Also makes it easier to cone up.

This was a good idea. It's an acrylic plastic top for the carnival cotton candy machine. This is best when using outside to help keep debris out plus you loose less mixture with this top on.

This thing is a life saver! it keeps all the cotton candy from flying into the air, only complain it that I wish it was bigger so i don't feel so confined when making the cotton candy.

this is a nice addition to the cotton candy machine. I keeps the candy inside as oppose to it blowing away in the wind. I love it.
Leave a review of this product!
If you've used this product, log in and leave a review to tell us and other customers what you thought about it.
Login or Register