Carnival King CCMNET Floss Bowl Stabilizer Net and Clips for Cotton Candy Machines
Designed specifically for CCM21CT and CCM28 cotton candy machines
Makes creating neat cotton candy cones a breeze
Includes 6 clips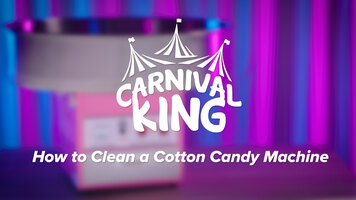 How to Clean a Carnival King Cotton Candy Machine
Cotton candy is a classic treat that is always profitable. Cleaning your cotton candy machine helps guarantee a better-tasting and sanitary snack while maximizing the life of the unit, so it's important that cleaning be done properly. First, turn off and unplug the machine after use, allowing all components to cool to a temperature that is safe to touch. Next, with a non-abrasive towel, wipe down the spinning head with water and a mild soap, like Noble Chemical Sunbright. Then wipe the unit with clear water. After that, dry the head. Remove the four screws from the top of the head and remove the floss bowl. With the wires now exposed, cover the opening with a towel to prevent against any contaminants. Next, wipe the bowl down with water and soap using a non-abrasive towel. Finally, rinse the bowl with water and dry the unit thoroughly. Once you reassemble the machine, you'll be ready to start making your next batch of cotton candy!
Cleaning your Carnival King cotton candy machine ensures you will have a better-tasting, sanitary snack, and a long-lasting unit. Watch this video to learn how to clean your machine!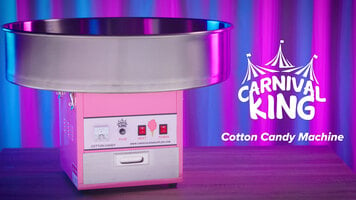 Carnival King Cotton Candy Machine
Get your business booming with the addition of a Carnival King cotton candy machine! Not only is cotton candy the perfect treat to serve at events, it also offers the highest profit returns in the concession foods industry, so you'll pay off the machine and start making profits in no time! Perfect for indoors and outside, each machine features a compact design that is just right for any location. The smaller unit includes a twenty one inch bowl to produce two cones every ninety seconds, or eighty cones per hour. The larger unit boasts a twenty eight inch bowl, producing up to two cones every minute, or one hundred and twenty cones per hour. Both models feature a metal spinning head that releases the sugar vertically to prevent clogging. Each head holds four ounces of floss sugar, and each unit includes a portioned sugar scoop to prevent overfilling. The twenty eight inch unit also features a built-in stainless steel supply drawer, which is perfect for storing Carnival King cones, sugar packs, and other supplies. Each machine is belt-driven and uses one thousand eighty watts of power to ensure high performance operation. Two replacement belts even come standard to help keep the machine running for years to come. For your convenience and comfort, locking clips hold down the bowl to minimize noise and vibration. Carnival King cotton candy bags are a great way to bag your cotton candy in advance and also display your colorful cotton candy to help boost impulse sales! With Carnival King, serving cotton candy is fast and easy! Making a profit never tasted so sweet.
A Carnival King cotton candy machine makes it easy to serve fluffy and delicious cotton candy! Watch this video to learn more about this machine.
Details
This Carnival King CCMNET floss bowl stabilizer net makes presenting neat, professional cotton candy cones a breeze! It comes with 6 clips that allow it to be easily attached to the rim of the bowl, creating a highly effective surface to which the floss can stick. One kit will fit stainless steel and aluminum cotton candy bowls up to 21" in diameter. For cotton candy bowls over 21" in diameter two kits are needed.

Overall Dimensions:
Length: 64 3/4"
Height: 5 3/4"
Customer Reviews
People Talk About:

candy

cotton

easy

bowl

clean

machine

clips

net

helps

bought

I love this product it holds up very well and it is super easy to install. we will definitely be buying this product again.thank you!

If you're in the market for buying a CC machine, you have to buy this stabilizer. You will notice your Cc will spin better and not in the air for you to catch.

I purchased this stabilizer net as it was inexpensive and I thought I might need it. In reality, I didn't really need it as you really roll the candy at the center of the machine. If you're having difficulty rolling it, then it would probably be very helpful.

If you purchase any cotton candy machine - then you must purchase the stabilizer net and clips- the reason why is because it keeps the cotton candy from sticking to the actual bowl and it helps so much with the clean up. Much easier to clean. It is a must!

A MUST HAVE FOR ANY COTTON CANDY MACHINE! Quit losing product if the wind picks up and catches the product and holds until your ready to bag.

I am not sure if this is necessary with the Carnival King. We bought these because it was fairly inexpensive. Its suppose to help with gathering the cotton candy, but in reality you can just grab the cotton candy from the center of the machine. Not worth it, but is "somewhat" helpful. In reality its just another item you clean.

We found this to be easy to use with the Carnival King cotton candy machine. We bought two because we have the 28" bowl, and my superhero husband ziptied them end to end and then cut it to fit the bowl exactly. We don't always put it in the bowl when we make cotton candy, but it definitely catches the sugar and is very easy to run under hot water in the sink to clean.

Wow, what a great ideal and product. Keep the floss on the side of the bowl and the clips work well to keep the net against the bowl, very easy to clean. Dried floss comes right off. So easy to use and a must have for floss machines

Great item easy to use makes making cotton candy easy and makes clean up easy to you need to get one if u have not got one yet

We really like the net. It's larger than the bowl which is good if other bowls are various sizes. No more cotton candy flying in the air

If you have a cotton candy machine, you need this. This essentially ends the problem of cotton candy flying everywhere. It's very well made, and easy to clean.

These nets are super useful if you are not spinning on a cone. I tried spinning for an event with them and it was an epic fail!

this equipment works well in the machine. it stays in place with the clips provided which makes it easy to clean as well. I will order some more clips as a precautionary measure.

I never knew what a life savor this is. I will never go back to making cotton candy without it. The sugar sticks perfectly and makes it easy to create the cotton candy.

Great addition to your cotton candy machine, it gives the candy something to stick to, easy to clean, very nice item, YES I would definitely recommend

This product is not beneficial if your machine spins from the top. The cotton candy doesn't reach the stabilizer making it useless and just another thing to clean. :(

Good quality net. Helps keep the cotton candy in the bowl allowing easier gathering with the cone. Make sure you take note that you need to get two if you have the larger 28 inch bowl. It comes with the clips needed to secure it to the side of the bowl. It works well.

Yes I'm so glad I bought net and clips I didn't know it didn't come with my cotton candy machine and I used it thwn tryed it with the net .I highly recommend you use the net and clips it makes it easier and better
Leave a review of this product!
If you've used this product, log in and leave a review to tell us and other customers what you thought about it.
Login or Register