How to Host a Pub Crawl
St. Patrick's Day began as a 24-hour break from Lenten dietary restrictions, but Americans are responsible for turning it into a drinking holiday celebrated with pub crawls and bar hopping. This presents a great marketing opportunity for your bar. Consider planning a St. Patrick's Day celebration at your pub this March 17th by hosting a local bar crawl to increase business.
At present, St. Patrick's Day 2022 may look a little different than previous years. If you're unable to host a traditional pub crawl, we've added some socially distant bar crawl ideas for your business.
Shop All St. Patrick's Day Supplies
What Is a Bar Crawl?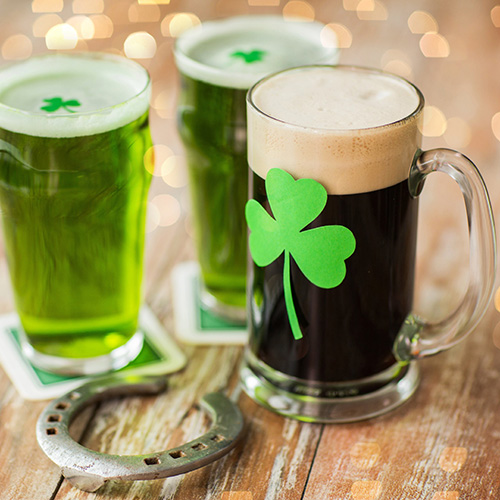 A bar crawl (also written as "pub crawl" or "bar crawl") is a social activity in which participants visit multiple bars, usually on foot, and buy one drink at each bar they visit. This bar-hopping activity allows guests to experience different bar atmospheres and meet new people along the way.
The point of the pub crawl is to spend a limited amount of time at each bar before moving on to the next stop, often referred to as bar-hopping. This allows patrons to visit several bars, while also squeezing in a walking tour between drinks. It's a popular way for tourists to experience the craft beer scene of a new city.
---
Socially Distant Bar Crawl Ideas
A traditional pub crawl may prove challenging in 2022 with the coronavirus, but that doesn't mean you can't host one. If you'd like to host one of these events during the pandemic, consider trying some of these bar crawl ideas that keep social distancing in mind.
Patio Partnership: Weather permitting, partner with other local bars that have a comfortable outdoor patio space, which allows bar-goers ample room to spread out.
Vendor Booths: Join your local bars in park or farmers market locations to set up outdoor booths that customers can visit during the span of your event.
After-Hours Scavenger Hunt: In a designated area like a sporting field, hide bottles of your signature beers for guests to find. You can use paid time slots to reduce the capacity and allow for ample cleanup and reset time.
Assorted Beverage Kit: Partner with local breweries to put together an assortment of brews and offer your customers a pub crawl in a box. If you plan to ship these, be sure to check your alcohol delivery laws in advance.
---
Bar Crawl Ideas
Bar crawls are often organized by small groups of friends, but bars and pubs are also known to work together and plan official pub crawls. St. Paddy's Day is the perfect occasion to host your first bar crawl. We've come up with a list of ideas to get you started:
1. Partner Up with Other Local Bars
Your job is to make your bar stand out from the crowd, but the best way to ensure plenty of business on St. Patrick's is to partner with the competition. You can't host a bar crawl without other bars, so give your neighbors a call and see if they'd like to collaborate for a night of St. Paddy's Day drinking. The benefit of partnering up is that patrons will spend time in each of your bars, rather than giving their business to only one bar for the night.
2. Choose a Pub Crawl Theme
When your pub crawl is official, it's time to choose from a variety of bar crawl themes. A St. Patrick's Day theme is easy to play up with green beer, green decorations, and Irish- or leprechaun-inspired costumes for your staff. Consider playing authentic Irish music or even hiring a band for some live traditional music. Stock up on green tableware, like beverage napkins and plastic cups to create a cohesive visual look.
St. Paddy or St. Patty?
St. Paddy is the preferred spelling for the holiday name because, in Ireland, Paddy is short for Patrick. If you want to keep your St. Patrick's Day pub crawl as authentic as possible, use the correct Irish spelling on all of your banners and marketing materials.
3. Advertise Your Bar Crawl
After you've chosen a theme, publicize your pub crawl online and with local flyers. Consider registering your St. Patrick's Day bar crawl with an official pub crawl website so that customers can find your event and buy tickets online. Build hype by creating an event and promoting it on your bar's social media pages. Discuss a set price for the evening, which will include discounts on drinks in each participating bar, as well as any fun freebies you wish to give out at the start of the crawl. Depending on what you want to offer, a price between $15 and $30 is standard.
4. Make a Bar Crawl Map and Schedule
Providing a map with all the participating bars ensures that participants will stay on track and have no problems finding their way. Be sure to mark bus stops and schedules on the map, as well as the phone numbers of local cab services. Customers want to enjoy a carefree night of celebration, and part of that is knowing they have a safe ride home. At the starting line, give crawlers wristbands (after checking their IDs) so that bartenders immediately know who is participating in the event.
5. Organize Bar Crawl Games
At the starting point of your Irish bar crawl, enter all guests in a raffle for a giveaway. Gift cards to the participating bars make a good prize and encourage guests to return for another visit. Coordinate with your partners and make sure there is something exciting at every stop in the crawl. Try hosting St. Patrick's Day games with prizes like green beads or free beer. Build excitement by offering St. Paddy's themed face painting to keep customers from getting bored at your stop. They'll enjoy their time in your establishment and wonder what to expect at the next bar on the route.
Here are a few examples of fun pub crawl games you can offer your patrons:
A scavenger hunt that spans the bar crawl route
Trivia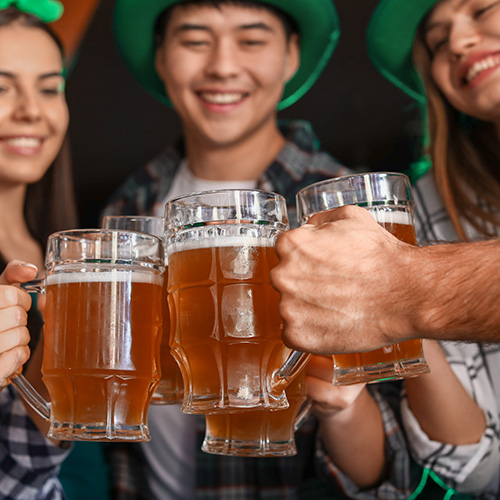 6. Serve Guests Their Favorite Drinks
Beer, cider, and cocktails are essential to a successful St. Patrick's Day bar crawl. In addition to Irish beer standards, we've come up with a list of St. Patrick's day drinks, including craft beers and creative cocktails, to serve on March 17th:
Classic Irish Beers and Ciders
Guinness Draught (4.2%)
Smithwick's Premium Irish Ale (4.5%)
Murphy's Irish Red (5%)
Harp Lager (5%)
Magners Irish Cider (4.5%)
Irish-Inspired Craft Beers
Flying Dog Brewery: Lucky S.O.B. Irish Red (5.5%)
Victory Brewing Company: Donnybrook Stout (3.7%)
Harpoon Brewery: Celtic Ale (5.4%)
Goose Island Beer Company: Bourbon County Brand Stout (14.7%)
Thomas Creek Brewery: River Falls Red Ale (5.65%)
St. Patrick's Day Cocktails
Irish Car Bomb (shots of Bailey's and Jameson dropped into a glass of Guinness)
Irish Coffee (coffee with Jameson and Irish cream)
Irish Flag (creme de menthe, Licor 43, and Irish cream)
Grasshopper (creme de menthe and creme de cacao)
Irish Julep (bourbon, creme de menthe, half and half, and mint)
7. Prepare Delicious St. Patrick's Day Food
While green beer and St. Paddy's themed cocktails are the focus of the day, crawlers need to keep food in their systems. Your customers will thank you for keeping their stomachs full as they continue their crawl. Here are a few ideas for appetizers, entrees, and desserts you can serve on your St. Patrick's Day menu:
St. Patrick's Day Appetizers
Corned Beef Dip
Soft Pretzels Bites with Guinness Beer Cheese
Irish Brown Bread
Potato Soup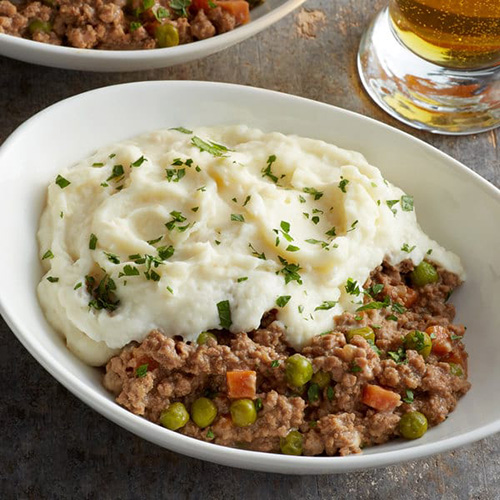 St. Patrick's Day Entrees
Bangers and Mash
Shepherd's Pie
Corned Beef and Cabbage
Irish Stew
Fish and Chips
St. Patrick's Day Desserts
Irish Cream Chocolate Mousse Cake
Irish Coffee
Irish Shortbread
---
Although healthy competition among local bars is necessary, try working together this St. Patrick's Day to create a profitable evening for every pub in the community. With drink discounts, fun games, and delicious Irish fare, your St. Patty's Day pub crawl will bring in new business and boost your sales.

Posted in:
Holidays
|
Bars & Breweries
| By Jessica Wieser