Scary Halloween Menu Ideas
Create a festive atmosphere for your customers and guests this October 31st with a spooktacular Halloween menu. We created a list of scary foods for Halloween that are easy to make and help set the tone for your bar or catering hall's frightful celebrations. Spend less time in the kitchen and more time planning and prepping your creative costume with our Halloween dinner menu.
Shop All Halloween Party Supplies
Halloween Party Food Ideas
If you're planning to throw a Halloween party at your bar or host a spooky dinner at your restaurant, we've prepared a menu that will thrill customers of all ages. Keep reading to check out our scary Halloween dinner ideas below.
1. Halloween Appetizers
Begin your ghoulish festivities with these snackable Halloween appetizer ideas:
Spider Deviled Eggs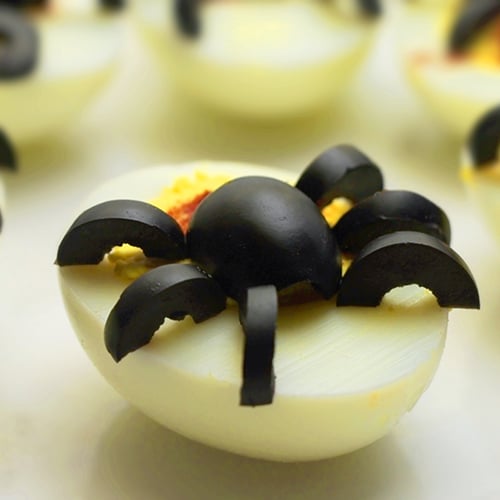 Take crowd-pleasing deviled eggs up a notch by adding a frightful black-olive spider to the top. To create the spider, slice a pitted black olive in half for the body of your spider and place it in the center of your deviled egg. Cut three black olive slices in half to surround your spider's body with creepy-crawly legs. For an added eerie touch, you can mix some avocado into the egg yolk to turn your deviled eggs green. These cute creepy crawlies are the perfect addition to an hors d'oeuvres at your catered event or bar's monster bash.
Mini Mummy Dogs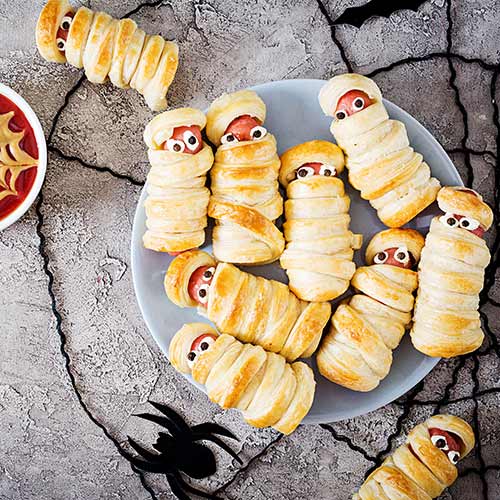 Pigs in a blanket are a popular party appetizer, but you can add a fun twist to them by turning them into mummies. Cut thin strips of crescent pastry and wrap them around mini hot dogs or hot dog halves to mimic the wrappings of a mummy. Be sure to leave a slight gap at the top to add your mummy's eyes. You can use candy eyes or two dots of prepared mustard to create the eyes peeking through the mummy wrappings.
2. Halloween Soups and Stews
Help your customers warm up on a brisk Autumn night with some Halloween-inspired soups:
Spider Web Butternut Squash Soup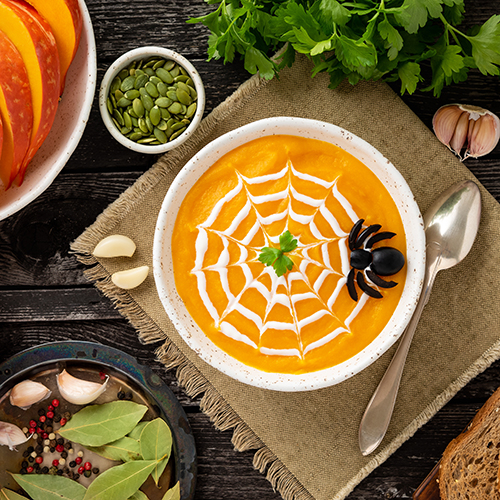 Butternut squash soup is a staple of the fall season. Not only is this soup a warming dish, but it can also help customers fight the flu, making it an excellent option for your Halloween menu. Make it fit for the holiday by drawing a spindly spider web across the surface of your soup with sour cream or plain yogurt. Pipe 3 circles within each other so it looks like a target. Using a toothpick, drag the tip from the center of the soup to the edge of the bowl through the sour cream lines to make the interconnecting strands of the spider web. Try this with a vibrant tomato soup or a flavorful curry to better suit your menu.
Witches' Brew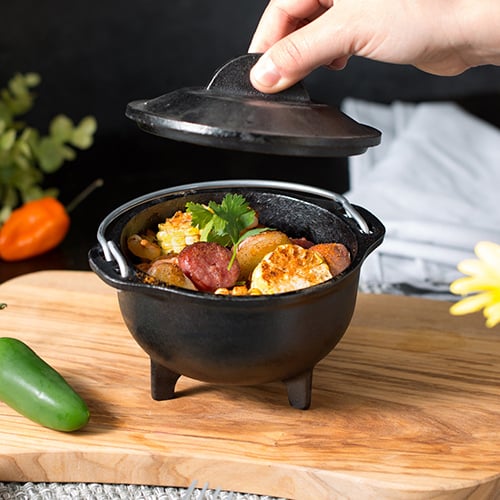 "Double, double, toil and trouble." Serve your soup-of-the-day in an eye-catching mini cast iron pot to mimic the look of a witches' cauldron. A cast-iron pot will keep your soups at the perfect temperature while creating a spooky meal presentation. Fill your mini pots with ingredient-rich dishes, like a gumbo, beef and potato stew, or seafood boil soup to imitate a witchy concoction. "Fire burn, and cauldron bubble."
3. Halloween Entrees
For your main course, spruce up your pub fare with these Halloween entree ideas:
Jack-o'-Lantern Burger
Dress up your classic burger for Halloween by transforming it into a jack-o'lantern. Cut two triangles at the top of your bun to create eyes for your burger. You can make a mouth on your burger by overlapping triangular pieces of sliced cheese over the edge of your patty. Top off your burger with a tomato stem to make it bear a striking resemblance to a freshly picked pumpkin. You'll have your customers reminiscing over childhood pumpkin carving parties with this meal. Add a whole collection of jack-o'-lantern burgers with our burger alternatives ideas.
Monster Pizza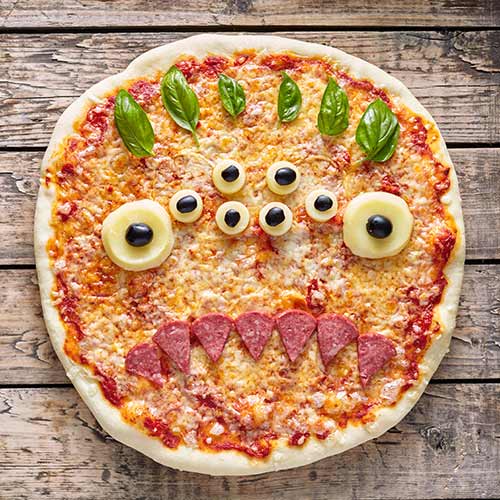 Make a spooky statement with your pizza menu by turning those pies into monsters. Use toppings that pair well with your pizza cheeses to make villainous monster faces peer out at your customers. Put eyes all over your pizza with cheese slices or heart of palm, using black olives for pupils. Give your monster green hair with basil leaves or green peppers. You can cut pepperoni into sharp triangles to add a fearsome row of teeth to your ferocious beast.
4. Halloween Charcuterie
If your customers are looking for a great shareable option, provide them with these creative Halloween charcuterie boards:
Savory Charcuterie
A Halloween cheese board makes the perfect addition to any Halloween party, whether it's for a catered event or just a night at the bar. Charcuterie boards are perfect adding light snacking options to any event. For a festive flair, cut cheese slices in the shape of ghosts and top off cheese wedges with black olive spiders for added creepiness. To create a skeletal effect, wrap breadsticks in pieces of prosciutto to resemble flesh falling off the bone. Be sure to decorate your board with bread rolls in the shape of miniature pumpkins to pull in that fall vibe.
Dessert Charcuterie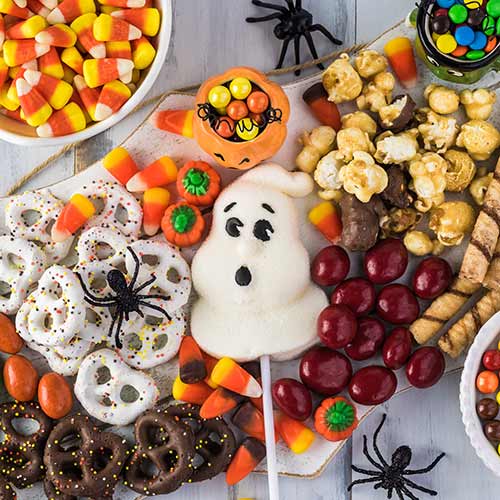 Halloween is all about candy, so help your guests get into the holiday spirit with a candy charcuterie board. Stock your board with sweet confections like chocolates, caramels, gourmet popcorn, peanut butter cups, gummy worms, candy corn, and M&M's. For those looking for a lighter option, you can prepare a fruit platter and offer delicious seasonal dips, like pumpkin butter or cinnamon cream cheese. Cut up apple slices and coat them in caramel dip to make bite-sized caramel apples. These snackable platters are perfect for costume parties or customers to share around the table during a spooky night out.
5. Halloween Desserts
Complete your menu with these Halloween dessert ideas for customers with a bit of a sweet tooth:
Graveyard Dirt Cups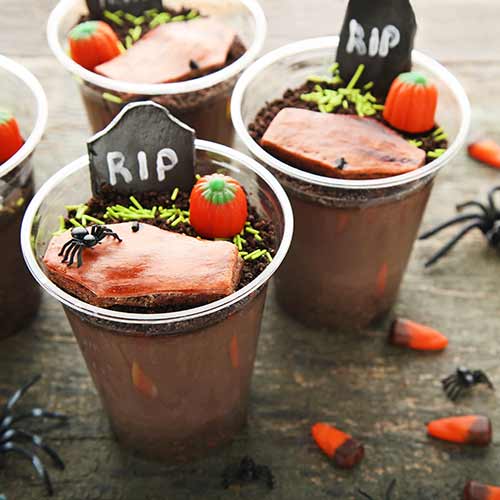 Dirt pudding cups are a perfect single-portion dessert to add to your menu. They can be customized with a variety of topping and fall flavors that your customers will love. Take this dessert to a haunting level by turning them into graveyard cups. Decorate the top of your cup with edible chocolate tombstones and cookie coffins. You can have wriggly gummy worms making their way out of the grave and candy bones sticking out of the dirt. This dessert is both eerie and delicious, and it can be easily packed up for customers to take with them.
Meringues Ghosts
For a crunchy ghoulish treat, add meringues ghosts on top of your sheet cakes, cupcakes, and brownies. Meringues are crispy on the outside with a marshmallowy center, making them a tasty decoration for your signature bakes. To make meringues look like ghosts, pipe them extra tall before baking. Once they have cooked and are dry, take some black icing to draw on two eyes and a mouth to summon a little ghost that is cute enough to eat.
Halloween is a night that can bring an array of costumed patrons into your bar and restaurant. So tap your pumpkin keg and keep the festivities rolling with a Halloween menu that can delight customers of all ages.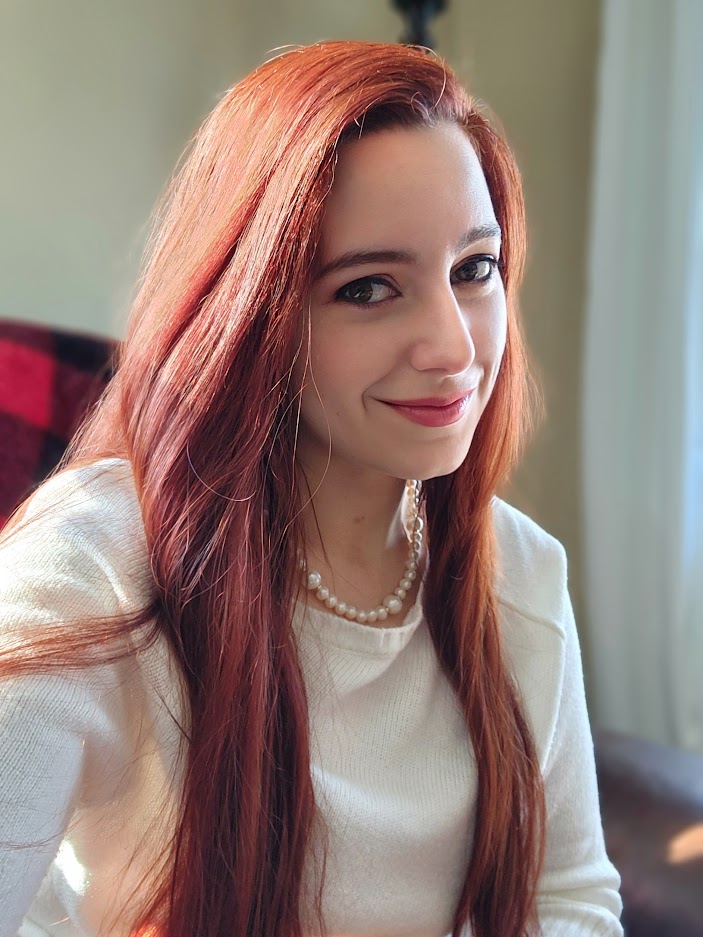 Posted in:
Holidays
|
By Janine Jones
The information provided on this website does not, and is not intended to, constitute legal advice. Please refer to our
Content Policy
for more details.