Find the Best Syrup Dispensers for Your Business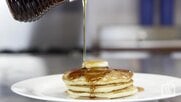 If your diner, buffet, or cafeteria is shopping for syrup dispensers, our catalog of products is sure to have what you're looking for. We offer these items in a variety of materials, including glass, polycarbonate, and polyethylene, and you can also select a dispenser in a beehive, cylindrical, and teardrop shape. Additionally, we offer plastic, chrome plated metal, or chrome plated plastic tops, all of which are designed to avoid messes while pouring syrup and other viscous liquids. If you're looking for dispenser tops in a particular color, you can also pick from shades like silver, red, brown, and white. Regardless of the type of business you own, your staff and customers will love the convenience of push-top syrup dispensers. To learn more about the differences between these products, explore the tabs above and the filters on the left side of the page.
Our syrup dispensers are the mess-free solution for customers to serve themselves at your buffet or restaurant. We carry glass and plastic models in various shapes, sizes, and capacities to suit your diner, buffet, and restaurant needs. ABS tops are available in a variety of colors for simple color coding, and anyone can pour syrup and honey thanks to the ergonomic handle design and easy-pour spouts. Be sure to check out our condiment holders, sugar pourers, and shakers for more items that can hold your condiments and topping. If you're wondering where to buy syrup dispensers, we have a large selection of syrup dispensers for sale at the lowest prices.