3M 700CC Scotch-Brite™ 3.2 oz. Liquid Griddle Quick Clean Packet - 40/Case
(40) 3.2 oz. liquid packets for easy portioning
Loosens and lifts baked-on food and grease off of griddles
No rinse necessary
Designed for medium-hot griddles from 300 - 350 degrees Fahrenheit
Does not contain caustic soda or potash
Part of the Scotch-Brite™ Quick Clean griddle cleaning system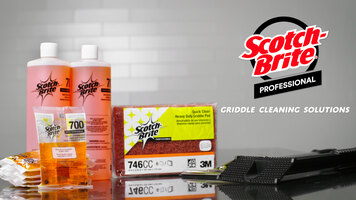 3M Scotch-Brite Quick Clean Griddle Cleaner
Keep your griddle clean with 3M Scotch-Brite Quick Clean griddle cleaner! Quick clean speeds up the cleaning process by loosening and lifting off baked-on foods and grease. This will cut cleanup time down to 3 to 5 minutes. This cleaner is Green Seal Certified, and safe for use on direct food contact surfaces. It's also free of caustic fumes, and can clean a dirty griddle up to forty percent faster than other leading systems. This cost-effective cleaner simplifies use for employees with just three steps: Squirt, scour, and squeegee! Squirt the Scotch-Brite™ Quick Clean Griddle cleaner liquid 701 or 700CC cleaner onto your hot griddle, scrub using the Scotch-Brite™ 746 Quick Clean Heavy Duty Griddle Pad, and then squeegee away the residue. For cost and labor savings, the griddle liquid comes in pre-measured, single-use packets. 3M also offers the Scotch-Brite™ Quick Clean Griddle Cleaning System Starter Kit 710, containing the cleaning liquid, griddle pads and pad holder, a squeegee, and an instructional wall chart. Don't work harder; work smarter with 3M's Scotch-Brite QuickClean griddle cleaner!
Work smarter, not harder with the help of the 3M Scotch-Brite Quick Clean griddle cleaner! To learn more about this fast-acting product, watch this video.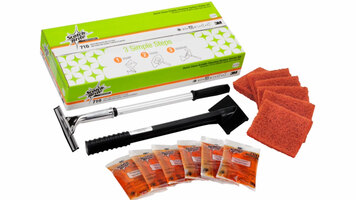 Scotch-Brite Griddle Cleaning Kit
After conducting a cleaning study to show the difference between Scotch-Brite Quick Clean griddle cleaning system and the leading competitor, it was found that the Scotch-Brite system needed less force and effort to scour all the burnt food and soil off the grill surface. After just one minute of scouring with no liquid dwell time, the Scotch-Brite grill surface was much cleaner than the leading competitor's surface. The results were even more profound after the users wiped their grill down with a damp cloth. The Scotch-Brite surface had no visible soil left on the surface. After the study was conducted multiple times, it was concluded that the Scotch-Brite Quick Clean system cleaned grills 40% faster than the leading competitor. What makes it so much better? The Quick Clean system uses a more concentrated cleaning liquid to eliminate the one minute dwell time needed for other cleaning products. It uses a more aggressive pad to remove fore food soil in a shorter amount of time, and pairs with effective tools that are easy to use and cover a large surface area. When you're ready to clean, the scouring pad easily attaches to the holder and can quickly be removed for disposal when you're done. Plus, its Green Seal and HACCP Certified. Clean your griddle faster with Scotch-Brite's cleaning kit!
Quickly and easily clean your flat grill surface with the help of Scotch-Brite's Quick Clean griddle cleaning system! After conducting a thorough cleaning study, it was proved to clean grills 40% faster than the leading competitor.
3M 700CC Specs
Chemical Form
Liquid
Made in America
Yes
Package Size
3.2 oz.
Ready-to-Use
Yes
Type
Cleaning Chemicals
3M 700CC Details
As part of the renowned Scotch-Brite™ Quick Clean griddle cleaning system, this 3M 700CC Scotch-Brite™ liquid griddle Quick Clean packet is just what you need to keep your griddle clean throughout the day and at the end of a busy shift! Conveniently portioned into a 3.2 oz. packet, this cleaner quickly loosens and lifts baked-on food and grease off of medium-hot griddles to shorten cooldown time. Simply spread the contents of a single packet across the cooking surface with a griddle pad to scour away burnt-on soil, and then move the liquid into the grease trough; no rinsing necessary! It does not contain caustic soda or potash.

Attention CA Residents: Prop 65 Warning
Made in America

This item was made in the United States of America.

Green Seal

This item has been evaluated and certified by Green Seal's specific environmental standards to create a more sustainable world.
Resources and Downloads for
3M 700CC
SDS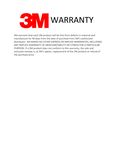 Warranty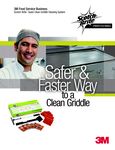 Griddle Clean Brochure
Griddle Clean Liquid Spec Sheet
A PDF viewer is required to view this product's information. Download Adobe Acrobat software
Other Products from this Line
Customer Reviews
People Talk About:

griddle

cleaning

clean

great

grill

packets

stuff

top

cleaner

best

Arrange by

I would highly recommend this product because it is not messy but it does the job. I would also highly recommend this product because it actually really cleans the top off my grill. All you need to do is a little bit off a hot water and regular sponge not Thebes heavy duty one because that is how easy this product makes cleaning of a grill for example.

This stuff really works wow. the first time i used it i needed 2 packs to remove the buildup. It use to take a hour or more to get my griddle as clean as I like it, but now with this stuff it only takes about 20 minutes when you add in the wait time. I scrub for 3 minutes wait 10 and rinse well.

These 3M Scothch Brite 3.2 oz liquid griddle quick clean are great to dilute and use to clean your over or stovetop. Cuts grease and has a great smell to go along.

I absolutely love scotch brite griddle cleaner and have used it for many years cleaning grills at my restaurant. The price here is very competitive

I love these liquid griddle quick clean packets. It make for great portion control, no more employees over using out of the big gallon bottles.

This is the best grill cleaner around. Works great. Love that it is perfectly portioned for our grill and does not seem as toxic as some that burn employees nose when they are cleaning.

3M's griddle clean liquid works exceptionally well, and doesn't require much scrubbing to achieve a good result. These packets are a convenient alternative to the bottles.

The best! Make sure the griddle is at the optimal temp for cleaning and it takes no elbow grease whatsoever. Best expense you will have. Packets will save you since the bottle can sometimes cause you to use too much.

After a lot of research on how to get a flat top clean again, this stuff came up in a lot of reviews online. Turns out, it DOES work fantastically!!!

These clean packets are easy to use on our flattop grill and makes cleaning it a breeze. Coupled with the pad holder and griddle pads, it makes cleaning the grill an easy task.

This stuff works great! YOu have to make sure that the griddle isn't too hot though, or too cold. It needs to be bubbling, that's what lifts up all of the grime.

Man! Let me tell you about this. As a chef I hate spending money on something I won't get money back on; BUT, this product is beautiful! I saw this at a food show and read reviews, and this cleaning product is so powerful I never thought I'd get my flat top clean again! 100% some of the best stuff I've used!

I got 72 inch griddle I clean it at night I use 3-4 bag per cleaning. Good product for your health, but not so good for cleaning and also you have to wait until the temperature is just right. pick this only if you are worry about your health because other chemical is not good for you.

We love this liquid griddle cleaner. It does a wonderful job getting the steel shinning again. It's a must have if you want your griddle performing well and looking its best. Hope this helps

these work super great on our flat top. we pour it on there while the grill is still hot and just let it sit for about 30 to 40 minutes, scrub it and wipe it down and its super clean. effortless. they key is to let it sit for a few. great product.

We use these cleaning packets for our daily griddle cleaning with the Scotch products as well. It is simple, reasonable and works fast. Cleans the griddle like new everyday.

We were using the cheaper griddle cleaners that everyone uses and are very hazardous because they are alkali solutions. One of our cooks got a severe skin burn on the arm above the gloves (which required hospital attention) from that stuff when it splashed back as he scrubbed the grill and we have since switched to Scotch-Brite. This is classified as non-hazardous (except that it's hot after it's put on the griddle and one could get a thermal burn) and this liquid cleans the griddle just fine. We found that if we purchased it by bottle, the staff was using more than if we purchased the packets so the packets save us money.

This is a great product will definitely buy again. Recommend for all restaurant use. Very high-quality made product and very fast shipping. Thank you David

Unfortunately, this is a chemical product that cannot be avoided when cleaning some things. Be sure to wear appropriate coverings, masks, etc. when using this product. It works very very well.

These are nice pre portioned cleaner packets. There is a little learning curve to using them, but they do a good job on cleaning the griddle top.

This has worked really well. It is definitely a good price for the amount that you get. I would reccommend to anyone to get a great clean.

Chef really enjoys this product. It makes cleaning the flat-top a breeze. We were buying it through a different purveyor, and getting a bad deal on the price. I was happy to purchase this from Webrestaurant.com. It's great stuff!

really nice liquid griddle quick clean.makes cleaning our grill a breeze and prevents all that scrubbing. grill comes clean like it was new. great product and worth the money

solid product. not as good as a few other cleaners, but I love that they are portion controlled unlike most other similar products. this keeps costs down and results are very good.

Easiest Griddle cleaning system I have used. The packets are the perfect size for a griddle. Get the 3M 405-R Scotch-Brite 16" Multi-Purpose Pad Holder and the 3M 746 Scotch-Brite 4" x 5 1/4" Quick Clean Heavy-Duty Griddle Pad. This combination makes griddle cleaning easy.

Great product. One of a kind. We use our flat top so much that we go through 2 of these a day. Not any cheaper than my purveyor.

This is the only way we clean our grill and the price is great as well. We just order several cases at once to save on shipping.

Quite the money saver when you consider how much it saves on labor when cleaning the griddle top. Quick and highly effective - the griddle looks brand new in a flash.

This is the best grill cleaner we've found. We use it every night and the griddle looks brand new. It takes a little practice, but it is very easy once you get used to it.

The product helped take a blacked out grill back to stainless steel, made a huge difference. I would highly recommend. we use a 1/2 packet per cleaning.

Burns off all the grease on our grill. Haven't been using this stuff long but I'm very pleased with it. Makes grill cleaning a lot easier.
Leave a review of this product!
If you've used this product, log in and leave a review to tell us and other customers what you thought about it.
Login or Register