Find the Best Chef Coats for Your Business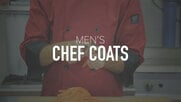 Chef coats reduce the likelihood of injuries in commercial kitchens by protecting your staff's skin from hot liquids and steam. We offer chef jackets with different sleeve lengths, ranging from short to long sleeve, so you'll be able to easily find just what you need. You can use long sleeves to completely cover your chef's arms, or short sleeves to keep employees cool. 3/4 sleeves provide arm coverage while leaving your chefs' wrists and hands free for when they're doing a lot of cutting and knife work. All of these coats are also made of materials that increase airflow to keep your staff dry and cool. If you run a business with an open kitchen, chef coats will make your staff look polished and professional as they prepare your signature dishes. Additionally, you can choose from different colors to create a unique style for your team and coordinate them based on position and rank. To learn more about the differences between these products, explore the tabs above and the filters on the left side of the page.
Choose from our wide selection of chef coats to find the best fit for your restaurant staff and style. Available in bright reds, greens, and oranges, our colorful chef jackets will keep your kitchen staff looking sharp. You'll also be able to accommodate different people because we offer men's and women's jackets in many sizes. For added convenience, our chef coats, pants are equipped with pockets to hold restaurant supplies like pens, probe thermometers, and small kitchen hand tools. If you're wondering where to buy chef coats, we have a large selection of chef coats for sale at the lowest prices.