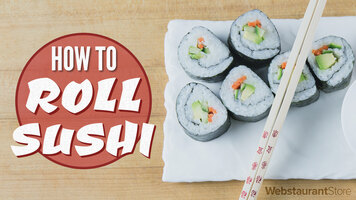 How To Roll Sushi
Watch this brief video to learn how to make 4 common types of sushi rolls! Whether you're cooking for a party of twelve or dinner for two, your guests will love the delicious taste of fresh sushi. GOJO® DPX Eco Soy Dispenser and Foaming Hand Cleaner
GOJO® Eco Soy foaming hand cleaner is tough on dirt, yet gentle on hands. It fits in GOJO's® high impact, chemical-resistant DPX dispenser and can be used with or without water! Vollrath Redco InstaCut
Check out all the great features of the Vollrath Redco 5.0 InstaCut! You can slice, dice, wedge, and core all on the same machine. Watch this video and see how this unit is perfect for your kitchen.