Shop Monin Sweeteners
Monin Sweeteners
Enhance the flavor of your beverages by mixing in Monin sweeteners.
Shop Monin Syrup Pumps
Monin Syrup Pumps
Monin syrup pumps allow you to quickly and easily add flavoring to beverages.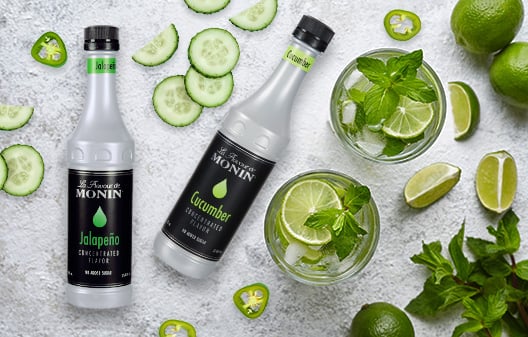 Shop Monin Concentrated Flavors
Monin Concentrated Flavors
Craft unique culinary and beverage offerings with Monin concentrated flavors to provide the essence of flavor without added sugar.
Shop All Categories
Get the Flavors You Want with Monin
Founded in 1912 as a small, family-owned business in Bourges, France, Monin is now a leading provider of flavoring syrups. The company has its US headquarters in Clearwater, Florida, though they have several manufacturing plants and export their products to places around the globe. Monin flavoring syrups can be used in cafes, coffee shops, restaurants, bars, and any other foodservice establishment that wants to add a little extra flavor to the menu.Monin syrups come in several different styles, allowing you to add extra zest to anything you serve. Coffee drink syrups can be used to make specialty hot and cold drinks at your cafe or used to top ice cream sundaes and milkshakes. You can also find fruity purees and drink mixes that are perfect for smoothies, flavored lemonades, and cocktails, so you can constantly create delicious new drinks for your customers.