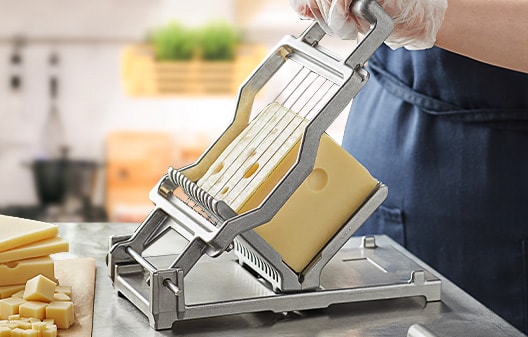 Shop Choice Prep Cheese Slicers and Cheese Cutters
Shop Choice Prep Hamburger Presses
Choice Prep Hamburger Presses
Hamburger presses from Choice Prep sculpt uniform, perfect hamburger patties in seconds without additional weighing measures.
Shop Choice Prep Commercial Pasta Machines & Extruders
Shop All Categories
Provide Kitchen Staff with the Best Tools by Utilizing Choice Prep Food Preparation Equipment
Choice Prep has a reputation for supplying restaurants with high-end tools for cooking and food preparation. These tools range from cutters and slicers to pressers and wedgers. Additionally, Choice Prep carries several replacement parts and accessories, allowing restaurants to repair and maintain their kitchen equipment.Choice Prep food preparation equipment offers kitchen staff high-quality tools, allowing them to create amazing dishes. Choice Prep equipment not only can improve the quality of the food being made but can also make your kitchen staff more efficient during food preparation. No matter what type of restaurant you operate, Choice Prep products can be a huge boost to your kitchen.