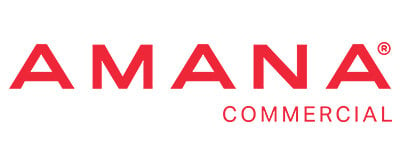 Amana Commercial Microwaves Overall Customer Rating:
Rapidly Reheat and Cook with Amana Commercial Microwaves
Established in 1934, Amana has a history of designing innovative cooking, dish, laundry, and refrigeration household appliances. With their introduction of the original countertop microwave, Amana was put on the map as a brand dedicated to consumer convenience. Amana brand is part of Whirlpool Corporation, the world's leading manufacturer and marketer of major home appliances. Read more
With styles like rapid cook microwave / convection ovens and steamer microwaves, you're sure to find the perfect Amana microwave for your commercial kitchen. A residential microwave just won't cut if for your restaurant business, and could even cause legal or liability issues. Luckily, Amana commercial microwaves come in a variety of sizes, watts, and styles to suit your restaurant, convenience store, pizza shop, and other foodservice business. They offer the extra power and fast cooking and reheating capability you need to succeed.
Designed to help restaurant operators and kitchen staff reduce prep time, increase efficiency, and improve the overall quality of their food, Amana microwaves have helped thousands of food service establishments cook smarter and faster. A strong product line, superior customer support, and continued innovation have made Amana commercial microwave ovens an industry leader and a brand trusted by top restaurants around the globe.