Tuxton BPK-0805 8 oz. Porcelain White Round Fluted China Souffle / Creme Brulee Dish - 12/Case
Fully vitrified to prevent moisture absorption
Lifetime no-chip warranty
Other Products from this Line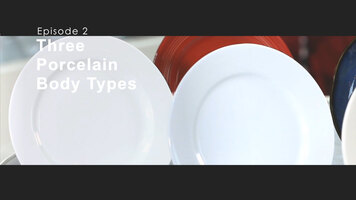 Hi I'm Bill Burden, President of Tuxton China. Today I'd like to talk to you about the three different chinaware bodies that we produce in our factory, as well as the different types of glazes we use on those bodies. We have three distinct bodies that we manufacture: Eggshell, Porcelain White, and AlumaTux. Each one of these bodies is produced using the same basic processes, fired at the same temperature, but they each have individual characteristics that set them apart from one another. The Eggshell body - standard body that's probably used in the majority of foodservice operations in the country - is made of four basic products: feldspar, ball clay, kaolin, and silica. This body is about a quarter of an inch thick, it's not translucent, and it gives you an extremely durable, kind of eggshell off-white colored body. Second body we produce is Porcelain White. This body is made with the same basic ingredients but those ingredients are of a higher quality, and so they give you a much whiter product. Because of that higher quality of product you're able to make a thinner, lighter body, but still have the same durability characteristics as thicker bodies. The last body we produce is what we call our AlumaTux. This is a high alumina body. In order to get a high alumina body, what we do is we remove some of the clay from the formula and we put in pure alumina oxide. Alumina oxide is a raw material that's found naturally occurring in most good china clays, but by adding additional alumina oxide into the body, you're able to produce a thinner body that's extremely durable. So these are the three bodies that we use, and all of these bodies go through the exact same rigorous testing procedures in our lab so that no matter which product you choose for your operation, you'll get a product that is consistent from month to month and year to year. Now that you know a little bit about the types of bodies that we produce here at Tuxton, I'd like to tell you a little bit about the glaze that we put on our various bodies. Glazes are made basically of silica and sand, and when that is fired to high temperature, it turns into a type of glass. And that glass is what gives chinaware its beautiful shine and allows you to showcase your food creations in a beautiful way. It also is non-porous, so from a sanitary standpoint it's what you want in a foodservice operation. How glazes are made is they're basically powders and you'll take those powders, mix them with water, grind them and blend them until they get to a homogeneous point, then that is applied to the unfired ceramic body, and then they're taken and dried again and that wet glaze now turns back into a powder again, and then you put it into the kiln and it's fired at around 2300 degrees, and as it goes up to that high temperature the glaze melts and becomes molten glass and solidifies to give you your china body. And once that happens, the glaze bonds with the ceramic body, and it will never ever come off or apart. What I'd like to show you now is some examples of the different types of glazes that we manufacture from our standard clear glaze which goes on all three of these bodies, the Eggshell, the Porcelain White, and the AlumaTux. This is the same basic clear glaze but it looks different because of the color of the body which we talked about a little while ago. We also have colored glazes that we put on, and this is an example of a colored glaze, this is Cayenne, and it's the same type of process as all the other glazes. We also have some new glazes we're just starting to work with. These are our artisan glazes or reactive glazes. So this is a new product that we're just coming out with this fall. Most importantly, all of our glazes are 100% lead free and pass all state and federal guidelines, so you never have to worry about any problems with your Tuxton china. As always, thank you for watching. We hope you found this information useful, and if you'd like to see our entire library of Foodservice 101 videos, check out our website and YouTube channel.
In this Foodservice China 101 video, Tuxton President Bill Burden gives an overview of the different types of china bodies and glazes that Tuxton has to offer. Discover how their chinaware and glazes are made and learn about the various features and functions of the different glazes and body types.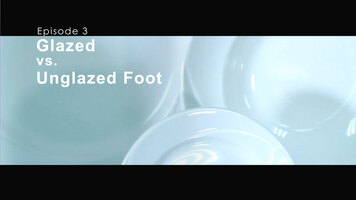 Tuxton China: Glazed vs Unglazed Foot
Hi I'm Bill Burden, President of Tuxton China. Today I'm going to talk to you a little bit about the difference between a glazed foot and an unglazed foot. A glazed foot is done in what they call a "two fire process." In other words, they take and form and finish a piece, put it into the kiln, fire it at a high temperature, bring it out, glaze it, put it back in the kiln again and fire at a lower temperature on pins -gives you a glazed foot. Single fire process, which is what Tuxton uses, is we take form, finish, and glaze the piece, and then it goes into the kiln and is fired just a single time at the high temperature. There's basically no difference between the durability of the pieces, just a different way to get to the same point. There's a popular misconception in the industry that a glazed foot will not scratch or mar another piece of china, which in fact is not true, it's just the opposite. An unglazed or polished foot will not scratch as much. The reason for that is glaze is, like we talked about in another video, glaze is basically a glass and if you look at it under a microscope you'll see that it's crystalline in structure and even though the glaze feels very smooth it's very abrasive. So what I'd look to do today is show you the difference so you can hear for yourself what happens when glaze rubs on glaze. What we've done is we've got two pieces here and I'm going to use the edge of one piece to simulate a glazed foot and rub this against the other piece. In doing so you're going to hear what happens (scratching noises). You can hear that glaze scratching and grinding against the other part of the glaze. Now what I'd like to do is take another plate, and this is using the unglazed or polished foot, rub that against the plate, and you'll see by the sound it tends to slide over the glaze and doesn't scratch nearly as much. What I showed you today was a little misconception about the difference between how a glazed foot and an unglazed or polished foot scratches another piece of china. As always, thank you for watching, we hope you found this information useful, and if you'd like to see our entire library of Foodservice China 101 videos check out our website and YouTube channel.
In this Foodservice China 101 video, Tuxton President Bill Burden explains the difference between a glazed foot and an unglazed or polished foot, and debunks the common myth that a glazed foot will scratch other pieces of china less than an unglazed foot.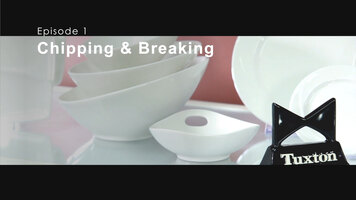 Tuxton China: Chipping and Breaking
Hi, I'm Bill Burden, President of Tuxton China. I'd like to welcome you today to our first edition of Foodservice China 101. What I'd like to talk about today is the difference between edge chipping caused by faulty or improperly finished or fired chinaware, and chinaware that has been chipped or broken due to rough handling. Generally speaking, most breakage that we see returned to us is caused by rough handling, and it usually takes place in the dish washing area where the busboy or whoever is bringing the food back in takes the plate and bangs it down to knock the food off. So instead of doing that, what really needs to be done is take a scraper and scrape that food off into the waste container. So I think what you'll find is that if you take a little extra time in your operation to train some of your people to don't bang it, to scrape it, you're going to save yourself a lot of money in chinaware replacement. What I'd like to do now is show you a couple of examples of pieces of china that have been broken due to rough handling, and also some china that has been broken because the ware was improperly finished or defective. What I have here is a piece that's been broken because it was defective. And usually what you'll see when you have a defective piece of china - you'll get a little flake or a chip like a fingernail that comes off of the front of the piece, usually nothing on the back, just on the front. Here's a piece of china that's been broken due to rough handling, and you'll notice it has a pretty good sized chunk out of the body and on the back, some further big chunks have been taken out. These are caused by somebody hitting the plate like that to scrape the food out, and hitting it pretty hard. Next I've got a couple of samples here. I'd like you to be able to see what type of force it takes to cause a chip from a defective piece that's been improperly finished and just a normal piece that is properly finished and fired. What I've got here is this improperly finished piece of china, and you can see that just hitting it like that takes a chip, see, a little fingernail sized chip right out of the china. So what I have here is a couple of plates that are properly formed, finished, and fired that I'll bang together, and you should be able to see the difference in force that it takes on a normal, properly formed and finished piece. So you can see I'm hitting them similar to where it was on the other piece - nothing's happening. Now I'm going to increase how hard I hit these, and you'll see that finally, really hitting it hard is when I can get a big chunk like this out of the plate. So once again, this has been a demonstration about the difference between edge chipping caused by faulty or defective product, and edge chipping that's caused by rough handling in your operation. So remember, take some time, educate your employees to scrape it, don't bang it, and you're going to save yourself a lot of money in your operation. Thank you for watching. We hope you found this information useful, and if you'd like to see our entire library of Foodservice China 101 videos, check out our website and YouTube channel.
Check out the video to discover the differences in how properly fired and finished china that has been roughly handled will chip and break, and how improperly finished china that is defective will chip and break. Tuxton President Bill Burden narrates and demonstrates this informative Foodservice 101 video.
Tuxton BPK-0805 Specs
Height
1 1/4 Inches
Top Diameter
5 Inches
Capacity
8 oz.
Color
Bright White
Dishwasher Safe
Yes
Material
China
Microwavable
Yes
Oven Safe
Yes
Shape
Round
Style
Fluted
Type
Souffle Bowls
Customer questions about this product
Are china capacities an exact liquid measurement?

China capacities are stated in ounces and quarts and are an approximate maximum capacity. They are not to be used as a standard of measure for serving capacity.
What does the number on the bottom of my Tuxton item mean?

On the bottom of all Tuxton items you'll find a number which corresponds to the year the product was manufactured.
Does this item come with an edge chip warranty?

Built to last, every Tuxton item is backed by their lifetime edge chip limited warranty.
Ask your own question!
Tuxton BPK-0805 Details
This BPK-0805 8 oz. porcelain white round fluted creme brulee dish is a sturdy, simple solution for your diner, restaurant, or other food service operation.

This fluted creme brulee dish acts as an attractive serving dish for sauces, dressings, and small sides.

Dimensions:
Top Diameter: 5"
Height: 1 1/4"
Capacity: 8 oz
Dishwasher Safe

This item can safely be cleaned in a commercial dishwasher.

Microwave Safe

This item can safely be used in the microwave for food service applications.

Oven Safe

This item can withstand high heat applications and is safe for oven use in food service.

Lead Free

This item's manufacturing process does not use lead as an additive.
Resources and Downloads for
Tuxton BPK-0805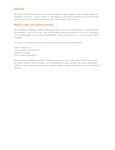 Warranty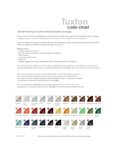 Tuxton Color Chart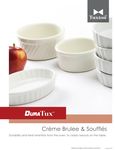 Brochure
A PDF viewer is required to view this product's information. Download Adobe Acrobat software
Customer Reviews
People Talk About:

creme

dishes

Great

brulee

dish

perfect

easy

nice

size

presentation

This is an awesome china dish. It hokds about 8 oz. It is oven, microwave and dish washer safe. It looks very elegant looking and durable

You'll love the durability of the Tuxton products. This one is a great Brûlée dish with a nice shiny finish. They are resistant to chipping and cracking!

Great product. Sturdy and attractive. We have been using these for six years with nothing but great results. Only time I see them break is when dropped on the tile (and thats to be expected!)

These are beautiful. They are the perfect size.. for our creme brûlée.. there is lots of space for crunchy caramel topping.. we are very happy with them.

This is a very cute and decent size dish. It is perfect for brulee dish. It's pain and white but very elegant too. I recommend it

These work very well for creme brûlée as well as other applications I also use these dishes as a rice mould for seafood dishes. Highly recommend

These creme brulee dishes are just right! They are very easy to hold in your hand and the ridges around the edge make for extra presentation value. The dishes are easy to hold in your hand and are easy to eat out of.

Durable ceramic dish. These are the perfect size for creme brulees. The best part is the ceramic is easily overheated by the carmelization service required.

These dishes are great for our creme brûlées. They are sturdy and look nice on the table. They hold up well in the dishwasher and oven.

this round dishes can be used for more than creme brulee we get good response from our guest about the presentation and the look of this dishes plus for a really good price you can't go wrong just you can't believe it

Very pleased to have got these creme brulee dishes. Came to me in perfect shape an had no issues when i received them. Great to have if your severing dessert in you business.

Love these. We make fresh crème brulee every week and constantly run out of these dishes. These are cheaper than our restaurant supplier and glad to get them.

Nice sized creme brulee' dish. Perfect for individual sized deserts. Easy clean-up and can go it the dishwasher. Nice inexpensive dish that displays a very popular item.

Great ramekin for cream brulee. They are durable, inexpensive and look great for presentation. Creme brulees are very easy to make and everyone loves them.

These are very attractive fluted dishes that are great of course for creme brulee but nice for a side of spinach or potato gratin! Great portion size!!!

These ramekins are thick and sturdy and very well-made. They also stood up just fine to the rigors of the butane torch when using for creme brulee.

Great looking dish for sides. We use it for our Spinach Dips, Creme Brulee, and sauces as well. Tuxton quality is superior in presentation and the procelain is heavy so does not break as easily.

Great ramekin, would have preferred 6.5oz. Super quality, excellent value.
Leave a review of this product!
If you've used this product, log in and leave a review to tell us and other customers what you thought about it.
Login or Register