Ice Cream Topping Ideas
Whether you're starting your own ice cream shop or you just want to expand your dessert menu, there are many types of ice cream toppings that can liven up your offerings. Traditional toppings like hot fudge, sprinkles, and whipped cream will always be a favorite, but why not try something new and unexpected? There's a sundae topping for everyone on our list of ice cream topping ideas!
Shop All Ice Cream Toppings
Ice Cream Toppings List
Create your own signature sundaes or stock your ice cream bar with these popular ice cream toppings. You'll find everything from french fries to macarons on our toppings list.
1. Savory Toppings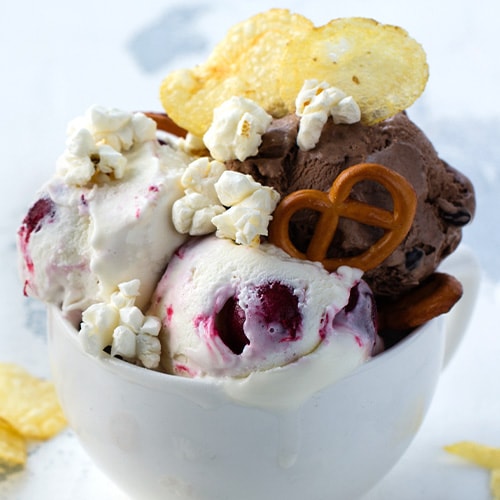 Sweet and salty is a popular ice cream combination! Instead of plain pretzels, try experimenting with other savory foods. The salty flavor of snack foods and crackers brings out the sweetness of the ice cream. Bits of crunchy, crispy foods also provide a pleasing contrast to the smooth, creaminess of your frozen desserts.
Crackers - Crushed crackers make a golden, buttery topping for ice cream sundaes.
Potato Chips - Crunchy, salty potato chips make an indulgent ice cream topping.
French Fries - You've heard of dipping french fries into milkshakes. Now french fries are popping up on ice cream menus as a sundae topping!
Popcorn - Try buttered popcorn or even caramel corn on top of ice cream for a sweet and savory flavor combo.
2. Boba Toppings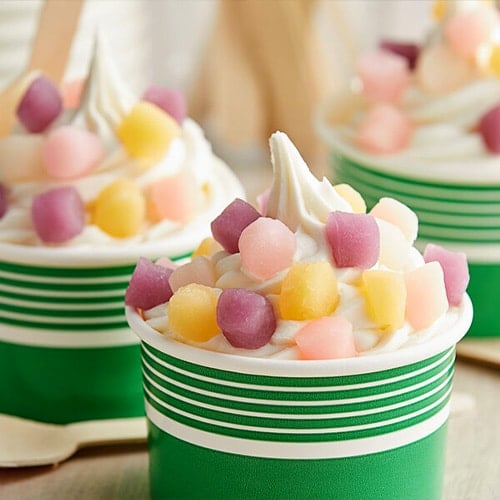 The same colorful, fruity toppings that make bubble tea such a fun drink can be used on top of ice cream and frozen yogurt! Boba toppings have unique textures that turn an ordinary sundae into a special treat. You'll also find that bubble tea toppings come in unexpected tropical flavors that will make your ice cream menu stand out. Try some of these bubble tea add-ins:
Tapioca Pearls - Chewy tapioca pearls come in different flavors like mango, brown sugar, or lychee.
Popping Boba - These brightly colored pearls burst open in your mouth with a satisfying pop.
Jellies - Boba jelly toppings are made with agar powder and have a pleasing jelly-like texture.
Puddings and Jams - Create a layered sundae with bubble tea puddings in almond or matcha flavors, or add fruity jams like passion fruit and honeydew.
3. Spicy Toppings
A new ice cream trend that's popping up on menus is the addition of spicy ingredients and toppings. The flavor contrast of peppery spices against smooth, cool ice cream is a surprising treat for the taste buds. Think flavors like Mexican chocolate spiced with chili powder or peanut butter ice cream with ribbons of Thai chili sauce. Try some of these trendy sweet and spicy combinations:
Chili Crisp - This spicy sauce has been making an appearance on menus everywhere, and now it's an ice cream topping too! Chili crisp is a spice-infused oil with crunchy pieces of fried chili peppers.
Wasabi Peas - Not for everyone, wasabi peas pack a lot of heat and add a nice crunch.
Old Bay Seasoning - A dusting of zesty Old Bay seasoning adds complexity to sweet vanilla ice cream.
4. Cereal
Cereal and milk is a traditional combo, so why not cereal and ice cream? The possibilities are endless with cereal as a sundae topping! From fun, fruity cereals to healthy granolas, there's a wide range of flavors and textures you can play with. Try some of these popular cereals on top of ice cream sundaes:
Fruity Cereals - Everyone has a favorite fruity cereal! Whether it's loops, puffs, or crisps, fruity cereals add color and flavor to ice cream sundaes.
Cinnamon Cereals - Crunchy cinnamon-sugar cereal makes a tasty addition to vanilla ice cream.
Puffed Rice Cereals - Combine crispy puffed rice with marshmallow topping or add chocolate puffed rice to peanut butter ice cream.
Healthy Cereals - Granola, muesli, and toasted flakes of corn add interesting flavors to your ice cream sundaes.
5. Honeycomb and Honey
Instead of butterscotch and caramel sauce, try honey as an ice cream topping. Ribbons of golden honey provide a wholesome sweetness and gooey texture to sundaes. There are different types of honey and honey products to play around with, making it a fun ingredient to add to your menu. Try these honey toppings:
Honeycomb - Fresh honeycomb is taken straight from the beehive and contains the hexagonal wax comb filled with pockets of honey. For a sophisticated ice cream sundae, top off some ice cream with pieces of honeycomb.
Hokey Pokey - Also called honeycomb candy, hokey pokey is a traditional ice cream topping in New Zealand. This sweet, crunchy candy can be made with honey or golden syrup.
Bee Pollen - The wellness trend has crossed over into the dessert world! Bee pollen is a superfood that doubles as a sweet ice cream topping.
Hot Honey - This sweet and spicy condiment is being used on everything from pizza to pancakes. So why not ice cream, too? Hot honey combines honey with hot chili peppers for a sweet, peppery kick.
6. Candy Toppings
Adding sugary candies to ice cream is the ultimate indulgence. Partner with local confectionaries or candy shops to showcase local favorites, or choose from a wide variety of sweet, colorful candies.
Gummy Candies - Sour gummies, gummy bears, and gummy worms are just a few types of candy with an addictively chewy texture.
Crushed Candy Bars - You can't go wrong with chopped candy bars. Many popular chocolate bars are available as crushed toppings for your sundae bar.
Hard Candies - Add color and texture to your ice cream with hard candy toppings. Candy rocks, crushed candies, and candy bark are a fun alternative to traditional sprinkles.
7. Cookies and Cookie Dough
Cookies and cookie dough are already some of the most popular ice cream toppings available. Sometimes sticking with the classics pays off! You can create a diverse toppings list by offering traditional favorites, like crushed OREO® Cookies, along with some new options that your guests are not expecting. Try these cookie and cookie dough toppings:
OREO® Cookies - Try adding a whole cookie as a garnish or topping off your sundaes with crushed OREO® pieces<.
CHIPS AHOY!® - Top off sundaes, create layered desserts, or blend decadent milkshakes with Chunky CHIPS AHOY! Cookie Pieces.
Cookie Dough - The obsession with cookie dough knows no bounds. Try to mix it up by offering different types of cookie dough, like peanut butter, snickerdoodle, or sugar cookie dough. Just make sure it doesn't contain eggs!
Gourmet Cookies - Who says you can't put a macaron cookie on top of a sundae? Put your ice cream menu over the top with gourmet cookie toppings like stroopwafels, macarons, and biscotti.
8. Tropical Fruits
Consumer awareness of the plentiful rainbow of tropical fruits has been growing! Dragon fruit, jackfruit, and papaya are becoming a more common sight in the produce section. But which fruits pair well with ice cream? Try these tropical fruit recommendations:
Passion Fruit - The bright yellow pulp of the passion fruit has tiny black crunchy seeds, making it a treat for the eyes and the taste buds.
Guava - The popular Cuban combo of guava and cream cheese can be replicated in a frozen dessert. Layer pink guava puree with cheesecake ice cream for an elevated sundae experience.
Grilled Mango - Mango is tasty on its own, but grilling it takes it to a new level. Combine chopped mango with pineapple juice and chili powder before grilling or sauteing to create a sticky, caramelized topping.
9. Mini Cupcakes and Brownies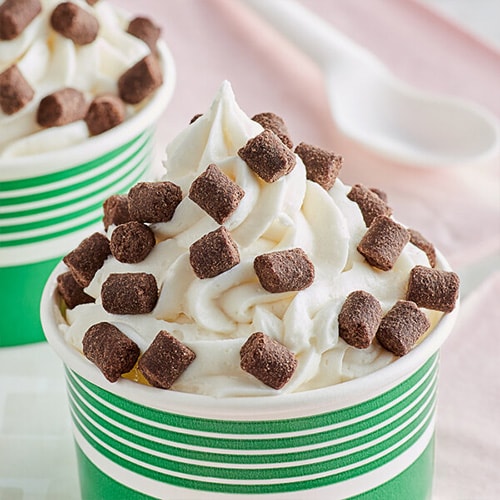 Ice cream and cake are meant to be together. A slice of birthday cake with a scoop of ice cream on the side is a heavenly treat that's hard to resist. Take advantage of this winning combo by adding cake pieces and mini cupcakes to your toppings list.
Mini Brownies - Mini brownies or brownie pieces make the perfect chocolatey sundae topping or add-in.
Cake Crumbles - Have you ever felt deep regret seeing leftover cake pieces tossed in the trash? This is the perfect opportunity to use up corner pieces or cake mistakes as a crumbled ice cream topping.
Cake Batter - We love cake so much it doesn't even have to be baked! Anyone who's licked the mixing bowl knows that's an indisputable fact. Drizzle ribbons of brownie batter or cake batter over sundaes in place of other sauces for a nostalgic treat.
10. Nuts and Seeds
Chopped peanuts are a must-have topping for many ice cream sundae fans. For a unique twist on an old favorite, try incorporating different nuts, seeds, or nutty toppings into your ice cream menu or sundae bar. Here are some peanut alternatives for adventurous ice cream lovers:
Hazelnuts - Buttery hazelnuts are the ingredient that gives Nutella its signature flavor. Try mixing chopped hazelnuts with chocolate chips to imitate the flavor of the popular spread.
Cashews - Toasted, caramelized cashew nuts are a sweet crunchy topping that will make you forget all about chopped peanuts.
Pumpkin Seeds - Try roasting pumpkin seeds with different spices to create sweet, spicy, or savory flavor combos.
Pacoca - This Brazilian nut candy is made with ground peanuts, sugar, and salt. It has a crumbly texture and a sweet-salty flavor, making it a tasty alternative to chopped peanuts.
---
With so many ice cream toppings to choose from, you'll never run out of ideas for exciting new sundaes. Try mixing it up with different options from our list of toppings, like combining cake crumbles with tropical fruit or cereal toppings with candy sprinkles. Don't stop there, because many of these toppings go great with snow cones, shaved ice, or even blended dessert drinks.

Posted in:
Menu Tips
|
By Michale LeRoy
The information provided on this website does not, and is not intended to, constitute legal advice. Please refer to our
Content Policy
for more details.