Creamery Ave. Dessert Products
Create Unique Desserts with the Help of Creamery Ave. Dessert Products
Creamery Ave. offers an extensive line of dessert toppings and sauces to help foodservice professionals create classic and unique desserts for their menus. Creamery Ave. achieves delicious flavors in their sauces and syrups by using high-quality ingredients your customers will love. Stock up on Creamery Ave. topping essentials for your shop without breaking the budget. Read more
Creamery Ave. dessert products make an excellent addition to any ice cream parlor, frozen yogurt shop, or diner. Whether you're serving ice cream or pies, these dessert toppings and sauces can bring vibrant colors and flavors to your specialty menu items. Allow your guests to customize their desserts by offering a wide selection of Creamery Ave. dessert toppings and sauces.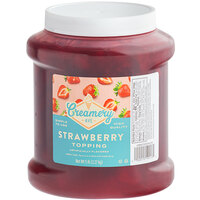 Creamery Ave. Fruit Toppings
Add the perfect finishing touch to pies, cheesecakes, and shortcakes with sweet and tart Creamery Ave. fruit toppings.
Creamery Ave. Sundae Sauces & Syrups
Use Creamery Ave. sundae sauces and syrups in your ice cream parlor to customize desserts for your guests.