WebstaurantStore / Food Service Resources / Blog
Should Your Hotel Offer Room Service?
In 1931, the Waldorf Astoria became one of the first hotels to offer room service in order to enhance their guest experience. This service quickly became a hotel standard, until 2013 when the Hilton New York Midtown hotel announced it was discontinuing the service, sending a shock wave through the industry.
Many hoteliers began to wonder if they should have full room service, a variation of it, or nothing at all, and they still debate it today. Keep reading as we explore the positives and negatives of offering room service and how this decades-old service can be modernized to fit the guests of today.
Easily navigate to a specific portion of the blog using the links below:
What Is Hotel Room Service?
Hotel room service is an amenity that allows guests to order food from a hotel menu and have it delivered to their door by hotel staff so they may enjoy their meal from the comfort of their room. Along with the meal delivered on a room service tray, guests are provided with the necessary plates and cutlery. Business travelers, along with international guests, guests with disabilities, and families with small children, are most likely to take advantage of room service at a hotel.
However, the PKF Hospitality Research, Inc. found that between 2007 and 2012, room service revenue dropped over 20% with projections to keep dropping. So in a time with interest in room service decreasing, it can be difficult to decide if you should keep the service or dispose of it all together.
Why Your Hotel Should Offer Room Service
Room service can play a very important role in your guests' experience at your hotel. Customers may seek out a hotel with room service out of necessity, for convenience, and even for a sense of luxury. Here are some reasons why room service may be essential for your guests.
Necessity
Your hotel may be located in a remote area where accessing food 24 hours a day may be difficult.
Guests may be traveling or working at odd hours, forcing them to depend on room service for meal options when other restaurants are closed.
Some guests may feel unsafe venturing to find food at night on their own.
International travelers may not feel comfortable enough with the language to order food from an outside establishment.
Guests with disabilities may find it strenuous to go out to local restaurants.
Convenience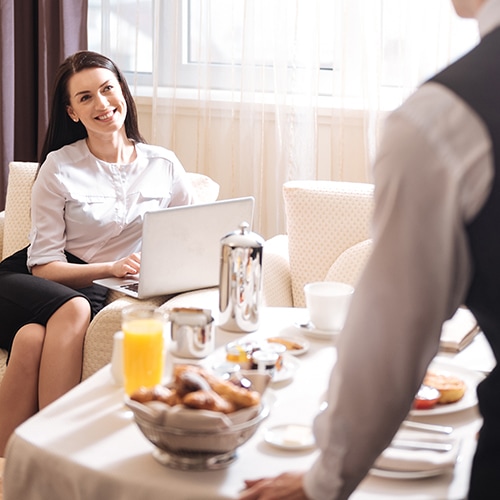 Solo travelers may find it more comfortable to eat on their own within the privacy of their room.
Business travelers are able to continue their work from their room without needing to pause and go out to eat.
Guests who book meeting rooms may find it convenient to also have a food option delivered right to their meeting.
Room service allows guests to receive food without having to wait for a table during a dinner rush.
Guests won't need to venture outdoors in inclement weather to locate food.
Late comers and early risers are guaranteed access to a meal.
Guests are able to save time by getting ready while a meal is being prepared and brought to them.
Luxury
The availability of room service is an important element in order to be considered a full-service hotel.
Guests may be looking to treat themselves or someone else to a luxurious experience by enjoying a meal in the comfort of their room.
With these factors in mind, you may choose to incorporate a room service option when establishing your hotel.
Back to Top
Why You Shouldn't Have Room Service in Your Hotel
Offering hotel room service isn't always as glamorous as it is portrayed to be. Here are some reasons why you may not want to include room service as one of your hotel amenities.
Cost
A hotel will need to invest in a room service staff, heat-holding supplies, meal delivery carts, trays, plates, flatware, and more in order to offer room service successfully.
Guests will usually skip on room service due to the cost of the food and surcharges associated if they are able to find a cheaper meal option elsewhere.
Quality
Food quality deteriorates and and can leave food-safe temperatures in the time it takes to transport the food to a guest's room.
Guests may believe that the food quality is not high enough to justify the price commonly associated with room service.
Customer Experience
Many guests may find the interaction with the delivery staff to be a bit awkward, unsure if a tip is required or if they should engage in small talk, and choose to avoid it by passing up the room service option.
Room service can often feel unorganized for guests, as meals can take a long time to be delivered and are often incorrect when they arrive.
Empty meal trays are commonly left in the hallway for pick up, causing hallways to look messy and unprofessional to arriving guests.
Many guests are put off by room service these days, causing it to become an underutilized and expensive venture.
The Modernization of Room Service
As times and guest preferences change, so should hotel services to maintain a profitable business. We explored some modernization options that can help you save money while also providing for your customers' needs and interests.
Menu Engineering
If you choose to maintain the standard room service structure, proper menu engineering may help create a stronger allure to the service. Guests are more likely to use room service if it is clearly advertised in the lobby and rooms, as well as if the menus are concise and easy to read. Redesigning room service menus to reflect customer trends and needs may create a better impression of the service as a whole.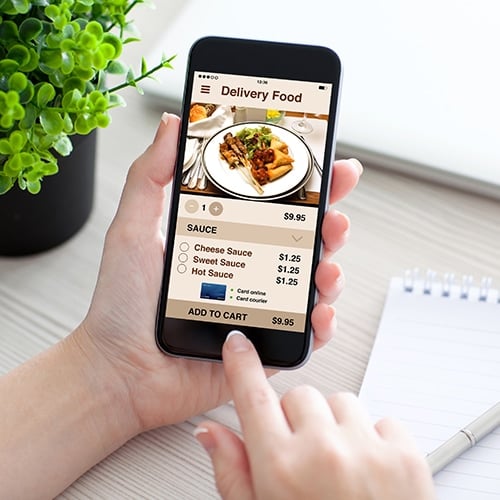 High-Tech Ordering
Many hotels have added ways for customers to order room service through their website or through a phone app that guests can easily install. This eliminates the awkwardness of a phone call and any other confusion caused by possible language barriers.
Use Your Resources
Most guests will consider breakfast to be one of the most important meals offered by room service. Increase your hotel's popularity by offering a complimentary breakfast in a reserved dining space. This can prevent a room service breakfast rush and the struggle of keeping breakfast foods at food-safe temperatures.
If you have an on-site restaurant, you may also choose to offer room service during the restaurant's dining hours. You can provide a limited lunch and dinner room service option that operates out of the same kitchen.
Grab and Go
If you do not plan to offer room service, you may choose to add a mini-mart in your hotel instead. This gives guests access to food options at odd hours or when it is not convenient to go out to eat. Another option is to offer a limited grab and go menu that guests can order from and pick up in the lobby.
Restaurant Partnerships
One of the most popular revolutions in room service is taking the kitchen out of the hotel entirely. Hotels are partnering with local restaurants and delivery services to offer food for their customers. Some hotels are creating curated menus that feature food from the restaurants in their area. These menus are priced the same as the restaurant menus with just a small delivery fee added.
With this service, guests can order their food directly through the hotel staff or an online app, and the food in turn is delivered to the lobby. A staff member will then deliver the food to the guest's room for the customer to enjoy. This option provides guests with the same convenience of room service while eliminating the need for an on-site kitchen and the safety concern associated with delivery personnel roaming the hallways. Although this option may not provide your hotel with additional revenue, it may increase customer loyalty overall.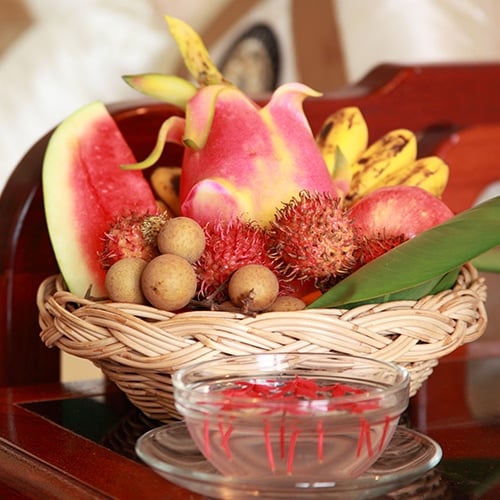 Luxury Boost
Some hotels are updating their room service to be more of an extravagant experience by inviting celebrity chefs and mixologists to prepare the food for guests. They are taking room service to the next level with menus that feature local delicacies and unique options. Many hotels are even going the extra step by turning their food deliveries into a theatrical experience. These luxury boosts usually result in additional social media exposure.
Back to Top
Before you make your decision on whether or not you'll be offering room service at your hotel, it is important to evaluate your location and demographic. Catering to your customers' needs and interests will be an essential element to the success of your hotel business.

Posted in:
Management & Operation
| By Janine Jones