What Is Black Pudding?
If you've never been to Ireland or the UK, you may assume black pudding is a dark, custard-like dessert. However, black pudding isn't pudding as Americans understand the term. Black pudding is a blood sausage composed of cereal grains, pork blood, shortening, and seasonings. Chefs typically cut black pudding into discs resembling flat cookies and serve it as a standalone item, but they will also crumble and incorporate it into recipes.
Including black pudding on your St. Patrick's Day food menu is a fantastic way to add a unique and authentic Irish delicacy to your celebration. Learn how to prepare black pudding and answer your blood sausage questions with our guide to this misunderstood specialty of the Emerald Isle.
Shop All Sausage Making Supplies
Jump to the sections that most interest you by clicking the links below:
What Is Black Pudding Made Of?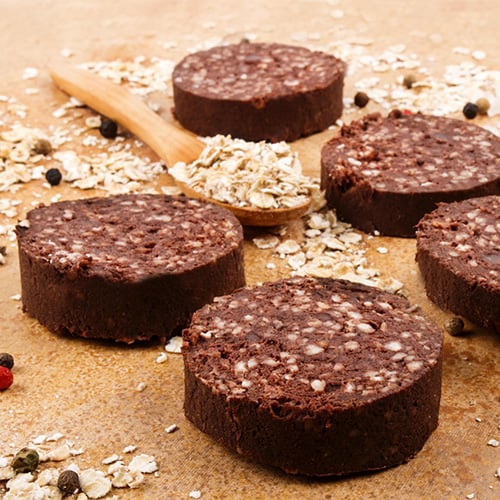 Black pudding is a sausage made of pork blood, seasonings, cereal grains, and shortening. It uses lard or beef suet for its shortening. Culinary tastemakers differentiate black pudding from other blood sausage traditions by its high cereal content and its signature herbs such as pennyroyal, marjoram, thyme, and mint. The most common cereal grains used in black pudding are oatmeal, oat groats, and barley.
Black Pudding Casing – natural beef intestine casings are traditional. However, modern sausage makers typically use synthetic cellulose skins created from dried blood
Black Pudding Filling – cereal grain (oats, oat groats, or barley), pork blood, and fat (lard or beef suet)
Black Pudding Flavorings – pennyroyal, marjoram, thyme, and mint
What Does Black Pudding Taste Like?
Black pudding has a complex flavor described as meaty, earthy, and nutty. Onion, herbs, and exotic spices enliven black pudding and create flavor profiles ranging from mild to hot. Cereal grain fillers absorb the pork blood, giving black pudding a dry, chewy texture (similar to soppressata salami) that compliments breakfast favorites such as eggs and skillet potatoes.
---
Black Pudding Recipe
This black pudding recipe is intentionally simple, leaving room for you to add your own unique spices and spin. It produces two six-inch lengths of black pudding in 60 mm casings and yields approximately 12 slices. If you want to increase the number of servings, use our recipe re-sizer to adjust our ingredient ratios to meet your needs.
Black Pudding Ingredients:
1.8 oz. dried pigs blood
1 1/2 cups water
5.3 oz. lard
1 oz. cooked/drained pearl barley
6.7 oz. steel-cut oats
1 tsp. salt
1/3 tsp. black pepper
1/2 cup onion (approximately 1/4 of a large onion)
60 mm synthetic cellulose skins made of dried blood (black pudding casing)
Black Pudding Recipe Instructions:
Dice the lard and 1/4 of the large onion. Note: the lard will be easier to dice if you freeze it the night before.
On your stovetop, gently heat the diced onion and lard. The onion will release water as it cooks, so stir the mixture frequently to evaporate the water. Keep the heat low to prevent the Maillard reaction.
Once the onion is translucent and the water has evaporated, remove the pan from the heat and leave it to cool (about five minutes).
Use a hand whisk to rehydrate the dried blood by mixing it thoroughly with water. Then use a sieve to strain away clumps.
Mix the fat, onion, oats, and spices into the rehydrated blood until homogenous.
If you have a sausage stuffer, load the filling into your machine for fast and easy stuffing.
If you don't have a sausage stuffer, spoon the filling into black pudding cases. Squeeze the mixture down as you go. Tie it off with butcher's twine.
If you have a sous vide immersion circulator, you can prevent the sausages from bursting by vacuum sealing them and cooking them at 181.4 degrees Fahrenheit for 45 minutes.
If you do not have a sous vide immersion circulator, cook the sausages in water on your stovetop over medium heat (approximately 45 minutes). Note: Rolling water is too abrasive for these gentle sausages, so don't let the water come to a boil.
Place the black pudding in an ice bath until they're cool. Keep them refrigerated until you're ready to warm and serve them.
---
How to Cook Black Pudding
There are three popular ways to cook black pudding: frying, grilling, and baking. Sausage makers typically precook black pudding, so warming is a more accurate term for prepping black pudding for plates. However, how you warm your black pudding will affect its flavor, consistency, and cook time.
How to Fry Black Pudding
Frying black pudding is the most popular way to prepare the dish.
Heat a thin layer of frying oil in a pan.
While it heats, cut the black pudding into one-centimeter slices.
Drop the sliced black pudding into the hot oil. Cook both sides (approximately three minutes each).
Once the center is warm and it changes from a deep purple hue to purple-tinged black, remove it from the heat.
Serve the black pudding slices or incorporate them into a recipe.
How to Broil Black Pudding
Broiling black pudding is a fast, healthy alternative to frying the dish.
Line a baking dish with foil.
Set your broiler to high heat.
While your broiler heats, cut the black pudding into one-centimeter slices. Add the slices to your lined baking dish.
Place your baking dish close to the heating element and cook each side (approximately two minutes each).
Remove your baking dish from the oven.
Wait until the black pudding slices have cooled enough to handle, then serve or incorporate them into a recipe.
How to Bake Black Pudding
Preheat the oven to 375 degrees Fahrenheit.
Cut the black pudding into one-centimeter slices.
Lightly oil a baking tray, then add your sliced black pudding to it.
Insert the tray into your oven and cook the black pudding for 6-8 minutes or until they're heated throughout. Turn the slices at the halfway mark.
Remove the tray from the oven. Allow the black pudding to cool enough to handle.
Serve the black pudding slices or incorporate them into a recipe.
Back to Top
---
Recipes Using Black Pudding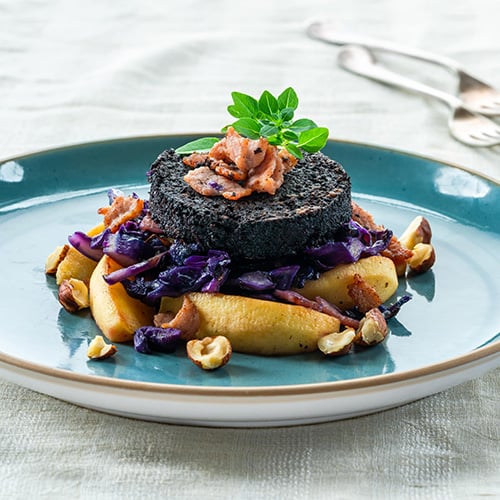 Black pudding is a key piece of full Irish and English breakfasts, but it's also crumbled and incorporated into recipes. As a general rule, if a recipe calls for bacon bits, you can sub them with crumbled black pudding for a unique twist. We've rounded up the top recipes using black pudding below.
Bubble and Squeak – Bubble and squeak is a fried patty of chopped vegetables held together with mashed potatoes. A classic British peasant dish, bubble and squeak repurposes leftover Sunday breakfast into a weekday meal. Chefs add scraps of bacon, bangers, and roasts, so sub in black pudding for a specialty spin that preserves the dish's cultural integrity.
Black Pudding Mash – Add decadent black pudding pieces to your mashed potatoes and enhance their richness.
Red Cabbage Black Pudding Salad – Delight guests with a warm winter salad of red cabbage, black pudding, and apples grilled in one pan and topped with crushed hazelnuts.
Black Pudding Boxty – A traditional Irish food, a boxty is a potato pancake. Enhance the flavor of your boxty batter by incorporating cubed black pudding, or stay traditional and serve your black pudding on the side.
Black Pudding Starter Ideas
From Irish charcuterie boards to upgraded pub appetizers, discover the best black pudding starter ideas below.
St. Patrick's Day Charcuterie – Create a festive snack board composed of black pudding, white pudding, Dubliner cheese, Irish soda bread, Stilton cheese with blueberries, and Guinness apple chutney.
Scotch Eggs – Substitute black pudding for pork sausage in your Scotch egg recipe.
Twice-Baked Potatoes + Black Pudding Crumbles – Twice-baked potatoes are a beloved bar snack, so dress them up for St. Patrick's Day by crumbling decadent black pudding on top.
---
Black Pudding FAQ's
Black pudding plays a role in traditional meals that are foreign to Americans, and they're just one piece of the global blood sausage puzzle. We answer the questions that arise when American chefs make black pudding below.
What Is Blood Sausage?
A blood sausage is any sausage made with blood. Since sausages infamously use varying scraps of meat, some argue sausage inevitably contains blood. While this may be true, many sausages intentionally incorporate blood as a key ingredient. Most countries and cuisines have blood sausage traditions, and interestingly, a majority use pig's blood. Discover global blood sausage varieties below.
Black Pudding (UK) – fats, cereal grains, onion, spices, and pork blood
Drisheen (Ireland) – milk, fat, salt, seasonings, and blood (cow, pig, or sheep)
Morcilla (Spain) – fat, rice, onion, seasonings, pine nuts, almonds, and pork blood
Soondae (Korea) – cellophane noodles, barley, perilla leaves, fermented soybean paste, kimchi, soybean sprouts, and pork blood
Moronga (Mexico) – spices, herbs, onion, jalapeno, and pork blood
Blutwurst (Germany) – meat, fat, and blood from pork or beef mixed with seasonings, oatmeal, and breadcrumbs
Boudin Noir (France) – pork blood, pork snout, onion, and spices
Matura (Kenya) – goat or beef, onion, garlic, green chili, blood (goat or beef), ginger, and dhania
Doi Huyet (Vietnam) – pig's blood, pork, ngo om, rau ram, green onion, shrimp paste, and ground pepper
Mustamakkara (Finland) – pork, pig's blood, crushed rye, flour, and spices, served with lingonberry jam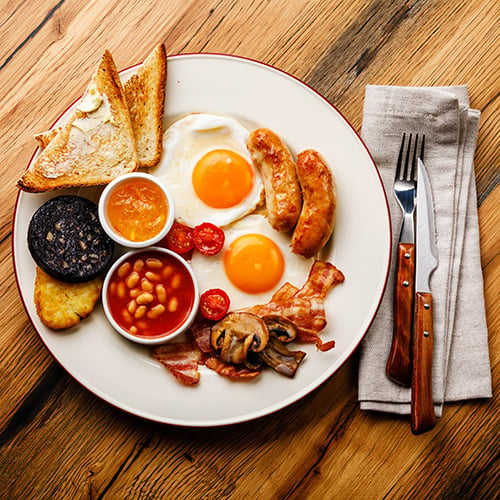 What Is A Full English Breakfast?
A full English breakfast is a hearty meal of fried eggs, sausages, bacon rashers, tomatoes, and mushrooms accompanied by buttered bread and marmalade. Fried black and white pudding, baked beans, and fried potatoes are common additions. Another name for an English breakfast is a "fry-up", because chefs fry its essential ingredients. An affectionate nickname for a full English breakfast is "a fully Monty" honoring World War II British Army general, Bernard Montgomery, who began each day with a full English breakfast. Whatever you choose to call it, enjoy this staple British meal with a traditional cup of tea or coffee.
What Is a Full Irish Breakfast?
A full Irish breakfast, also called an "Irish fry-up", features bacon rashers, sausage, eggs, black and white pudding, mushrooms, and tomatoes fried in oil and served with Irish soda bread. Common additions are Irish potato pancakes, corned beef hash, and bubble and squeak. People usually wait till weekend mornings to enjoy a full Irish Breakfast, but will occasionally use it as a replacement for lunch. A full Irish breakfast is traditionally served with tea. Make your hotel stand out by swapping a conventional continental breakfast with this beloved Irish staple.
Full Irish vs Full English Breakfast
The fundamental difference between a full Irish and English breakfast is black and white pudding are essential to a full Irish breakfast and optional for a full English breakfast.
What Is White Pudding?
White pudding is a sausage made of shortening (beef suet or lard), cereal grains, breadcrumbs, seasonings, and occasionally pork/pork liver stuffed into a natural or cellulose sausage casing. Essentially, white pudding is black pudding with blood omitted from the recipe.
What Is Beef Suet?
Beef suet is the fat surrounding cow's organs, particularly their kidneys. To prepare beef suet, butchers chop and clarify the extracted fat. Prized for its high smoke point, many traditional puddings, sweet mincemeats, and British desserts use beef suet.
Suet vs Lard
While both suet and lard present themselves as hard fats, they are not the same thing. Typically extracted from the stomach area, lard is rendered pork fat. Suet is clarified fat found around the kidneys and loins of ruminant animals such as cows, goats, and sheep. Lard softens at room temperature and is malleable. In contrast, suet remains stiff at room temperature and has a crumbly texture.
Back to Top
---
A short and inexpensive list of ingredients makes black pudding a cost-effective way to add authenticity to your full Irish breakfast plate, British pub grub, or specialty St. Patrick's Day selections. Use our comprehensive black pudding guide to diversify your menu and increase your profits.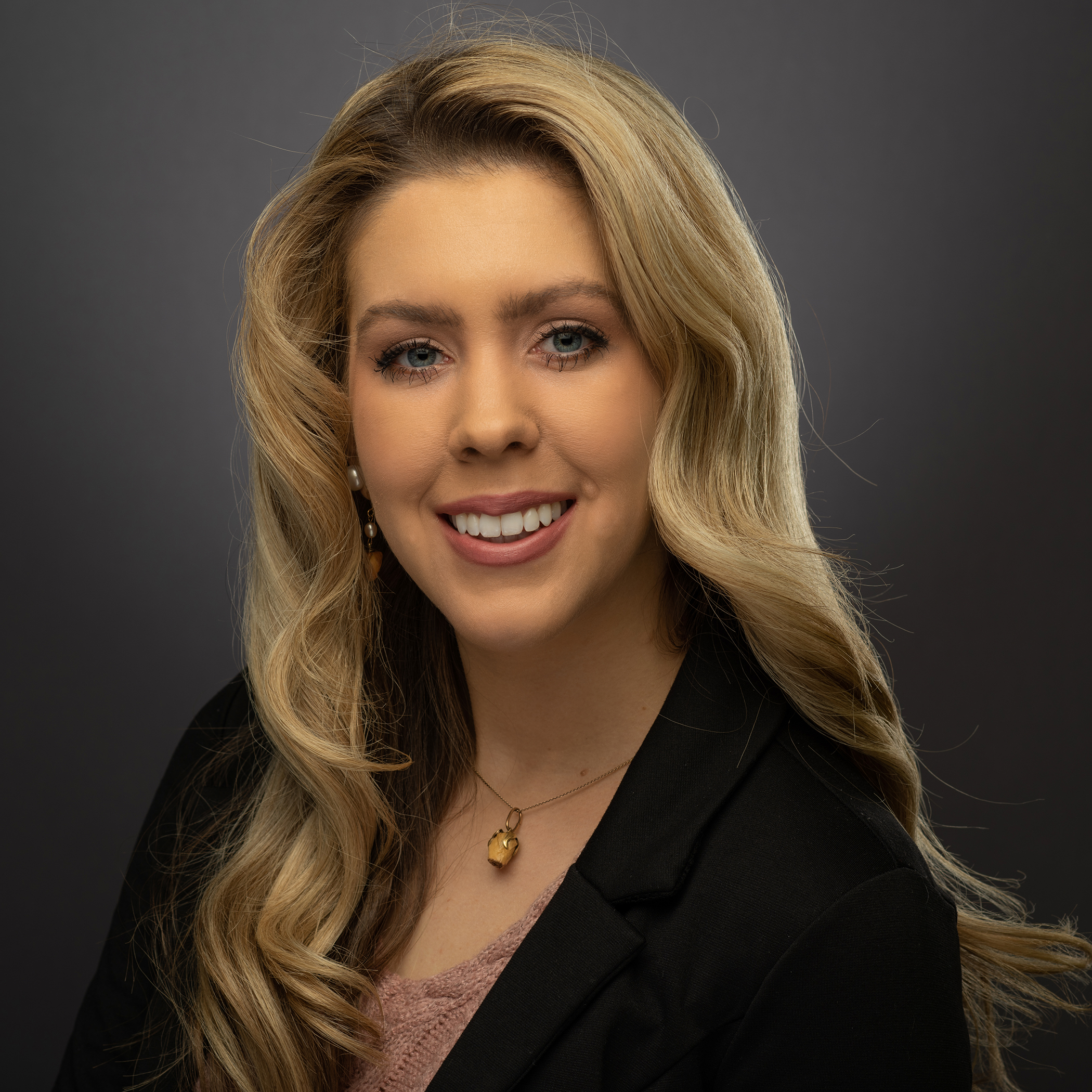 Posted in:
Kitchen & Cooking Tips
|
Menu Tips
|
Recipes
|
By Corrinn McCauley
The information provided on this website does not, and is not intended to, constitute legal advice. Please refer to our
Content Policy
for more details.