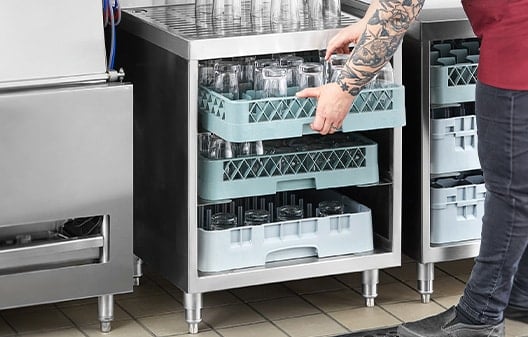 Shop Underbar Glass Rack Storage Units
Shop Back Bar Coolers
Back Bar Coolers
These back bar coolers keep bottles cold and within reach of your busy bartenders, while the glass door coolers are perfect for merchandising.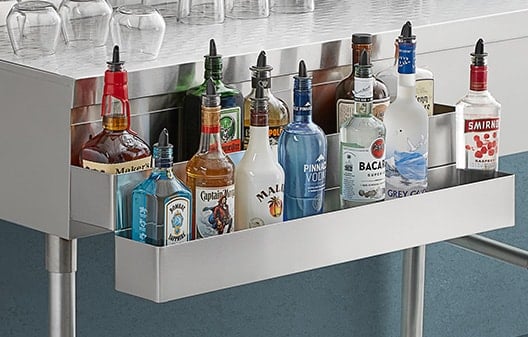 Shop Speed Rails and Speed Racks
Speed Rails and Speed Racks
With speed rails and speed racks, you can stock popular liquors nearby to speed up service in your busy bar.
Make the Most of Your Back Bar Space with Stainless Steel Underbar Equipment
Underbar equipment will streamline your back bar area and provide necessary stations and areas for your bartenders to work. We carry underbar ice bins, blender stations, sinks, drainboard units, and more! This equipment will organize ice and liquor, designate stations for mixing and blending drinks, and prevent your washing area from contaminating your prep area.
From cocktail stations and liquor display racks to glass rack storage and add-on units, this stainless steel underbar equipment is sure to increase your space-efficiency and make your bar more convenient for staff. Each unit comes in a different size, so you can tailor it to be flush with your counters and other equipment, too!
Our stainless steel underbar equipment helps you designate specific areas of your bar for different purposes like drink prep, storage, and glass washing. Since these units are made of stainless steel, they're also durable and easy to clean, making them practical options for highly trafficked businesses. With the proper underbar storage and display equipment, your staff will also be able to navigate your stock and prepare drinks faster/ Check out our
speed rails
,
bar condiment dispensers
, and
back bar coolers
for more supplies to better organize your bar and utilize your space.