Find the Best Commercial Milkshake Machines for Your Business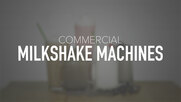 Commercial milkshake machines allow you to quickly and easily blend a variety of delicious frozen creations, making them a must-have for any business. We offer both milkshake mixer and mix-in blender models, so you'll find equipment that can handle even your thickest shakes and blended beverages. Depending on your business volume, you can also choose from one, two, or three spindle models that hold varying numbers of mixing cups. In addition to traditional freestanding models, we offer wall mount products that offer added stability while saving valuable counter space. If you're shopping for easy-to-clean commercial milkshake machines, you'll find several items that are NSF Listed. Some of these models even have timers that allow you to set your desired mix time and move on to complete other tasks. To learn more about the differences between these products, explore the tabs above and the filters on the left side of the page.
Our selection of milkshake makers and blenders comes in both freestanding and wall-mount models, depending on the kitchen space you have available. Select models even feature various speeds, so you have complete control over how thick or thin the final product is! And, since milkshakes and ice cream are enjoyed throughout all the seasons, investing in a milkshake machine will help you keep customers happy and satisfied year-round. Be sure to stay stocked up on soda fountain glasses for customers dining in, as well as our milkshake supplies for to-go service. You'll also love our selection of ice cream toppings that will add a unique flavor to your products. If you're wondering where to buy commercial milkshake machines, we have a large selection of commercial milkshake machines for sale at the lowest prices.