Find the Best Cake and Bakery Boxes for Your Business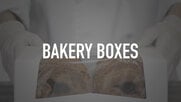 When your customers come to you for delicious confections, send them on their way with plenty of sweets packaged in our bakery boxes. Ideal for candy shops, markets, and bakeries, we offer the best products for keeping your treats looking great as you merchandise them or send them home with customers. These products are available in several types, including cake, pie, donut, and cupcake, and you can also choose from colors like white, pink, and beige. Merchandise and show off your products with bakery boxes with windows, or choose windowless boxes to package preexisting orders. If you have a heavy, large sheet cake, a corrugated box is the perfect choice, while eco-friendly, non-corrugated boxes are best for lighter orders. We also offer bakery and cake boxes in a variety of festive patterns for any season or your favorite holiday. No matter what your specific needs are, finding the right bakery box has never been easier. To learn more about the differences between these products, explore the tabs above and the filters on the left side of the page.
Whether you're packing up a dozen pastries or just a single slice of pie, we're sure to have just what you're looking for. And, when you shop wholesale cake boxes, you'll be able to stock up on necessary packaging supplies while getting a great deal. Our selection is great for anyone operating a bakery, pizza shop, restaurant, or other foodservice establishment. While you're here, take a look at our cupcake boxes as well as our cake circles, pads, and boards to secure cupcakes and cakes during transport. Our selection of disposable bakery supplies is also sure to be beneficial to your business. If you're wondering where to buy cake boxes and bakery boxes, we have a large selection of cake boxes and bakery boxes for sale at the lowest prices.