Victorinox 7.0898.8 6" to 8" Knife Blade Cover
Safely covers blades for storage or transport
Protects hands and prevents damage to blade
Victorinox lasts up to 60% longer than typical knives
Keep your blades clean and safe with the Victorinox 47302 blade cover.
Add this knife blade cover to your kitchen for an extra measure of protection. It is great for knives that are stored in drawers. Your staff will no longer have to worry about accidental cuts when reaching into a drawer that stores knives since this cover will keep the blade covered. You can also use it to easily transport your best blades between locations. Either way, this knife blade cover is an essential safety measure for any kitchen!
"This is great for covering your knives when not in use. It is well made and it fits well. I would definitely recommend this for parents who have small children or for anyone else who wishes to protect themselves from injuries by reaching into a drawer with sharp knives in it."
Read More Reviews
Polypropylene Construction
The durable polypropylene construction ensures long-lasting use in a busy environment. Whether you need the cover to store your knife or to transport it to another site, this cover will keep both the knife and your staff protected from accidental cuts.
Lockable
This cover features locking rubber tabs that secure the cover around your blade so it will not be able to slip out.
Versatile
You can fit almost any blade between 6" and 8" long in this case for extra versatility in your kitchen.
Resources and Downloads for
Victorinox 7.0898.8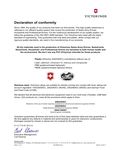 Certificate of Conformity
A PDF viewer is required to view this product's information. Download Adobe Acrobat software
Frequently Purchased Together
Customer Reviews
People Talk About:

knife

knives

cover

Blade

Great

inch

covers

drawer

Victorinox

case

This cover are great! They keep my knife safe and my fingers safe (I've had many cover that have slipped off when I am trying to get my knife out of my knife roll). It it also very study and has survived many falls.

Great knife protector, fits the 8 inch Victorinox 5.3703.20 8" Semi-Flexible Blade Fillet and Victorinox 5.5503.20 8" Stiff Flank and Shoulder knives I ordered perfectly. Must have to protect the knives and fingers from the very sharp blades. Easy pop on and off the knives.

A nice, quick and easy blade guard. I use this specifically for my 6" chef's knife. I was worried that it wouldn't fit properly because It wasn't a Victorinox knife. But it snapped close with no problem! I'll definitely be ordering more.

My new kitchen looks great, but there is no place on the wall to install my magnetic knife holders and now store my knife collection in a drawer. I purchased knife blade covers in this size as well as the 8" - 10" and am satisfied that my chef's knives and santuko knife are safely protected. The covers are well designed and manufactured from heavy material; after five years of daily use, the covers still snap shut securely. I highly recommend these knife blade covers.

Perfect fit for the Victorinox Fibrox 8" Chef Knife. Secures the blade snugly, and great protection for storage or moving. The rubber feet do leave marks on the knife, but they can be cleaned off.

This is great for covering your knives when not in use. It is well made and it fits well. I would definitely recommend this for parents who have small children or for anyone else who wishes to protect themselves from injuries by reaching into a drawer with sharp knives in it.

I think this is a great knife case! I use it often transporting my more expensive chef knives to and from work, a 6" and I have a 5" that fits very well. I love the silicone grips inside that keep the blade from moving around once the case is closed. Well worth the price!

If you store your knives loose in a drawer, you're putting the sharp edge of your blades—and your reaching hands—in danger. Blade sheaths are designed to protect against both risks. This is a great item and will protect you and the knife.

I bought this Knife Blade Cover for my personal household use. I have a drawer just for my knives and I don't like the idea of sticking one's hand into a drawer of exposed sharps, so I have been using disposable cardboard covers from my butcher shop (they give them to me free when I get my knives sharpened). The down side of that is they are not very sturdy and the knives aren't held inside by anything so they slip and slide around. I am very pleased with my Victorinox 6" to 8" Knife Blade Cover. It is made of sturdy, hard plastic and it locks onto my knives securely. It would be hard for a child to open the cover, although I wouldn't call it child proof. I feel much safer with my knives being stored this way, and I think it extends the life of the blade, keeping it sharper longer and protecting it from damage. The price is very affordable for me. I would recommend this knife cover.

This 8 inch knife blade cover is really cool keeps my kitchen nice and safe it's snaps right on over up to an 8 inch life very easy to use and very inexpensive way to not cut yourself

Good constructed knife blade cover one of the best ones I've used I really like how it locks in the little rubber guard is inside the cover to hold your knife study really terrific to use for traveling

Holds my Mercer Genesis 8" Chef's knife very securely. The cover only opens when YOU open it yourself. The little rubber feet prevent the knife from moving around on the inside.

I love this knife cover. I would have bought more of them, but I simply didn't need them. This is the perfect size for my santoku knife. The latches on the cover help ensure that the cover will not come off the knife, leading to a potential risk.

These knife cases are awesome to store your knives in the knive drawer but they are a little bulky in your travel case but other than that they are perfect

I'm extremely happy with the quality and price of the victorinox knife guard for 6 to 8 inch chefs knives it protects your knife when you transport it or store at home.

When I cook with friends, I bring my Victorinox 8" chef knife in its knife blade cover. Always helpful to have an extra good knife, and this cover keeps it protected. Easy to attach and stays put until you want to take it off.

If you have the 8 inch Victorinox chef knife, you might be wondering if you should get the 6-8 inch protector, or the 8 to 10. This 6-8 Inch holder fits the 8 inch blade perfectly and grips the knife quite firmly. If you own the 8-inch knife, THIS is the one you want to buy.

This guard provides adequate protection for both blades and also for the user. The clasps hold strong and hold even when dropped from table height. The rubber tabs work well and keep the blades stable inside even with the 6 inch semi-stiff boning knife that I keep in it which is unable to make use of the lower portion of the case. While the lower guard cannot work in tandem with the rubber tabs to help keep my boning knife from moving, the knife is still unable to leave the cover without moderate effort. I have even tried to shake my 6 inch semi-stiff boning knife out of the case- while the inner rubber tab looses its hold and allows the tip of the knife to move up and down, the rear tab holds firm and keeps the knife secured in the cover. That being said, I originally purchased the covers

so I could keep my knives in a travel pack between work and home without having to worry about them escaping their enclosures. After my above checks, I'm certainly pleased so far and have no doubt that they will perform all of the tasks I will be asking of them. Read Less Read More

This is a great cover! It's so much better than having my knives bang around in a drawer or smooshed between two pieces of cardboard. It's fantastic for my Victorinox 8 inch chefs knife, but if you try to use it for other knives, be careful to make sure the handle of the knife doesn't block the cover from closing.

Super nice to have for your really good knives. Great for being able to put in drawer or blade bag. Worth the investment. Can definitely recommend.

Put your knives in these and you won't have to hone near as often. You can take care of your knives when they are out of the drawer, but when they are in a drawer with a bunch of other items, they will get dings and not be in the same shape when you put them there. Protect your time and your investment by investing in some good knife protectors. They are also quite handy for taking knives somewhere that you know good knives won't be available.

I'm shocked at how much better quality this thing is than other knife covers. This is like the taj mahal of knife covers. If you don't care about your knives, move on. But if you're looking to protect a big cutlery investment, this is hands-down the way to do just that.

I use this cover on my 7.5" Miyabi Rocking Santoku. It is the prefect cover for my most expensive and cherished knife! I've had it for about 6 months, used commercially, and it is still in perfect condition! Highly recommended!

This was great for me as I only have 2 knives and don't want a knife block. Instead, I stick my knife in this cover and throw it in a drawer and it keeps my knives perfectly safe.

This product is a must for any one who uses knives. Whether you are storing them or transporting them, the Blade Safe is perfect for protecting your knives from damage and protecting you from injury. The sturdy plastic locking tabs keep blades secured inside the case. It fits a variety of my knives, every thing from boning knives to skinning knives, breaking knives or butcher knives. For such an affordable price, you really cannot afford to not have one of these for every knife you own. A professional knife sharpener will charge you much more to repair your damaged knife than this product costs to protect it and you in the first place. Great product!

LOVE THESE BLADE COVERS! They are extremely durable and fit nice and snug on various shaped blades including my Mercer 8 inch Usuba. The clasps and hold your blade perfectly in place while keeping anything from getting inside and dirtying your blade. The size of the covers fit well in most standard knife rolls and don't create much bulge. I highly recommend this product for anybody as it will keep your fingers and knives nice and safe! Very reasonably priced considering the quality functionality, in fact I am ordering more right now!

this is the best knife cover that I have used hands down. the cover stays in place and will not come off unless you remove it. tis is good for people who store there knives in a knife roll you can remove the knife by the cover without worry of the cover sliding off

I ordered this to cover my 7.5 inch Victorinox chef's knife. This is a very sturdy plastic cover that easily snaps into place. Once snapped, it is very, very snug and will not show any of the blade out and will not move. Great purchase!

Very durable knife case to have. I have dropped my knifes multiple times but with the case they are perfectly fine. Plus the price is great.

Perfect knife cover! Great for any knife not just Victorinox. Good protection without compromising the knife's edge! Great value! Easy snap on and off! Stays snug on the knife!

these Knife Blade Covers are by far the best I have ever used, they are sturdy, completly cover the blade,and protects the knifes sharp edge. This size 6"-8" is perfect for most all of your large knives but the larger size 8"-10" is perfect for the chef knives. My son is a chef and he said that these protectors are the best he has used. I will definatly be buying of these more for gifts.
Leave a review of this product!
If you've used this product, log in and leave a review to tell us and other customers what you thought about it.
Login or Register