Tennsco Office Storage Products
Store Important Documents and Supplies Using Tennsco Office Furniture
Founded over 50 years ago, Tennsco is an industry-leading manufacturer of storage and filing equipment. Their motto is "Storage Made Easy," which is evidenced by their dedication to creating accessible products that last for years. Tennsco also utilizes cutting-edge automation that allows them to create outstanding products at prices lower than their competitors. Read more
Tennsco office storage products are designed to store books, supplies, binders, important documents, and more. They're great for offices, warehouses, and hospitals, but you can also use them to house items at your foodservice or hospitality business. Best of all, their durable construction allows them to support heavy loads. For more great office product brands, check out: Pendaflex, Hammermill, Zebra, HON, and FranklinCovey.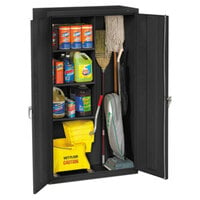 Tennsco Office Cabinets
You can use Tennsco office cabinets to store binders, books, manuals, cleaning supplies, equipment, and more.
Tennsco Bookcases
High-quality Tennsco bookcases work well for offices, break rooms, and lobbies at corporate buildings, hospitals, and universities.