Kaliber Innovations Restaurant Equipment and Supplies
Make Your Kitchen More Efficient with Kaliber Innovations
Kaliber Innovations creates state-of-the art restaurant supplies and equipment that are perfect for any commercial kitchen, display cooking area, or front-of-house cooking demonstration. Their cooking carts feature induction cooking ranges and griddles that dispense less heat into the surrounding air for a cooler kitchen. They're also self-contained, so you don't need to worry about a hood, making them ideal for convention centers, malls, and hotels that aren't equipped with traditional hoods. Read more
Kaliber Innovations also produces exhaust hood filters to replace your worn filter and ensure your unit keeps functioning properly. With replacement filters to fit a variety of models, these products are sure to keep your restaurant, cafeteria, banquet hall, catering business, or other commercial kitchen up to code.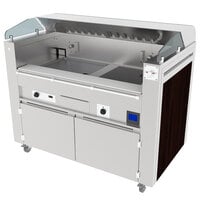 Kaliber Innovations Cooking Carts
Kaliber Innovations cooking carts use induction cooking methods to reduce the amount of heat in the kitchen. They're also more energy efficient than standard gas or electric ranges.
Kaliber Innovations Exhaust Hood Filters
Kaliber Innovations exhaust hood filters replace your old, dirty filters to ensure your hood continues to work properly and your kitchen stays up to code.