Tuxton ALA-104 Alaska 10 1/2" Bright White Wide Rim Rolled Edge China Plate - 12/Case
Perfect for serving hearty entrees and appetizers
Fully vitrified to prevent moisture absorption
Versatile rolled edge design
Bright white color complements any decor
Lifetime edge chip limited warranty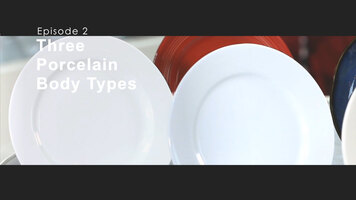 Hi I'm Bill Burden, President of Tuxton China. Today I'd like to talk to you about the three different chinaware bodies that we produce in our factory, as well as the different types of glazes we use on those bodies. We have three distinct bodies that we manufacture: Eggshell, Porcelain White, and AlumaTux. Each one of these bodies is produced using the same basic processes, fired at the same temperature, but they each have individual characteristics that set them apart from one another. The Eggshell body - standard body that's probably used in the majority of foodservice operations in the country - is made of four basic products: feldspar, ball clay, kaolin, and silica. This body is about a quarter of an inch thick, it's not translucent, and it gives you an extremely durable, kind of eggshell off-white colored body. Second body we produce is Porcelain White. This body is made with the same basic ingredients but those ingredients are of a higher quality, and so they give you a much whiter product. Because of that higher quality of product you're able to make a thinner, lighter body, but still have the same durability characteristics as thicker bodies. The last body we produce is what we call our AlumaTux. This is a high alumina body. In order to get a high alumina body, what we do is we remove some of the clay from the formula and we put in pure alumina oxide. Alumina oxide is a raw material that's found naturally occurring in most good china clays, but by adding additional alumina oxide into the body, you're able to produce a thinner body that's extremely durable. So these are the three bodies that we use, and all of these bodies go through the exact same rigorous testing procedures in our lab so that no matter which product you choose for your operation, you'll get a product that is consistent from month to month and year to year. Now that you know a little bit about the types of bodies that we produce here at Tuxton, I'd like to tell you a little bit about the glaze that we put on our various bodies. Glazes are made basically of silica and sand, and when that is fired to high temperature, it turns into a type of glass. And that glass is what gives chinaware its beautiful shine and allows you to showcase your food creations in a beautiful way. It also is non-porous, so from a sanitary standpoint it's what you want in a foodservice operation. How glazes are made is they're basically powders and you'll take those powders, mix them with water, grind them and blend them until they get to a homogeneous point, then that is applied to the unfired ceramic body, and then they're taken and dried again and that wet glaze now turns back into a powder again, and then you put it into the kiln and it's fired at around 2300 degrees, and as it goes up to that high temperature the glaze melts and becomes molten glass and solidifies to give you your china body. And once that happens, the glaze bonds with the ceramic body, and it will never ever come off or apart. What I'd like to show you now is some examples of the different types of glazes that we manufacture from our standard clear glaze which goes on all three of these bodies, the Eggshell, the Porcelain White, and the AlumaTux. This is the same basic clear glaze but it looks different because of the color of the body which we talked about a little while ago. We also have colored glazes that we put on, and this is an example of a colored glaze, this is Cayenne, and it's the same type of process as all the other glazes. We also have some new glazes we're just starting to work with. These are our artisan glazes or reactive glazes. So this is a new product that we're just coming out with this fall. Most importantly, all of our glazes are 100% lead free and pass all state and federal guidelines, so you never have to worry about any problems with your Tuxton china. As always, thank you for watching. We hope you found this information useful, and if you'd like to see our entire library of Foodservice 101 videos, check out our website and YouTube channel.
In this Foodservice China 101 video, Tuxton President Bill Burden gives an overview of the different types of china bodies and glazes that Tuxton has to offer. Discover how their chinaware and glazes are made and learn about the various features and functions of the different glazes and body types.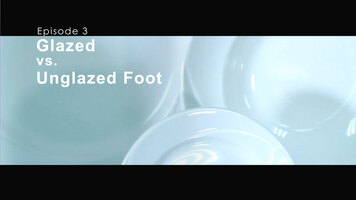 Tuxton China: Glazed vs Unglazed Foot
Hi I'm Bill Burden, President of Tuxton China. Today I'm going to talk to you a little bit about the difference between a glazed foot and an unglazed foot. A glazed foot is done in what they call a "two fire process." In other words, they take and form and finish a piece, put it into the kiln, fire it at a high temperature, bring it out, glaze it, put it back in the kiln again and fire at a lower temperature on pins -gives you a glazed foot. Single fire process, which is what Tuxton uses, is we take form, finish, and glaze the piece, and then it goes into the kiln and is fired just a single time at the high temperature. There's basically no difference between the durability of the pieces, just a different way to get to the same point. There's a popular misconception in the industry that a glazed foot will not scratch or mar another piece of china, which in fact is not true, it's just the opposite. An unglazed or polished foot will not scratch as much. The reason for that is glaze is, like we talked about in another video, glaze is basically a glass and if you look at it under a microscope you'll see that it's crystalline in structure and even though the glaze feels very smooth it's very abrasive. So what I'd look to do today is show you the difference so you can hear for yourself what happens when glaze rubs on glaze. What we've done is we've got two pieces here and I'm going to use the edge of one piece to simulate a glazed foot and rub this against the other piece. In doing so you're going to hear what happens (scratching noises). You can hear that glaze scratching and grinding against the other part of the glaze. Now what I'd like to do is take another plate, and this is using the unglazed or polished foot, rub that against the plate, and you'll see by the sound it tends to slide over the glaze and doesn't scratch nearly as much. What I showed you today was a little misconception about the difference between how a glazed foot and an unglazed or polished foot scratches another piece of china. As always, thank you for watching, we hope you found this information useful, and if you'd like to see our entire library of Foodservice China 101 videos check out our website and YouTube channel.
In this Foodservice China 101 video, Tuxton President Bill Burden explains the difference between a glazed foot and an unglazed or polished foot, and debunks the common myth that a glazed foot will scratch other pieces of china less than an unglazed foot.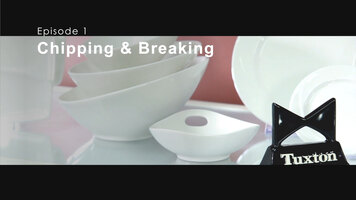 Tuxton China: Chipping and Breaking
Hi, I'm Bill Burden, President of Tuxton China. I'd like to welcome you today to our first edition of Foodservice China 101. What I'd like to talk about today is the difference between edge chipping caused by faulty or improperly finished or fired chinaware, and chinaware that has been chipped or broken due to rough handling. Generally speaking, most breakage that we see returned to us is caused by rough handling, and it usually takes place in the dish washing area where the busboy or whoever is bringing the food back in takes the plate and bangs it down to knock the food off. So instead of doing that, what really needs to be done is take a scraper and scrape that food off into the waste container. So I think what you'll find is that if you take a little extra time in your operation to train some of your people to don't bang it, to scrape it, you're going to save yourself a lot of money in chinaware replacement. What I'd like to do now is show you a couple of examples of pieces of china that have been broken due to rough handling, and also some china that has been broken because the ware was improperly finished or defective. What I have here is a piece that's been broken because it was defective. And usually what you'll see when you have a defective piece of china - you'll get a little flake or a chip like a fingernail that comes off of the front of the piece, usually nothing on the back, just on the front. Here's a piece of china that's been broken due to rough handling, and you'll notice it has a pretty good sized chunk out of the body and on the back, some further big chunks have been taken out. These are caused by somebody hitting the plate like that to scrape the food out, and hitting it pretty hard. Next I've got a couple of samples here. I'd like you to be able to see what type of force it takes to cause a chip from a defective piece that's been improperly finished and just a normal piece that is properly finished and fired. What I've got here is this improperly finished piece of china, and you can see that just hitting it like that takes a chip, see, a little fingernail sized chip right out of the china. So what I have here is a couple of plates that are properly formed, finished, and fired that I'll bang together, and you should be able to see the difference in force that it takes on a normal, properly formed and finished piece. So you can see I'm hitting them similar to where it was on the other piece - nothing's happening. Now I'm going to increase how hard I hit these, and you'll see that finally, really hitting it hard is when I can get a big chunk like this out of the plate. So once again, this has been a demonstration about the difference between edge chipping caused by faulty or defective product, and edge chipping that's caused by rough handling in your operation. So remember, take some time, educate your employees to scrape it, don't bang it, and you're going to save yourself a lot of money in your operation. Thank you for watching. We hope you found this information useful, and if you'd like to see our entire library of Foodservice China 101 videos, check out our website and YouTube channel.
Check out the video to discover the differences in how properly fired and finished china that has been roughly handled will chip and break, and how improperly finished china that is defective will chip and break. Tuxton President Bill Burden narrates and demonstrates this informative Foodservice 101 video.
Tuxton ALA-104 Specs
Top Diameter
10 1/2 Inches
Color
Bright White
Dishwasher Safe
Yes
Edge Style
Wide Rim
Material
China
Microwavable
Yes
Oven Safe
Yes
Shape
Round
Type
Dinner Plates

Plates
Customer questions about this product
What does the number on the bottom of my Tuxton item mean?

On the bottom of all Tuxton items you'll find a number which corresponds to the year the product was manufactured.
Does this item come with an edge chip warranty?

Built to last, every Tuxton item is backed by their lifetime edge chip limited warranty.
Ask your own question!
Tuxton ALA-104 Details
Bringing style and elegance to your tabletop presentation has never been easier than with this Tuxton ALA-104 Alaska wide rim rolled edge china plate. Tuxton China's rolled edge dinnerware features industry-favorite traditional contours, ideal for various dining environments, from casual to white tablecloth. Use this versatile 10 1/2" china plate to serve up entrees such as grilled salmon or your signature pasta dish, as well as assorted appetizers, and desserts! With a finish as bright as the wintry Alaskan tundra, this sleek china plate is sure to create a dining experience your guests won't soon forget.

Providing durability and high-quality appearance at an economical price, the Tuxton China Alaska line is a must have addition to any restaurant, hotel, or catering service. The clean lines and bright white shine of this plate will turn all of your culinary creations into eye-catching masterpieces. Designed with daily use in mind, this collection is dishwasher, microwave, and oven safe. This plate is fully vitrified to prevent moisture absorption. This durable piece stands up against breakage, chipping, and scratches commonly caused by the wear and tear of every day use. If your plate does chip, the Alaska line is covered under Tuxton's lifetime edge chip limited warranty! Provide some relief to your budget and modern flair to your table with this Tuxton Alaska wide rim rolled edge china plate.

Overall Dimensions:
Top Diameter: 10 1/2"
Dishwasher Safe

This item can safely be cleaned in a commercial dishwasher.

Microwave Safe

This item can safely be used in the microwave for food service applications.

Oven Safe

This item can withstand high heat applications and is safe for oven use in food service.

Lead Free

This item's manufacturing process does not use lead as an additive.
Resources and Downloads for
Tuxton ALA-104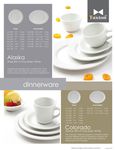 Specsheet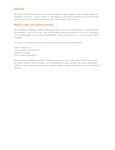 Warranty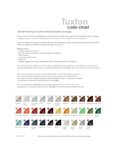 Tuxton Color Chart
A PDF viewer is required to view this product's information. Download Adobe Acrobat software
Customer Reviews
People Talk About:

plates

plate

great

white

durable

bright

quality

beautiful

dinner

nice

Tuxton is quality dinnerware. We are loving our crisp white dinner plates. They are medium weight and are hard to chip so we are very happy with them.

I ordered these to use as a general plate in my business. They are good quality and do not chip. They have a slight gray tint to them but are still beautiful on the table. I love the quality of tuxton.

We use these plates in our restaurant and they have been very durable and we also really like the way they look for food presentation.

Very nice purchase for nicer events! We love these plates and use them every week for weddings, parties, etc. Do not break easily and would also recommend you purchase the plate racks available for storage and to transport!

These plates are SO solid and durable! My only issue is they show fingerprints more than I would like. Even when wiping, you can see the streaks of the wipe. But they feel like they will last forever.

These plates are wonderful - why have I bothered buying sets from the box stores for years? These are beautiful in their simplicity and extremely durable. Nicely complimented by the pasta bowl.

The plates are not a "bright white", they have a gray tint compared to the bright white plates that I was trying to match. Otherwise, nice plates.

I ordered a sample plate directly from Tuxton. This a great plate that is sturdy and solid, ready for restaurant abuse. Very similar to the CAC REC plates. The one thing I did want to mention is that the center of the plate is approx 7" and the rim is about 1 3/4" wide.

This l0 l/2" plate is my favorite for a dinner plate. I like how it doesn't scratch and stays white looking. I like how easy it is to stack in the dishwasher and store in the cabinet. It is wonderful to have a quality plate for entertaining.

I ordered these plates for our holiday dinners. I ordered BRIGHT white hoping to not get the grey tints mixed in. Unfortunately, these plates are not bright white at all and appear totally grey. I contacted Webstaurants customer service for a return, only to find they would not pay for the return shipping. They did wave the restocking fee. However I am expected to pay the return shipping. Be sure you really want these plates, and be sure you are okay with off white. I am usually happy with webstaurants customer service, quality, and overall experience. However, this time they let me down.

Thank you for the review, Joslyn. We are sorry the plates did not suit you, as they are accurately described and pictured. We hope to continue our services to you as we seek to achieve the highest in customer satisfaction.

These are a great product. The color is bright and the quality is good. These plates are durable and will last a long time. I would reorder.

These plates are perfect. I love everything about them. The bright white is beautiful. 10.5 inches in the perfect dinner plate size. Everything looks better on a white plate.

Great plate at a great price. Unless you are going to try and wow them with a plate this is the way to go. We love ours.

Beautiful, brilliant, heavy, durable plate! We use these for large entrees and salads. They clean well and last a long time. However, they do chip easy but are backed by a full warranty.

These are great durable plates at a great price. After repeated washes and use, they show no signs of cracking. I would highly recommend these to anyone!

Great Plates that have came to me in great shape just like the picture shows. Very easy to work with along with me be very durable to hold up in every day use.

We use these at our casual dining restaurant. They are elegant and hold up very well. We have been open for 10 months and have had virtually none chip or crack.

These Tuxton plates are classic, look good with any food on top, and have held up well for the 1.5 years they have been in service. The size is nice for large groups of people that stay at our vacation rental house.

I ordered these plates on 5/23/13 and they arrived the next day! The plates are beautiful, just what I wanted. This was my first order but will Not be my last. Thanks for the great service! JS

This Tuxton plate is so nice you you can afford to use them for anything. If your ordering for a bussiness they are great and will match anything.same as weddings. i really like mine!

the perfect plate for a variety of uses. clean, simple, durable and inexpensive is a great combination. and they ship so fast. thank you webstaurantstore.com!

I purchased these for my wedding event space...and they're absolutely marvelous. Very impressed with the quality. I was expecting something less elegant..so I was pleasantly surprised...I'm purchasing more!

These are beautiful bright white plates! They come with a 2 year no chip guarantee and that makes it worth the investment! Great dinner plates!!!

Versatile and easy to clean. A basic staple and big money-maker for my rental business. This plate can fit so many different types and styles of events. Has a good hefty feel and I rarely get chips or breakage.

We wanted something that looked nice, durable and inexpensive. Purchased to help a youth organization furnish their kitchen with supplies. Very impressed with the quality. Would order again.

These plates are amazing. Great size dinner plate. They match existing sets perfectly. Durable material and washes well in dishwasher. Great add on to any party rental/catering company.

Sturdy, functional, holds up to our "young adult" wait staff. Great price makes it reasonable to have on hand with out worrying about excess storage issues

This is the perfect plate for solid satisfaction! Smaller portions are highlighted by the wide rim, but it still can hold large portions if preferred. My guests like the classic simplicity it brings to the table.
Leave a review of this product!
If you've used this product, log in and leave a review to tell us and other customers what you thought about it.
Login or Register