Taylor 9877FDA 2 3/4" Waterproof Digital Pocket Probe Thermometer - Dishwasher Safe
FDA recommended 1.5mm stepdown probe ideal for measuring thinner foods
Waterproof and antimicrobial case prevents bacteria growth
-40-450 degrees Fahrenheit; accuracy +/- 2 degrees
Min/Max function to recall previous temperatures
Recalibratable to ensure consistent temperature readings
You May Also Need
Get an accurate temperature every time with this Taylor 9877FDA 2 3/4" dishwasher safe digital probe thermometer.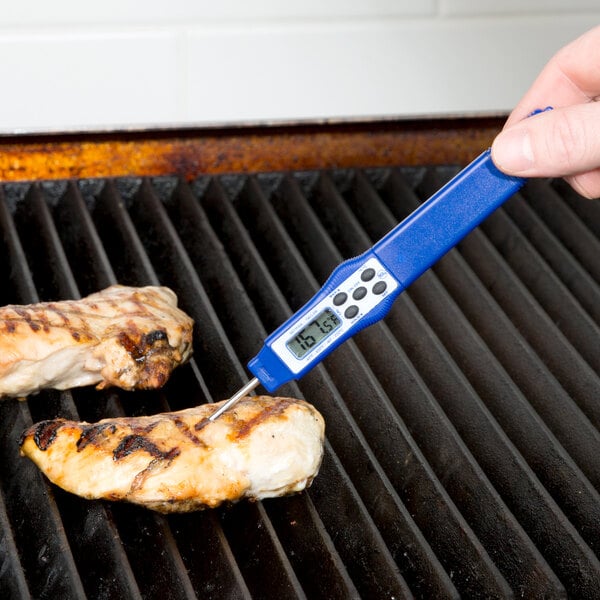 Cooking foods at the right temperature for the right time is one of the primary pillars of food safety, and a thermometer is one of the easiest ways to ensure that you always hit that core temperature. Ideal for use in restaurants, bakeries, cafes, delis, and more, this product delivers ease-of-use and durability to help you stay on top of food safety without dragging down productivity.
NSF Listed

This item meets the standards imposed by NSF International, which focuses on public safety, health, and the environment.

Dishwasher Safe

This item can safely be cleaned in a commercial dishwasher.
"Fantastic design! This item is very durable for multiple uses everyday. It is great that it is washable and it is very easy to read. It is a necessity in a busy kitchen."
Read More Reviews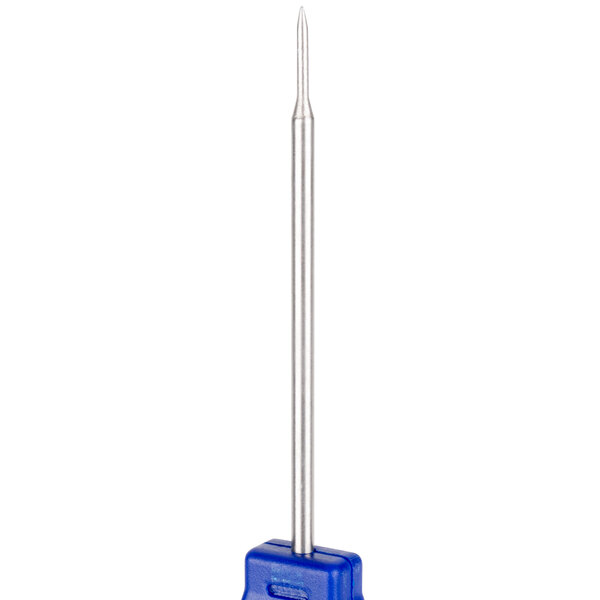 FDA Recommended Stepdown Probe
This thermometer's 2 3/4" stem features a 1.5mm diameter tip with read times under 6 seconds, making it great for use with thin or delicate foods.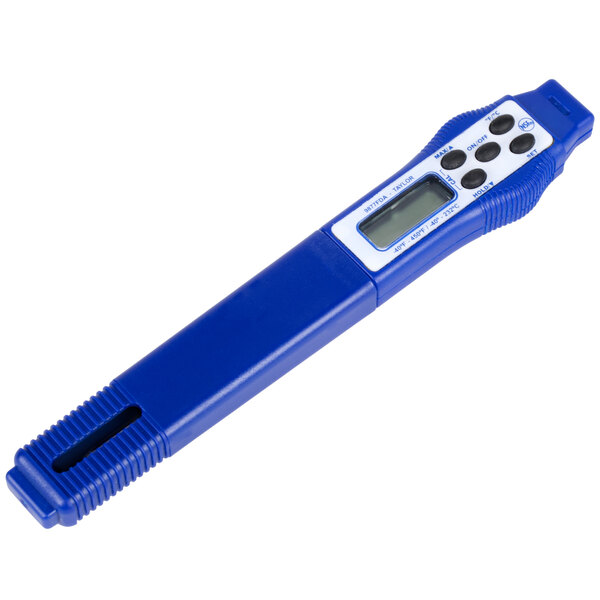 Antimicrobial Case
The included Safe-T-Guard protective sleeve incorporates EPA registered products to inhibit bacterial odor and mold growth on the case.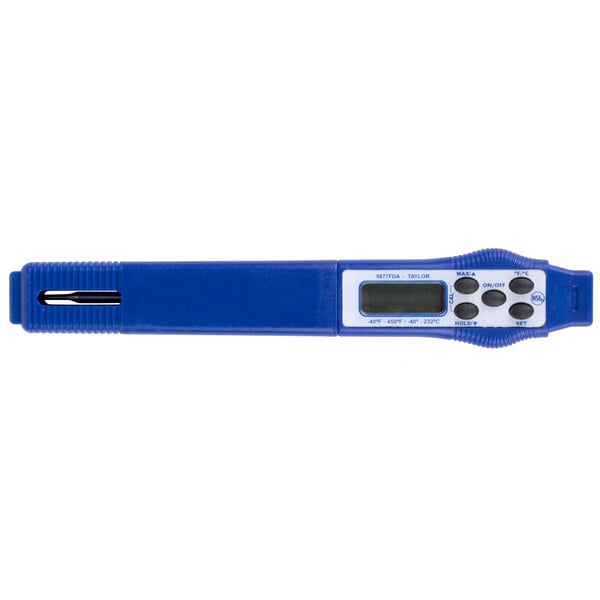 Waterproof and Dishwasher Safe
Being conveniently waterproof, this thermometer can go through a commercial dishwasher cycle, allowing you to easily sanitize it after use!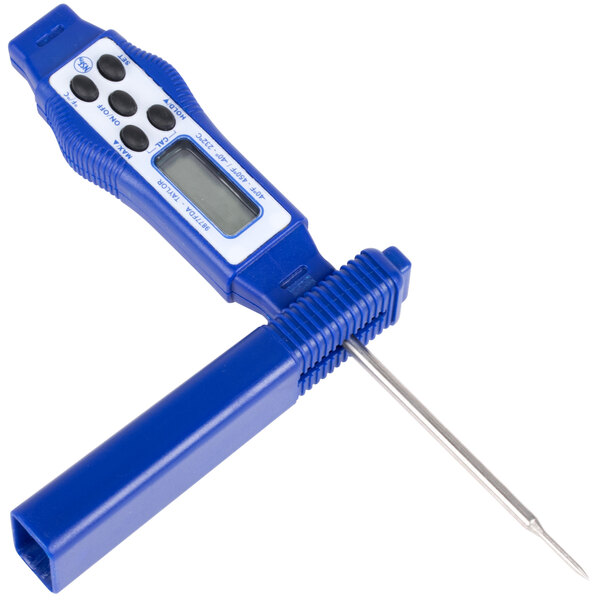 Min/Max and Hold Features
This thermometer's min/max feature recalls previous temperature reads, and the hold function allows extra time to read or record current temperatures. The unit can display a temperature range from -40-450 degrees Fahrenheit, and can be switched to Celsius.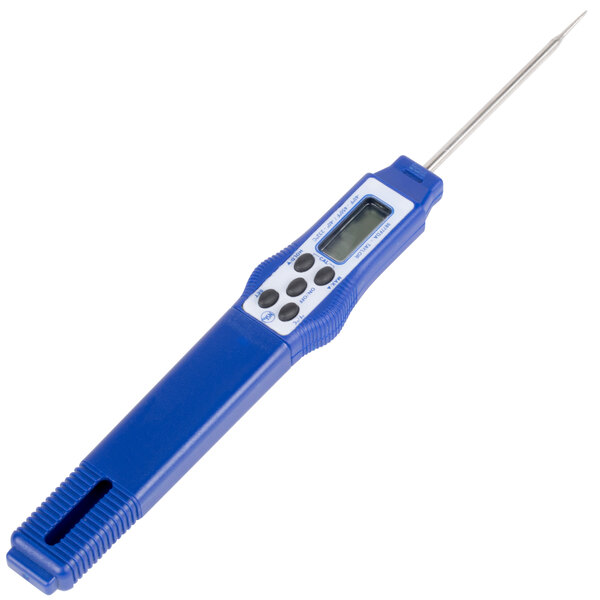 Recalibratable
The thermometer can be recalibrated, which ensures consistent temperature readings and adds to the unit's lifespan.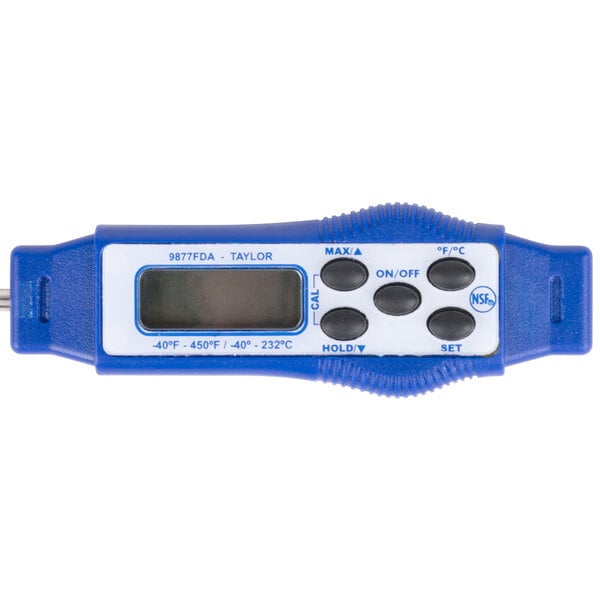 Battery Included
For immediate use upon delivery, the thermometer comes ready with a CR1225 battery. It also features an auto-off function to save battery life.
Customer Q&A Ask a Question
How do I safely and thoroughly clean my Taylor thermometer?
Your Taylor thermometer is constructed of a durable stainless steel probe, and in some cases, a plastic head. When cleaning your thermometer, do not immerse it in water or use it in the dishwasher unless the description specifically states that it is waterproof and dishwasher safe. Simply clean the stainless steel stem with hot, soapy water and wipe the head with a damp cloth.
Can I calibrate this thermometer in ice water?
Thermometers intended for measuring food and liquid with higher temperatures, such as this thermometer, should be calibrated in boiling water while those used for taking lower temperatures should be calibrated in ice water. To calibrate your thermometer in boiling water, bring clean water to a boil and place the thermometer probe into the boiling water for at least one minute. The thermometer should read between 210 and 214 degrees Fahrenheit. Record the difference and adjust your thermometer as needed.
How To Deep Fry A Turkey
Safely deep fry your holiday bird with these easy-to-follow and steps, and be sure to check out our step-by-step directions for more tips on How to Deep Fry a Turkey.
Frying a turkey is a fast, fun, and tasty way to make your Thanksgiving bird! It can also be potentially dangerous. In this video, we'll show you how to fry your turkey safely. There's two questions when it comes to oil when you're frying a turkey, and that's what kind and how much. As far as what kind, I recommend peanut oil. Peanut oil has a high smug point, so it's going to last longer. It's also not going to give your turkey any off flavors. As far as how much oil to use, the nice thing about this turkey fryer pot is it does have a max fill line. The most important thing is to know you need enough oil to cover your turkey, but not so much that it spills over and creates a fire. One way to be extra sure you've got the right amount of oil is to take your turkey before you cook it and place it in the fryer pot. Fill it with water until it covers the turkey, take the turkey out, and take note of where that water comes up to. That's how much oil that you need. With the particular turkey that I have today, I know I'm going to fill it to the max fill line. Once you've filled your pot with oil, you'll want to put it on your burner. Make sure you already have your burner set up according to the manufacturer's directions. I typically have the flame very low at this point when I put this on the burner, and then turn it up. You can adjust the air intake to get as blue of a flame as possible. On a windy day like today, it's not uncommon to have some yellow flame. Now, I'm going to go ahead and take my oil thermometer and place it on the side of the pot. Make sure the tip is covered in oil and also not touching the side of the pot. We're going to want that oil to get up between 325 and 350 degrees. One of the most important things when you're frying a turkey is to make sure you're frying a completely thawed bird. Make sure your turkey is completely unfrozen or your could have an oil boil-over. That's the last thing you want because that'll start a fire. The other thing you want to do is make sure that your turkey is completely dry. Again, oil and water don't mix, they tend to bubble up, and they can cause a boil-over. Next thing I'll do is cut off any excess fat that's on this turkey. You'll also want to make sure there's a hole in the top here where the neck was to make sure you can get your lifter through it. The next thing I'll do is cut a slit in front of each leg and that'll allow any excess oil to drip out when I pull the turkey out of the oil. The next thing you'll want to do is season your bird. I'm using salt and pepper and Regal Spice's Cajun spice and skillet seasoning. In addition, I'm going to use cajun Injector creole butter recipe as the marinade. When you're injecting your turkey, you just want to hit it in several places in the thick parts of the meat. Now, we're going to put it on the lifter and then wait for our oil to get up to temperature. Just like so, you can see how that will work. As you can see, I'm wearing heavy-duty fryer gloves. Safety equipment is very important. You'll see why when I start dropping the bird into this fryer oil. In addition, a fire extinguisher is always a good idea. I'm going to take the thermometer out while I load the turkey into the fryer. When I'm done, I'll replace the thermometer. Now, when you're putting the turkey into the fryer, the slower you go, the better. This will help prevent a boil-over. It should take a full minute for you to dunk this turkey into the fryer. I generally let the turkey fry for about three and a half to four minutes per pound. Next, I'm going to go ahead an put that thermometer back in there so I can keep an eye on the oil temperature. Okay, I've fried this turkey for about three and a half minutes a pound. I'm going to go ahead and take it out. First thing is I'm going to take out the thermometer so I don't knock it out and I'm going to gently lift this out of the fryer. Remember, you have that cavity that's going to hold a lot of oil and you'll want that to seep out before you bring it out over the flame. Oh, look at that crispy skin! Now we just want to check the temperature of the turkey. We want it to be at least 165 degrees. There we go!
Compare to Other Products
Overall Dimensions:
Stem Length:

2 3/4 Inches
Resources and Downloads for
Taylor 9877FDA
Manual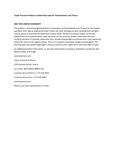 Warranty
Comparison Guide
A PDF viewer is required to view this product's information. Download Adobe Acrobat software
Warranty Info
Taylor products are covered by a one year warranty. Please contact our Customer Solutions team for assistance with warranty-related issues.
Customer Reviews
People Talk About:

thermometer

dishwasher

great

digital

thermometers

easy

kitchen

probe

safe

accurate

Arrange by

See All 93 Reviews

2

out

of 2 found this

review

helpful

Worked great when I first bought them to check final temps before transport, but even with hand washing and never submerging the thermometer, the face is bubbled from the inside and the digit reading is only partially displayed. Would be good for home use, but not in a commercial setting.

1

out

of 1 found this

review

helpful

This is a great little simple digital thermometer. Theh only issue we have had is it seems to kill the batteries really fast. so we have to keep a stash around.

1

out

of 1 found this

review

helpful

At first we were really excited about these Taylor thermometers. They read quickly and accurately. Nonetheless, we have found that some of them simply refuse to calibrate after the first few weeks. We follow the instructions, but I can leave two deep dents in my fingertips from holding the buttons down, yet they will not re-calibrate. Too bad, since they also seem to drift a little faster than the older model Taylors that we can no longer seem to find anywhere!n The batteries also run down much, much faster than I'm used to from other professional digital thermometers. Probably an excellent choice for the home cook or the smaller kitchen. Not recommended for the professional kitchen.

We appreciate your feedback on these thermometers, Rick! We're sorry you've had trouble re-calibrating them. A Customer Solutions Representative will contact you soon.

1

out

of 1 found this

review

helpful

The Taylor Digital Probe Thermometer is easy to use and seems to get accurate readings. We use it from everything from checking soup temperatures to making sure that our meats are cooked through. Love that it's dishwasher safe too!

We found these to be an assset on our food truck. We can test liquids and soilids. Our uses consist of temping our brisket,pulled pork, and BBQ sauce, as well as our beans during cool down during the critical cool down stage considering they contain pork products.

the best probe thermometer we have ever purchased. The cover allows it to be carried and stored safely and it reads the temp very fast and accurately.

The best tool for ensuring safe serving temperatures. Easy and quick to use, which is great for cooks and for customers. Dishwasher safe which makes it easy to clean.

These thermometers dont last long at all. But I called customers service, and they did send new ones at no cost. Just hope they last a little onger than the original ones.

These are our go to thermometers for our bakery. We buy them in bulk, as they are inexpensive. They last us about 1 year with heavy daily use.

A very good quality digital thermometer. This holds up very well to heavy use and frequent washing in our high volume establishment and is very affordable.

Fantastic design! This item is very durable for multiple uses everyday. It is great that it is washable and it is very easy to read. It is a necessity in a busy kitchen.

This digital water proof thermometer is s great addition to any kitchen. Will be good for restaurant or even at home. Try it you'll love it

These thermometers are waterproof and work okay. I have had 2 of them just stop working for no reason. That is why I give them a 4 instead of 5.

Thank you for your review, Andrea! We are sorry this Taylor 9877FDA 2 3/4 inch Waterproof Dishwasher Safe Digital Probe Thermometer - 1.5mm Diameter Probe has not worked well for you. A Customer Solutions Representative will contact you soon!

Thermometer worked great for about a week. Loved that it could be calibrated for accuracy. After that it stopped working. Changed batteries... nothing. Has never even been submerged in water much less put in dishwasher. I do not recommend.

Thank you for your review, Jason ! We are sorry this Taylor 9877FDA 2 3/4 inch Waterproof Dishwasher Safe Digital Probe Thermometer - 1.5mm Diameter Probe has not worked well for you. A Customer Solutions Representative will contact you soon!

I ordered 2 of these probes. One seems to work fine, but the second always shows "LO". I have tried 3 new batteries in this one, but always shows "LO" I like the waterproof feature, and the one that works, works well,, but would hope that the quality would be a bit better from a Taylor product.

Thank you for your review, Steven! We are sorry this Taylor 9877FDA 2 3/4 inch Waterproof Dishwasher Safe Digital Probe Thermometer - 1.5mm Diameter Probe has not worked well for you. A Customer Solutions Representative will contact you soon!

We have made this product standard for our back of house employees uniforms. It is reliable and tests both hot and cold products. And since dishwasher safe, hygienic.

This probe thermometer is a bit of a wonder. Water proof and dishwasher safe makes sure that it is throughly sanitized. It reads both extremely hot and cold temperatures within five seconds.

I suppose this does what it is suppose to do and it is inexpensive. That said, I opened it in a an attempt to get battery information. It was very difficult to open. Once I opened it, the battery fell out, which I admit was my fault. Once I put the battery back in and it has not worked since. The notch used to enter the battery housing is stripped as it was VERY difficult to open with a screwdriver or nickel. There goes that money. I will not attempt to open the second one. hahaha

We appreciate your feedback! We're sorry this is defective. A Customer Solutions Representative will be contacting you soon.

Great thermometer and very accurate. I like it because it is easy to clean and the numbers are easier to see than most thermometers. Definitely buying another.

For the price of these it is easy to have a few of them around the kitchen. They work great and we have never had an issue with them. Make sure you keep a couple of extra batteries around, very frustrating when you go yo use one and it is dead. Easy to clean off.
Leave a review of this product!
If you've used this product, log in and leave a review to tell us and other customers what you thought about it.
Login or Register