iSi 160301 Gourmet Whip Stainless Steel Whipped Cream Dispenser - .5 Liter
Perfect for finishing off a variety of desserts, drinks, and dishes
Reusable, environmentally-friendly alternative to disposable cans
For dispensing hot and cold products
Stainless steel construction and easy-to-use ergonomic design
Includes 3 tips and cleaning brush
Top off your blended beverages or decadent desserts with a dollop of fresh whipped cream with this iSi 160301 .5 liter stainless steel gourmet whipped cream dispenser!
This product helps minimize preparation time so you can easily enhance the look and taste of any sweet treat, as opposed to whipping cream in a mixer. This all-purpose tool is perfect for any professional kitchen setting.
Dishwasher Safe

This item can safely be cleaned in a commercial dishwasher.

NSF Listed

This item meets the standards imposed by NSF International, which focuses on public safety, health, and the environment.
"The ISI whipper is an industry leader for a reason. That reason i summed up in two words, "build quality." It is heavy duty and has excellent fit and finish. It costs a bit more than most other whippers, but the quality is well worth it."
Read More Reviews
Long-Lasting Durability
Each whipper is made from stainless steel for a professional look and long-lasting durability and features an ergonomic charger holder and an easy-to-use ergonomic design. The head has a protective silicone grip with a fixed stainless steel valve. This allows for easy dispensing of both hot and cold products. The gasket has a removal tab for quick and easy cleaning as well.
Versatile Product
It's not just limited to serving whipped cream; it's perfect for preparing light and fluffy Espumas, whipped soups, and hot and cold sauces too! You can also use it to whip batters (after straining), making whipped cheese for appetizers, or for infusing your favorite drinks.
Hot or Cold Applications
Thanks to its durable stainless steel body and heat-resistant silicone gasket, this whipper can withstand high heat temperatures. When used with hot products, it can be kept warm in a bain marie up to 165 degrees Fahrenheit. If you are using this dispenser for hot applications, it is highly recommended to purchase the silicone sleeve (sold separately) to protect hands from the hot stainless steel exterior.
Create Beautiful Designs
To maximize your creative presentations, each whipper includes a tulip, star, and round tip.
Optimal Cleaning
To safely serve your guests every day, this whipper comes with a scrubbing brush to ensure that every part of the whipper is properly sanitized.
Customer Q&A Ask a Question
The head on my iSi whipper won't unscrew, how do I fix this?
Release all the pressure from the whipper by holding the head upwards and depressing the lever. It's recommended to cover the outlet with a towel during this process. After pressure has been relieved the head should unscrew.
Nothing is dispensing from my iSi whipper. What can I do?
This is most likely caused by a solidification of the contents during the cooling process. Leave the whipper stand at room temperature for 5-10 minutes. Then shake vigorously downwards to bring the mixture to the head. If this doesn't solve the issue, there may be clumps caused by seeds or bits clogging the valve. Turn the head upwards and release the pressure into a towel. Then, unscrew the head and clean the clogged valve. Be sure to strain the contents through a fine sieve before refilling the whipper.
How do I ensure my whipper empties completely?
There are a few tips to ensure whippers empty completely. First, don't over shake cream or it will solidify. Higher fat content cream should be shaken 3 times, lower fat 4-5 times maximum. Second, always operate with the tip pointing down. Third, always use iSi chargers as they are designed to work specifically with iSi whippers. Four, don't use a mixture that is too stiff in the whipper.
How do I fix a leaking whipper?
There are a few things to check. First, ensure the decorator tip is securely screwed on. Second, check the head gasket to make sure it is inserted correctly and isn't damaged. Third, make sure the head has been properly cleaned. Fourth, make sure any cream additives are dissolved or stirred in prior to using the whipper. Otherwise, these additives may have blocked the dispensing system causing leaks.
Can I use other brands of chargers with ISI whippers?
Other manufacturer's cream chargers, N2O, and nitrogen chargers should not be used in iSi whippers and void the warranty.
iSi Gourmet Whip: How to Use
Using the iSi Gourmet Whip is a quick and easy process. In just a few minutes you can be serving delicious foods with a fluffy, whipped consistency.
isi Gourmet Whip: How to Clean
Learn how to disassemble and clean your iSi Gourmet Whip!
How to use the iSi Gourmet Whip. Begin with the stainless steel container and the lid. Insert the rubber ring into the bottom of the lid and twist on the tip you want to use. Then using the funnel and strainer, fill the container with your desired product. Make sure the heat protection sleeve is on the container, and tightly twist on the lid. Using a compatible iSi charger, charger the whipper and shake at least 4 times. To keep it warm you can place the container in a warm water bath. Then just turn it upside down, squeeze the trigger, and you are good to go!
How to clean the iSi Gourmet Whip: Begin by dispensing as much residual cream from the canister as possible. Unscrew the canister from the upper lid/nozzle mechanism. Remove the gasket from the interior of the lid. Also remove the spray tip by unscrewing it from the lid. Run the lid, gasket and spray tip under warm water to clean. Use a small pipe cleaner to get into the tight spots of the tip and lid for thorough cleaning. For the canister portion you can use a scrub brush as well as put it into the dishwasher.
Resources and Downloads for
iSi 160301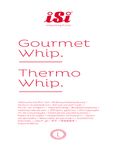 Instructions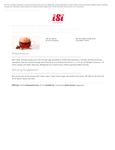 Recipe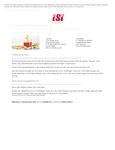 Recipe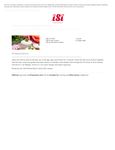 Recipe
A PDF viewer is required to view this product's information. Download Adobe Acrobat software
Customer Reviews
People Talk About:

whipper

cream

CO2

quality

whip

chargers

Easy

hot

ISI

made

We had the regular whopper by isi and bought this one for hot foods. Both are high quality. The only issue we've had is the dispenser getting clogged, even with frequent cleanings.

This item works so well for making to perfect whipped cream. It is easy to manage and easy to clean as well. The parts are not confusing to figure out.

Hi quality. Built to last. Very happy with the purchase. Easy to use and easy to clean. Highly recommend to anyone looking for a quality product.

This is a review of the ISI 1 pint Gourmet whip. I've been using this cream whipper for two years in a home kitchen and it still looks new. It is an incredibly well made and machined piece of equipment. This cream charger is rated by manufacturer for both hot and cold mixtures as well as for use with N2O and CO2 chargers. This gives it a lot of versatility. In addition to creating whipped creams and mousses, it can be used for hot foams, as well as for carbonating liquids and solids. I primarily use this for cocktail making, when I want to serve a carbonated drink but I don't want to water it down with seltzer. The sleek stainless steel look and mist created by carbonation add a lot to the presentation of drinks. The cream whipper also allows you to create rapid infusions, letting you create homemade bitters that infuse

in a few minutes rather that taking multiple days. The only downside I've found to the whipper is the high cost of chargers. There is a fairly simple DIY method of adapting a beverage CO2 tank to fit the whipper and it works fairly well. There are also commercially available adapters, although I have not personally tried them. The cream whipper is NSF listed and fairly easy to clean, although I'd recommend a bottle brush in addition to the small cleaning brush that comes with the whipper. In short, this cream whipper is a well made, useful tool. Read Less Read More

5 Stars all the way. I have own one for over 20 years. That I purchased another one few years now. Now, I have the little pint. Please, this size works very well. I do use it mostly for my homemade whip cream. It always taste better then that store bought brands. I even switched to a new CO2 from Webstaurant. Named whip it. This can the CO2 have an effect on the flavors of your many choices in your iSi. From whip cream on your beautiful pies or hot cocoa. To your sauces to inject into your meat of choice for that dinner party or for dessert the mouse you like to dispense of your choice from tips to have a wonderful presentation in a glass or chocolate mold. All parts are dishwasher once separated. I usually hand wash with ease. As mentioned in the beginning. This item will last you. As it was made well to last over a lifetime.

The ISI whipper is an industry leader for a reason. That reason i summed up in two words, "build quality." It is heavy duty and has excellent fit and finish. It costs a bit more than most other whippers, but the quality is well worth it.
Leave a review of this product!
If you've used this product, log in and leave a review to tell us and other customers what you thought about it.
Login or Register