Choice Deluxe Stainless Steel 48 Cup Coffee Chafer Urn with Gold Accents - 3 Gallon
Durable, highly-polished 18/10 stainless steel with gold trimmed legs and accents
Faucet minimizes drips and spills for efficient beverage service
Built-in fuel holder evenly distributes heat
Two side handles assist in lifting and carrying
Decorative lid lifts off for easy refilling
Serve your hot beverages in style with this Choice deluxe stainless steel coffee chafer urn!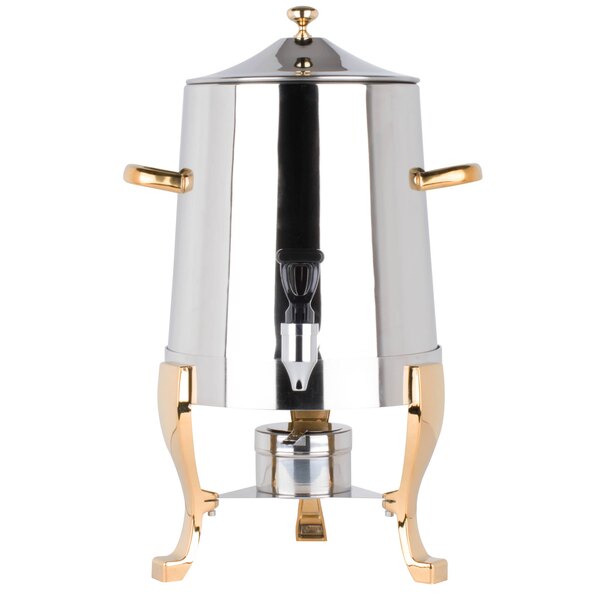 An elegant and affordable addition to your buffet, hotel, or catered event, this urn is perfect for providing your guests with fresh coffee, tea, cappuccino, or hot chocolate. An ample 3 gallon capacity allows you to keep more hot beverages on hand than a traditional coffee pot, plus its highly-polished, professional finish will shine in almost any ambient light setting.
Hand Wash Only

To preserve quality, this item should only be hand-washed and sanitized.
"This coffee urn is great for parties and banquets! The classy stainless steel tank is beautifully accented by the gold plater legs! Keeps the coffee and and it's such a great value!"
Read More Reviews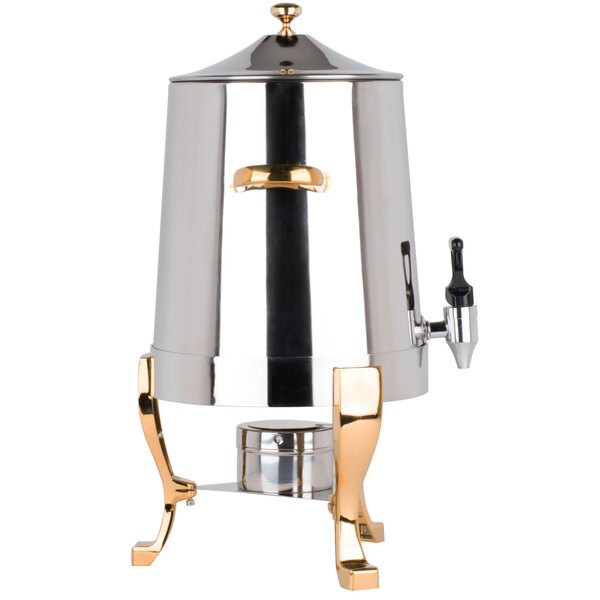 Durable Construction
Made of 18/10 stainless steel, this coffee chafer urn is built to last in any commercial setting. Not only does it boast an elegant appearance, its material also makes it great for distributing and holding heat, ensuring your beverages stay warm throughout the length of your event.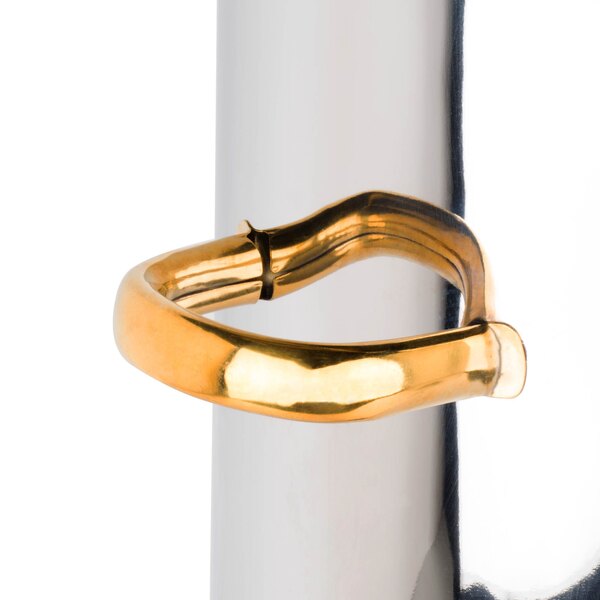 Gold-Trimmed Handles
A pair of side handles allow for incredible ease in lifting and carrying the urn.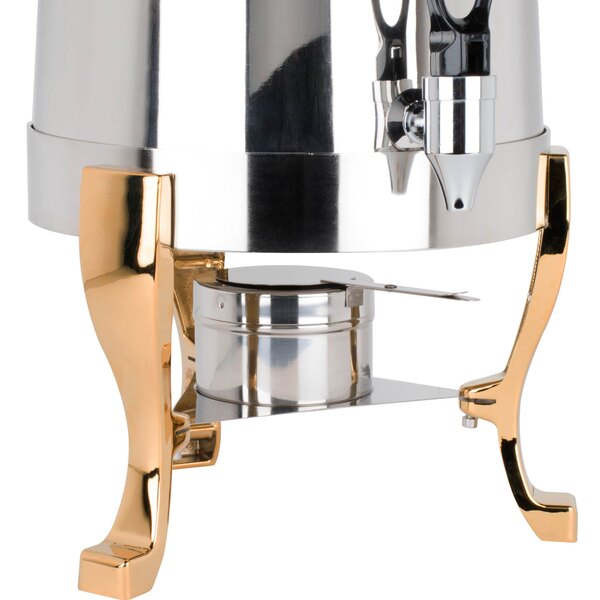 Gold-Trimmed Legs
Three legs ensure optimum stability and protect the elevated chafing fuel shelf.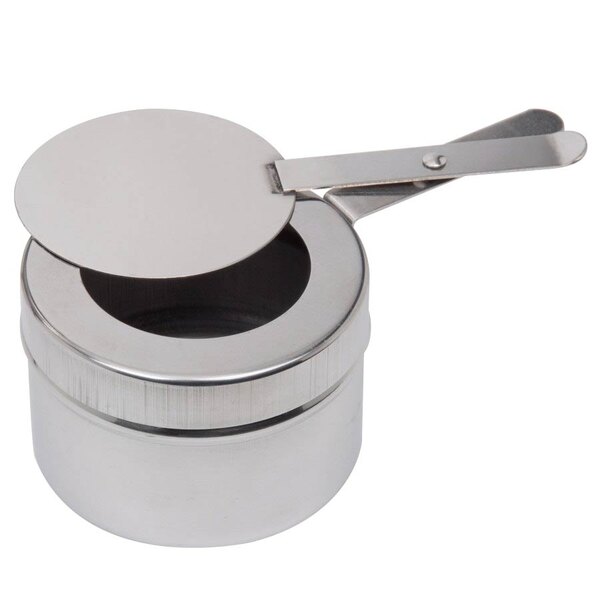 Built-in Fuel Holder
Securely holds chafing fuel and ensures safety, keeping hands, clothes, and other flammable contents a safe distance from the flame.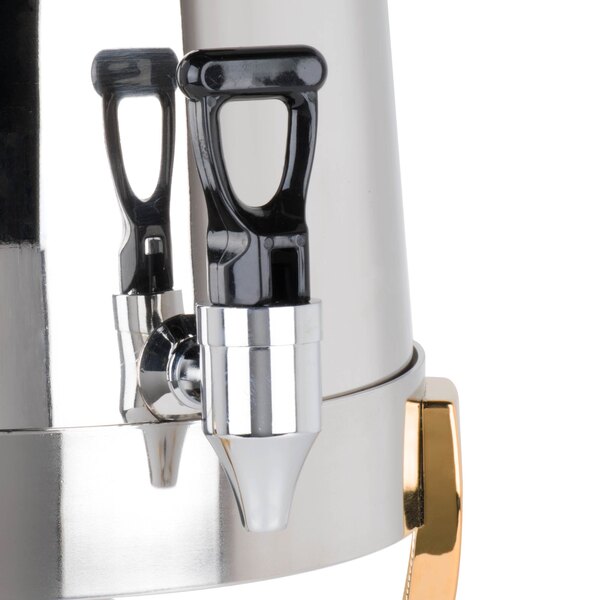 Drip-Free Spigot
Spigot handle allows for easy dispensing and helps minimize drips and spills.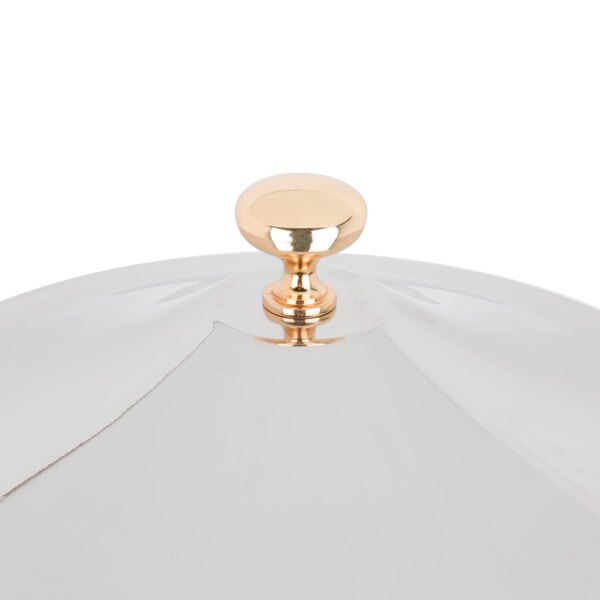 Simple to Refill
For easy access, the decorative lid features a knob that allows staff to refill the urn when necessary.
Customer Q&A Ask a Question
There are 16 cups in a gallon. Why do coffee urns with similar gallon capacities have different cup amounts listed?
Coffee urn manufacturers use different size cups to state the output of their urns, commonly 3.5 oz., 5 oz., or 8 oz. To figure out how many cups you'll get using your existing dinnerware, simply convert the urn's gallons to ounces and divide by the ounce size of your coffee cups or mugs! Remember, there are 128 oz. in a gallon.
My stainless steel item has fingerprints and scratches and I can't seem to get it clean. What can I do?
Try using a microfiber polishing cloth. You may not need to use any chemicals to get rid of the scratches and fingerprints. If they are not easily removed by the dry cloth, our
Noble Chemical stainless steel cleaner
should do the trick!
Can I brew coffee in this urn?
No, coffee urns and coffee chafer urns are designed to hold hot coffee at appropriate serving temperatures and cannot be used to brew coffee.
Choice Chafer Fuel
In this video, Corporate Chef Matt Schuler explains the best options to suit your needs when it comes to chafer fuel. From gel fuel or wick fuel, or fuel that burns up to 6 hours, Choice Chafer fuel has just what you need for every occasion!
Chafer Fuel Handling Tips
Check out this video to learn some vital tips about handling chafers and chafer fuel!
Choice Chafing Dishes
Choice offers an expansive selection of chafing dishes, from economy models to ultra-stylish, high-end options. All dishes are designed for reliable performance and durability, while delivering unbeatable value. Learn more by watching this helpful, overview video.
Choice Chafer Accessories
Take a look at what accessories Choice has to offer for chafers!
Choice Deluxe Chafing Dishes
Check out the style the Choice Deluxe chafers can bring to your event. With a durable construction and sleek design, it is the perfect choice when you need to display hot food with ease.
Whether you're catering a banquet, wedding, bridal shower, or other special event, we have the best selection of chafers and accessories at the best prices. My name is Matt Schuler, product expert and corporate chef. Today I am going to show you why Choice brand chafing fuels should be your #1 Choice for chafing fuel. Our buying power and skilled purchasing department allow us to keep our pricing incredibly low without sacrificing quality. We offer 3 different types of chafing fuels by Choice. 2 hour, 4 hour, or 6 hour(show pic of 3 cans) Of these three products, you will need to choose which fuel source best fits your application: wick fuel or gel fuel. Choice chafer gel fuel is the hottest and longest burning ethanol fuel on the market! Made from 200 proof gelled ethanol and capable of producing 1630 BTU's per hour, its gelled formula provides a higher heat output than conventional wick fuels and allows for maximum burn time. It is also easy to light, odorless, and burns clean. It delivers high-quality heat that burns hotter, longer, and safer than comparable fuels. Choice Gel fuel is offered in a 2 hour burn time. While Choice wick fuel is offered in 4 & 6 hour burn times. Although the 2 hr gel fuel offers to the lowest cost per can, the best value in terms of burn time & cost/hour is the 6 hour wick fuel. Because our wick fuel offers a convenient screw on lid, you can reuse the fuel to get the full 6 hours of usage out of it. If safety, flexibility and cost per hour are what you are looking for, then Choice wick chafer fuel is your brand. Our 6 hour wick fuel costs 18 cents/hour as compared to 24 cents/hour for the 4 hour wick fuel and 26 cents/hour for the two hour gel fuel. Its wick design and diethylene glycol fuel promote safe burning and help to keep the can cool to the touch even during use, while still providing a consistent, long-lasting flame. Even when spilled the liquid does not burn! These Choice fuels are also eco-friendly! Each can is made from recyclable aluminum, and the ethanol is produced using natural and recycled raw materials, resulting in a high-performance chafer fuel that is organic, biodegradable, 100% recyclable and made in the USA. Choice chafer gel and wick fuels are both great product, but here is a comparison to make your decision easier. Offered in a 2 hour burn time, Choice Gel fuels burn the hottest, are the least expensive and are the best option for chafers with low-resting water pans. On the other hand, Choice chafer wick fuels are available in both a 4 and 6 hour burn time, burn clean diethylene glycol, feature a resealable lid to get the maximum burn time and are cool to the touch. In addition, you don't have to worry about spilled liquid because any spilled wick fuel won't ignite. Check out our burn time comparison sheet, cost per hour chart, as well as the MSDS sheet, and our chafing fuel buying guide on our product page. (Show screen shot of product page/comparison chart/cost per hour chart). We also have a chafer fuel savings calculator where you can plug in the amount of fuel used per week and see how much savings you will have by switching to 6 hour Choice brand wick fuel. These charts will help you make a better buying decision! As always, click on the chat button for further questions regarding Choice brand chafing fuels. We hope this video helped you make the right "choice" for your foodservice application!!
Remember to always follow equipment manufacturer's recommendations for pre-heating, but here are some safety tips to insure you have a safe and efficient chafer set-up…(Voice over portion showing shots of each step quickly) -Always select fuel to last the length of engagement so it will not be necessary to change fuels during the event -Always ensure water is hot and steaming and foods are at a minimum serving temperature of 140°F before putting food pan in place -Always use proper tool for removing lids. -Chafing fuels are NOT designed to cook; only maintain proper temperature for serving -Keep chafing fuels away from flammable table decorations or nearby items (i.e., curtains) -Always light fuels IN PLACE; use a long reach match or butane lighter; do not use other lighted cans or rolled up paper -Avoid touching GEL-TYPE cans as they become superheated overtime as the flame burns into the can -Always extinguish chafing fuel at the end of the event, using the proper tool -Dispose of spent fuel cans properly As always, click on the chat button for further questions regarding Choice brand chafing fuels. We hope this video helped you make the right "choice" for your foodservice application!!
Serving hot food at a buffet, breakfast bar, or off-site venue requires efficient, reliable supplies. Choice offers a great line of chafers perfect for these and other applications, with economy, mid-range, and high-end options to choose from. Choice Economy chafers are made of stainless steel and come with a frame, pan, and lift-off lid. Plus, each frame features built-in side handles, which make transporting the chafer easy. For a more stylized buffet, Choice Classic chafers are the perfect option! Each dish is made of 18/8 stainless steel with a mirror finish, making the Classic series both durable and great for formal events and venues. These mid-range chafers are designed with elegant features, from ornate lid handles to beveled legs. Each chafer also includes a lift-off lid, frame, food pan, and water pan. Choice Deluxe and Choice Supreme chafers are other mid-range lines that deliver a different aesthetic. They're made of stainless steel with eye-catching, gold or chrome accents. These accents add a touch of elegance while keeping the design sleek with straight lines and rounded edges. The stainless steel construction features a mirrored finish, and the round, oval, and rectangular shapes ensure versatility for any business. As an added benefit, most chafers include a roll-top lid. The Choice Deluxe line even offers soup chafers, with lift-off lids, and are designed to accommodate sauces, soups, and glazes. Like Choice Economy and Choice Classic chafers, food pans, and water pans come standard. For high-end applications, Choice Supreme offers induction chafers that boast glass tops and soft-close lids; these are perfect for use with portable or drop-in induction ranges. Standard Choice Supreme chafers are even available with a pine wood stand and built-in fuel drawer. Whatever your needs and whatever your menu, Choice provides chafing dishes to help you serve with confidence and style!
Get the most out of your chafers with Choice chafer accessories. Stainless steel food pans are a great way to serve and display all of your delicious foods. Coming in a variety of sizes ranging from full size to 1/3 size, you can use any of these pans at your buffet or steam table. You can fit two ½ size or three 1/3 size pans in your Choice chafers to offer even more options. Choice also offers different kinds of chafer fuel. These canisters have either a 2, 4, or 6 hour burn time, and many are environmentally friendly. The gel fuel is great for low-profile chafers, and the wick fuel offers safer use in high-traffic areas. Use Choice chafer accessories to effortlessly complete your stylish chafer displays.
Add an elegant look to your buffet with Choice Deluxe chafers. Mix and match the rectangular, oval, and round Deluxe chafers on your buffet for a dynamic display. The rectangular chafers hold a full size, 8 qt. food pan, which is perfect for serving entrees and large sides. Or choose one of the deep soup chafers to serve stews and soups. These chafers are made of stainless steel construction that is both durable and stylish. The mirror finish and the gold accents on the handles and legs give your display extra shine. And the soup chafers are also available with chrome accents. You can count on these upscale chafers to hold up under everyday use so you can serve food with confidence at your event. Each chafer comes with a water pan, food pan, cover, frame, and fuel holders so you can get started right away. For both style and durability, Choice Deluxe chafers are the perfect option for your catered event.
Overall Dimensions:
Height:

19 1/2 Inches

Capacity:

3 Gallons
Frequently Purchased Together
Customer Reviews
People Talk About:

coffee

great

hot

events

urn

price

classy

urns

Beautiful

more

Arrange by

We use these for all our coffee breaks and events. Easy to use, serve, clean and store. Gives the event a classy touch and would buy them again.

This is such a beautiful addition to my equipment. I use it for my coffee bar at weddings and events and it makes a beautiful statement. While it is intended for hot beverages it can also be used for water or tea. When using for coffee be very careful when removing the lid, it gets extremely hot.

Very nice looking, but not as heavy as our original urns. The price is perfect so if we do dent them, we can easily replace them.

This is a gorgeous chafer, it is decorative and functional and is a screaming good deal. It makes those chilly outdoor events much more appealing.

We've used these beautiful coffee urns for several years now and they never fail to add a touch of class to coffee service stations. We started with one, and I was so impressed with the quality and style that we just kept "adding as needed" to our inventory of presentation tools. They have a classic appeal and easily fit in with the newer, more contemporary trend as well. Great style at a great price- we'll never go back to using a corded electric urn on the stations when this urn still keeps the coffee hot, is easier to refill during extended service and looks so much better.

This urn has style and class without a price tag to match. I've used it for several events to hold coffee or tea. Holds hot, just like you'd expect it to. It compliments my chafing dishes, as they have the gold accents too. Nice way to pull everything together.

What a great look this brings to our events. Our clients love the look, and we love the easy clean up and storage this great product has.

Presentation of the item looks great. However, when we first unpackaged the item, the plastic used to protect the gold trim was difficult to remove. We also experienced a small leak from the handle, do not fill past the handle to avoid that problem.

Thank you for your review! We are sorry to hear that the chafer urn you purchased had a small leak. A Customer Solutions Representative will be in contact with you to resolve the issue.

Very nice looking coffee urns. We also use this for iced tea. Makes our coffee service area very elegant . Make sure to open top after filling carefully because it gets very hot. Would recommend.

I am an event planner, so I always look for products that make events run smoother. I used this for Christmas Brunch at our home, and set it up right at the entry with mugs and all the other coffee accompaniments. Our 30 guests loved having something hot waiting for them at the door and I never had to refill for the rest of the day. One less thing to worry about for the busy hostess. Just be mindful to check to make sure your heat did not burn out. AWESOME AND CLASSY PRODUCT. we plan to purchase several more for hot water and cocoa.

This coffee urn is great for parties and banquets! The classy stainless steel tank is beautifully accented by the gold plater legs! Keeps the coffee and and it's such a great value!

Beautiful and elegant coffee urn. My family has one for family parties. The three gallons is great to make cup for large groups of people!

This is an excellent Urn, definitely a great deal on the price as well. The stainless steel has a sleek finish that is great for any banquet room! The only down side is the heat so be very careful if you're changing it out.

Price was great, product is very good. HOWEVER you should be aware that this urn's lid gets very very HOT and should never be lifted with bare hand after being lit.

These coffee chafers are well worth the money. I priced others that were far more expensive but not as good looking. Also the faucet did not leak. You will love using this chafer
Leave a review of this product!
If you've used this product, log in and leave a review to tell us and other customers what you thought about it.
Login or Register