What Is a Das Boot Glass?
Before you throw an Oktoberfest party, you'll want to make sure you have the bratwurst shipment in, your sauerkraut is properly fermenting, and that your nice German beer boots are on display. Nothing quite sets the theme of an Oktoberfest party like a beer boot, but why are they so iconic, and why is it sometimes called a das boot?
Shop All Beer Boot Glasses
What Is a Das Boot?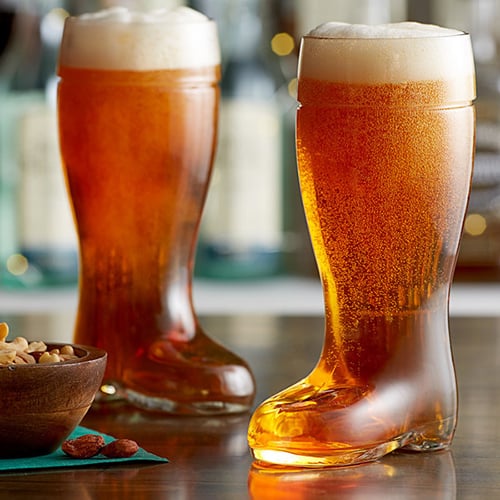 A beer boot glass, commonly known as "das boot" in America, is a beer glass shaped like a boot. Das boot (pronounced "dahs bohht") translates to "the boat" in German, while "beer boot" translates to "bierstiefel". Germans do not refer to a beer boot as "das boot", but rather "bierstiefel" or simply just "stiefel". The nickname "das boot" comes from the 2006 film "Beerfest" in which five friends travel to Germany and compete in an underground beer-drinking competition during Oktoberfest. While "Beerfest" may be fiction, you can always host your own beer festival.
Das Boot Meaning
The term "das boot" not only refers to the beer boot drinking glass, but it's also the title of a novel written by Lother-Günther Buchheim, as well as the popular 1982 movie and 2018 television series adaptation of Buchheim's novel.
Das Boot Glass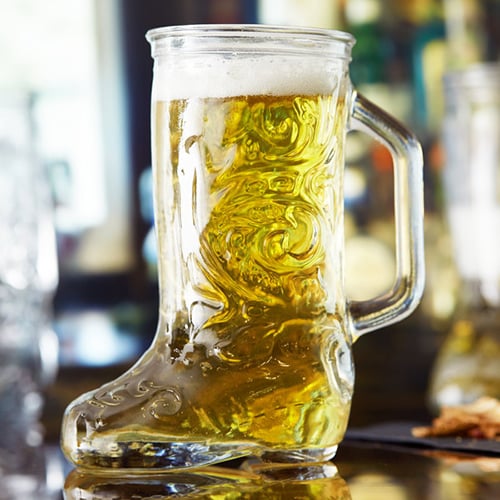 A beer boot (or das boot) glass is usually made from glass or plastic and can be as small as a shot glass or as big as 5 pints (or bigger!). Glasses can be found with or without handles, in which case the drinker should hold the beer glass at the smallest part of the glass, just above the ankle of the boot.
Glasses can also be completely plain and simple, have intricate designs for a traditional German flair, or can be customized with your logo to sell merchandise in your business.
How Much Beer Is in a Boot?
The amount of beer in a boot differs based on the das boot glass size. The typical size of a German beer boot is 2 liters, which is approximately 5 pints. That means there are usually about 67 ounces in a das boot.
How to Drink Beer from a Boot
Spilling is more common when drinking from a beer boot because of the unique shape, and no one wants their favorite fall beer all down their shirt. The spilling and splashing most notably come from the toe of the glass. The shape of the glass causes an air bubble to form at the toe of the glass while drinking. Once the beer recedes to a certain point in the boot, the bubble erupts and a tidal wave of beer pours out onto the drinker.
However, there is a strategic way to avoid this tidal wave of beer to the face. This is how to drink beer from a boot:
Start by drinking from the beer boot glass with the toe pointing upwards
Slowly start to rotate the boot 90 degrees as you drink
Make sure the beer is at a full 90 degrees by the time the beer is almost to the ankle of the boot
Das Beer Boot Video
Watch our das beer boot tutorial to learn how to use this unique glass correctly.
Beer Boot Glass History
The history behind the German beer boot has a few different tales:
English Riding Club Beer Boot Origin
English horse riding and hunting clubs in the 1800s created glass drinking boots to mimic their riding boots, complete with spur straps, and would drink from these beer boot mugs at their hunting lodges. The English beer boot mugs are not a highly sought-after collector's item. While they ran out of style in the mid-late 1800s, they became popular in Germany in the mid-1800s, lost the spurs and straps, and were manufactured to hold a higher volume of beer.
Prussian General Beer Boot Origin
A Prussian general promised his troops that, if they were successful in their next battle, he would take off his own boot, fill it with beer, and drink out of it. Once their battle was won and sanitary issues became a concern for the Prussian General, he had a glass boot made to drink the beer out of instead.
Because of the beer boot and successful battle correlation, German soldiers in WWI thought of drinking beer from boots to be good luck and turned it into a tradition before every battle. Since the soldiers did not have access to beer boot glasses, they would fill up one leather boot and pass it around to each other, flicking the boot before drinking from it for good luck, and flicking the boot again before giving it to their comrade to wish them good luck in battle, too. The love of the beer boot spread throughout the entire German military, being used to celebrate victories or used as a rite of passage.
During WWII, American soldiers brought back some of these famous beer boots, which grew the beer boot's popularity throughout America. They were displayed in bars and used as ways to market German beers, but it wasn't until the 2006 American movie "Beerfest" that made Das Boot as popular in America as it is today.
---
If you've now decided that you want to serve your ales in beer boots this year, then we recommend serving a lighter type of beer since beer boots can hold so much and darker lagers can be too heavy for that amount. Even though there are so many different beer glasses, there's only one that is so iconically German.
Posted in:
Bars & Breweries
|
Product Spotlights
| By Val Goodrich