Grilled Tuna Taco Recipe: WebstaurantEats Recipes
Just in time for Hispanic Heritage Month celebrations, we have a recipe for tuna tacos that is sure to impress your guests. If you're looking for fresh tuna recipes, we have prepared a dish that is bursting with flavor in every component.
This recipe for grilled tuna tacos with salsa verde and sweet hot cabbage slaw will make an excellent centerpiece for celebrations, food truck menus, or restaurant specials.
Grilled Tuna Tacos with Salsa Verde and Sweet Hot Cabbage Slaw
Recipe by:
Ronne Day
WebstaurantStore Food Stylist
Serves: 4 - 6
Total Time: 45 minutes
Note: To make sure you have the right heat level in your salsa, taste a small piece of the jalapeno before putting it in the food processor.
Ingredients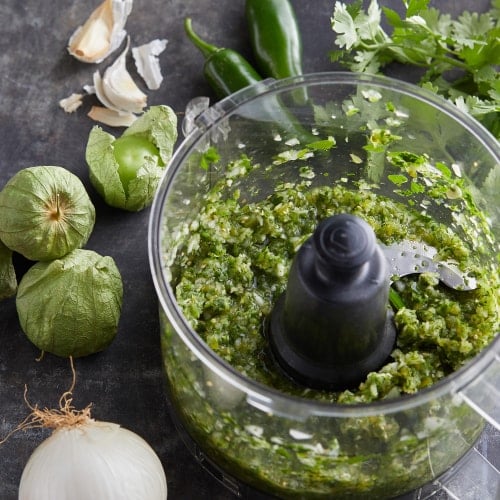 For the Salsa Verde:
1/2 lb. tomatillos, husk removed, blanched for 2 minutes, rinsed in cold water, then coarsely chopped
1 cup coarsely chopped cilantro
3/4 cup chopped white onion
1 - 2 seeded and chopped jalapeno
2 large garlic cloves, coarsely chopped
1 Tbsp. lime juice
1/2 tsp. Kosher salt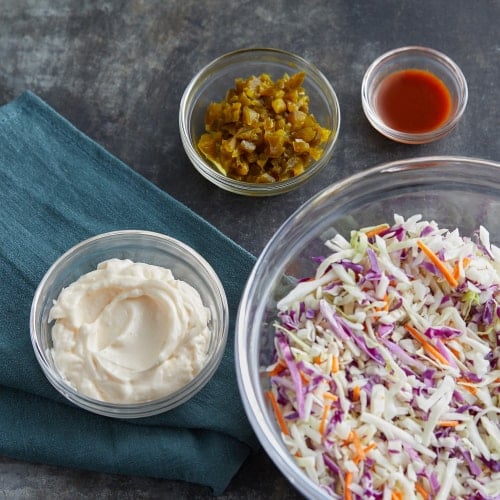 For the Slaw:
4 cups cabbage slaw mix
1/2 cup mayonnaise
1/4 cup chopped hot and sweet jalapenos, such as Mrs. Renfro's
1 Tbsp. chipotle hot sauce, such as Cholula
For the Tuna Tacos:
2 tsp. ground cumin
2 tsp. Kosher salt

2 1" thick sushi grade grade tuna steaks, bloodline removed, about 2 lbs.
Cooking spray
Oil for the grill
12 medium corn tortillas, charred on the stove top, wrapped in foil and kept warm
1 avocado, cut into thin slices and gently tossed with lime juice
Cilantro sprigs, for garnish
Directions
Put the ingredients for the salsa and ½ tsp. salt in a food processor and pulse until somewhat smooth, but still a little chunky.
In another bowl, combine the slaw ingredients and set aside for at least 30 minutes. If you are making it ahead, refrigerate until using.
Heat a grill on high and oil the grates just before grilling your fish. You can also pan sear the tuna by using the same cook time as below, and be sure to heat your skillet on high heat.
Char your tortillas on both sides either directly on a stove top, grill grates, or in a pan until you achieve some char spotting on the surface.
Press both sides of the tuna steaks into the mixture, lightly coat with cooking spray, then transfer to the grill or skillet.
Grill or sear for about one minute on each side, flipping to a different spot on the grill until grill marks are achieved.
Transfer the tuna to a cutting board, and slice into ¼" slices against the grain.
To serve, put one or two slices of tuna in a tortilla. Top with a slice or two of avocado, some of the salsa and slaw, and a sprig or two of cilantro.
Finished Product
These flavorful and vibrant tuna tacos are simple to make and sure to turn heads at your next cookout. You can find more recipes like this one on the WebstaurantStore Instagram.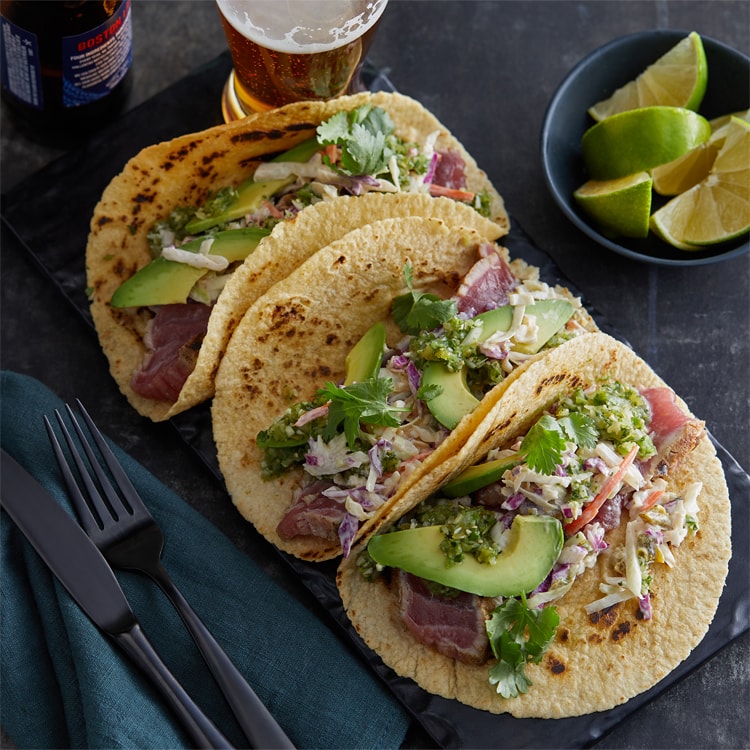 Posted in:
Recipes
| By Janine Jones